Tage Christiansen
---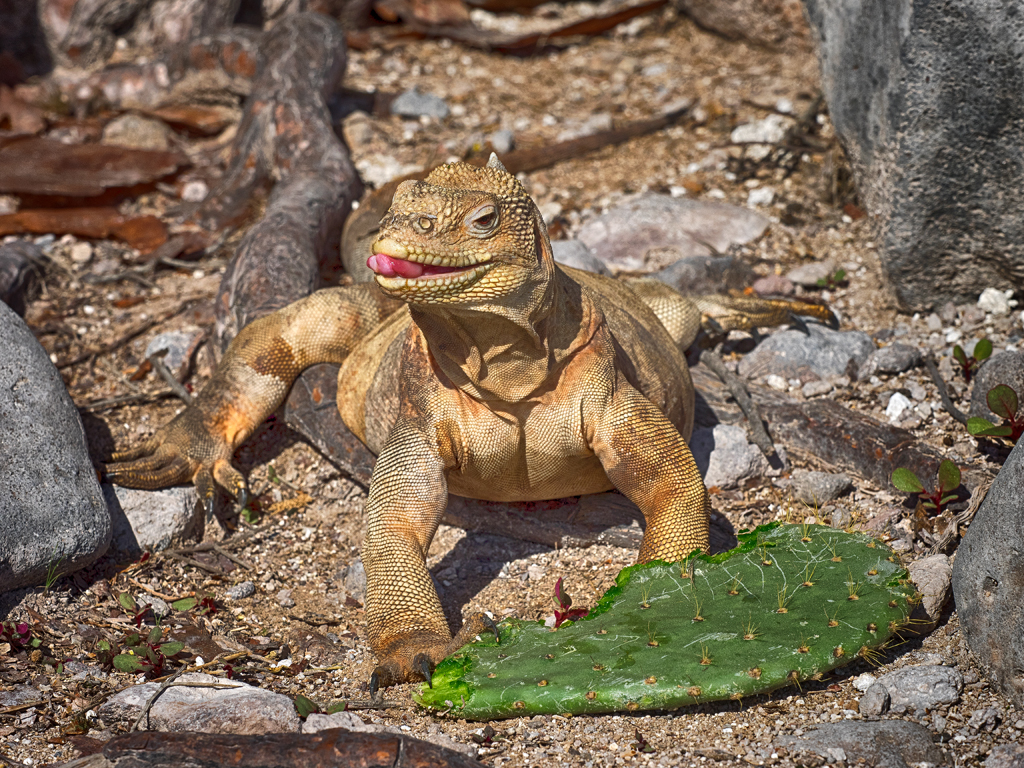 October 2020 - Land Iguana
Original
About the Image(s)
Title "Land Iguana"

Technique 1/800, sec. f / 8.0, iso 200, 90 mm. Olympus OM D EM1, 40-150 mm.

We were on an exciting journey where we first spent a few days in Ecuador, and then we fly to the island group Galapagos, we sailed around to different islands for 5 days, and ended with an extra day on the island of Santa Cruz, before taking the long journey home.

Picture taken on the island of Santa Fee, I have not cropped it, but it has got a slightly warmer tone.
---
6 comments posted
---
---
---
Gary Schafer
Tage, Nice photo. Interesting subject. I bet you had a great time in the Galapgos! Your shot is very sharp, has good color. I like seeing the whole lizard in sharp focus and I like the warmth. I would have liked the eye to be on the 1/3 mark on the upper right of the frame. In my opinion, it would have brought the image into better balance. When I shoot animals and birds I try to focus on the dominant eye if possible and try to crop putting the eye on the 1/3 marker looking into the empty space. Not always possible though when subject is moving or distant. Good shot. &nbsp Posted: 10/14/2020 11:35:56
Tage Christiansen
Thank you very much for your opinion, it was a good idea to try to place the eye within 1/3 part when photographing animals, I will have that with the next time I photograph animals.
The vacation to the Galapagos has been one of the best vacations I have been on, here one can get close to the animals. &nbsp Posted: 10/18/2020 08:52:39
---
---
---
Margaret Frazer
Great shot. I do find my eye drawn to the cactus in the forefront. Perhaps it might help if it was toned down a bit so the star of the image would shine. &nbsp Posted: 10/22/2020 06:59:19
Tage Christiansen
I can see what you think cactus is too dominant as it is also forest and strong in color, good idea to soften it. &nbsp Posted: 10/24/2020 05:26:08
---
---
---
Glenn Rudd
Nicely captured Tage. The camera is at eye level and the open mouth is a bonus. I agree with Margaret on the green cactus foliage - It needs to be toned down and let the iguana be the star. &nbsp Posted: 10/22/2020 11:29:22
Tage Christiansen
Many thanks for the comment. &nbsp Posted: 10/24/2020 05:26:55
---
---
---
Please log in to post a comment