Trey Foerster
---
January 2020 - Minneapolis Architecture
Original
About the Image(s)
This shot is from downtown Minneapolis. The curve of the forefront window caught my eye set against the the other geometric shapes behind it. Shot at f 5.6, 1/125 sec., ISO 200, +1 exposure bias, aperture 4.2, pattern metering. Standard PS, Lightroom, and in Topaz Studio I used the architecture profiles. I took liberty to bring out the green in the round window to add more color. Final crop is 16x10.
---
This round's discussion is now closed!
5 comments posted
Lou McLove
When I first looked at this image I thought it confusing but once I took a better look I found that I love the confusion. To my eye the bold colors and strong lines make this is a great abstract image. I think you handled this very well. &nbsp Posted: 01/02/2020 16:46:48
---
Gary Butler
Trey, I love this picture! If I had this I would matte and frame it and put it up in my home. I believe that they image shows that you have a clever eye for a unique architectural shot - keep working at it! To me the variety of shapes and colors, along with the crisp focus, add to the quality of the image.
To my eye, and more accurately to my taste, the only improvement could be vertical alignment. I have done that in the visual feedback. Tell me what you think.
Way to go!! &nbsp
Posted: 01/04/2020 09:36:19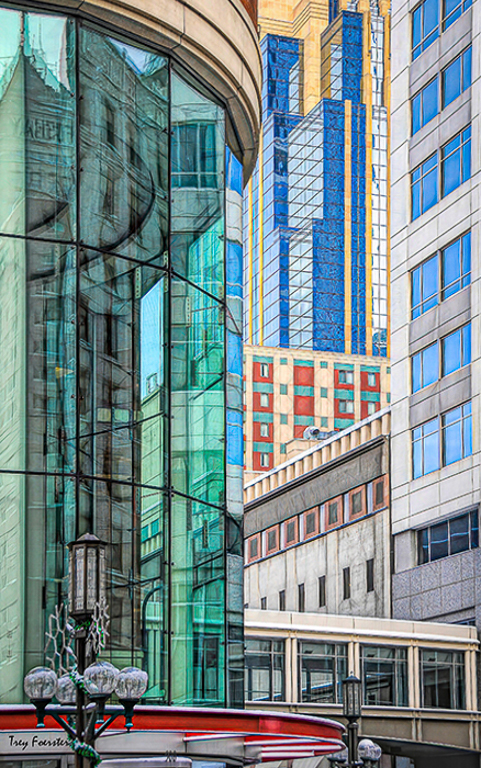 ---
Scott Messer
Great image Trey, The mix of colors, lines and shapes is terrific. I think that you really improved the image with the cropping. &nbsp Posted: 01/05/2020 15:40:07
---
Rajani Ramanathan
Love the image Trey and how you have handled it. You don't necessarily need to change it but I tried cropping in the bottom to get rid of the red curve and I liked it even more as a zoomed in abstract. &nbsp Posted: 01/08/2020 20:40:23
---
Charles Walker
Trey, the lines and complexity of shapes and colors make this such an interesting image. It instructs views to be mindful of the eye candy in cities. The parallax issues are hardly noticeable (especially after Gary's suggested crop). &nbsp Posted: 01/19/2020 20:37:15
---