Dale Yates
---
October 2020 - Arlo
About the Image(s)
Image Deion: This is a photo of our basset hound, Arlo, who is in a chair which he does not belong. Arlo, with his droopy eyes, long ears, and wrinkles is the most photogenic pet we've had. I wanted this image to be in black and white to better emphasize the tonal contrasts and texture in his face. (Needless to say, as a reward for being patient with me, he was allowed to stay in the chair a little longer).

For this photograph I used an aperture of F/5.6 with a shutter speed of 1/13 of a second, ISO-800, and a focal length of 49mm. This photo was taken in RAW format.

Post processing in Lightroom, includes adjustments to white balance, exposure and contrast, highlights and shadows, and overall sharpness. I then utilized Nik Silver Efex Pro 2 to make the conversion to black and white. Lastly, I added a slight vignette to draw the focus to the subject.
---
8 comments posted
---
---
---
Steven Jungerwirth
Arlo is beautiful - and a great model. I love the expression and detail/sharpness. Impressive for a 1/13 second exposure! Can you usually get this degree of sharpness with that exposure? What camera/lens did you use?

The detail in his nose and whiskers draws me in - but the eyes hold my attention longest. It's also interesting that his dark hair almost blends with the chair; so that the image is really created by the light hair/nose/eyes. I like the square crop and the B&W rendition. Both are perfect for this portrait! &nbsp Posted: 10/09/2020 18:27:38
Dale Yates
Thanks Steven! I shot this photo using a Canon SL1 camera with a Tamron 18-200, f/3.5-6.3 lens. &nbsp Posted: 10/19/2020 16:30:04
---
---
---
Jennifer Marano
Hi Dale,

Definitely a photogenic subject, and so cooperative! He doesn't look the least bit guilty about occupying a forbidden chair. Your wonderful focus rally shows off his wrinkles and ears and sad expression, and your choice of B&W works well. This photo should be printed and hung on the wall above this chair! &nbsp Posted: 10/12/2020 17:53:07
Dale Yates
Thanks Jennifer! &nbsp Posted: 10/19/2020 16:30:29
---
---
---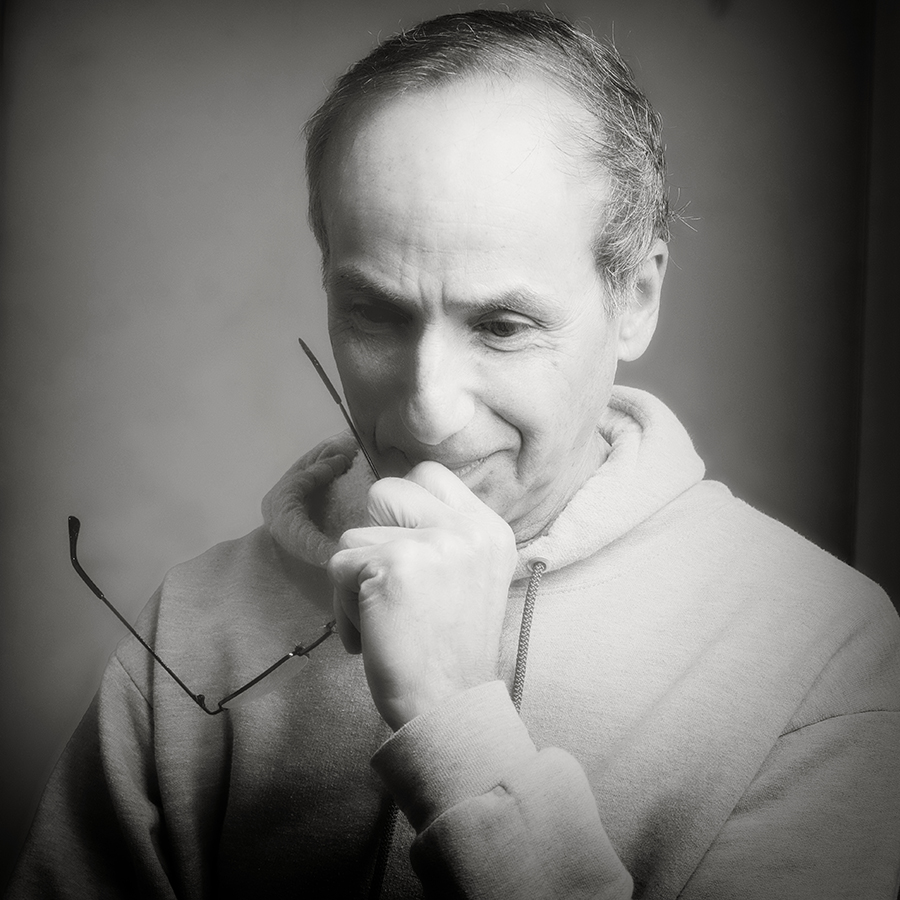 Lance Lewin
Hi Dale! Love this guy!

Dale, this is a very well composed and illuminated scene.

Technical:
I absolutely love the scope of grey-scale in both Ario and the chair; they mend together gracefully.

However, I am not a fan of extra "structure" and feel it places this type of photograph more closer to a commercial feel, (or Poster-like) in its visual aesthetic, rather than a family portrait.

In any case, this is a beautiful photography! &nbsp Posted: 10/13/2020 09:48:57
Dale Yates
Thanks Lance! &nbsp Posted: 10/19/2020 16:31:44
---
---
---
Chan Garrett
Who wouldn't love that face? Those sad eyes. The long floppy ears. There does seem to be a piece of hair (possibly from a long eyebrow) in the left eye. This is somewhat distracting, but does not overy distract until you see it. I would like to see a slightly looser crop that did not crowd the botom of the front paw. Over all, this image captures and holds my attension. Good work. &nbsp Posted: 10/14/2020 18:24:21
Dale Yates
Thanks Chan! &nbsp Posted: 10/19/2020 16:32:01
---
---
---
Please log in to post a comment