Dale Yates
---
September 2020 - Child With Donut
About the Image(s)
Image Deion: I am currently taking a photography class (Creating Competitive Images via PSA) and have just completed the section on photographing people (one of my weaker genres of photography).

This is a photo of my youngest granddaughter that I used as a requirement for the class. As a part of the photo shoot I of course, had to bring donuts for her and my other grand kids. In this photo I was able to capture her as she started eating her treat. It also should be noted that she discovered some magic markers before I arrived, hence the markings on her arms.

I felt that converting the image to black & white would best capture what I wanted in this portrait. For this photograph I used an aperture of F/3.5 with a shutter speed of 1/80 of a second, ISO-1600, and a focal length of 50mm. This photo was taken in RAW format. Post processing in Lightroom, includes adjustments to white balance, exposure and contrast, highlights and shadows, and overall sharpness. I then utilized Nik Silver Efex Pro 2 to make the conversion to black and white. Lastly, I added a slight vignette to draw the focus to the subject.
---
7 comments posted
---
---
---
Jennifer Marano
Hello Dale,

What a lovely portrait! Your granddaughter looks so entranced by that donut, and the crumbs on her face are priceless. The magic marker is the perfect finishing touch - I think you really captured the essence of childhood. What kind of lighting did you use? It looks very diffuse and natural. &nbsp Posted: 09/03/2020 10:40:54
Dale Yates
Thanks Jenifer! The lighting was an overhead light at the kitchen table where she was eating and natural light from sliding glass doors to the left of the photo. Fortunately the wall behind her was gray. &nbsp Posted: 09/03/2020 12:20:23
---
---
---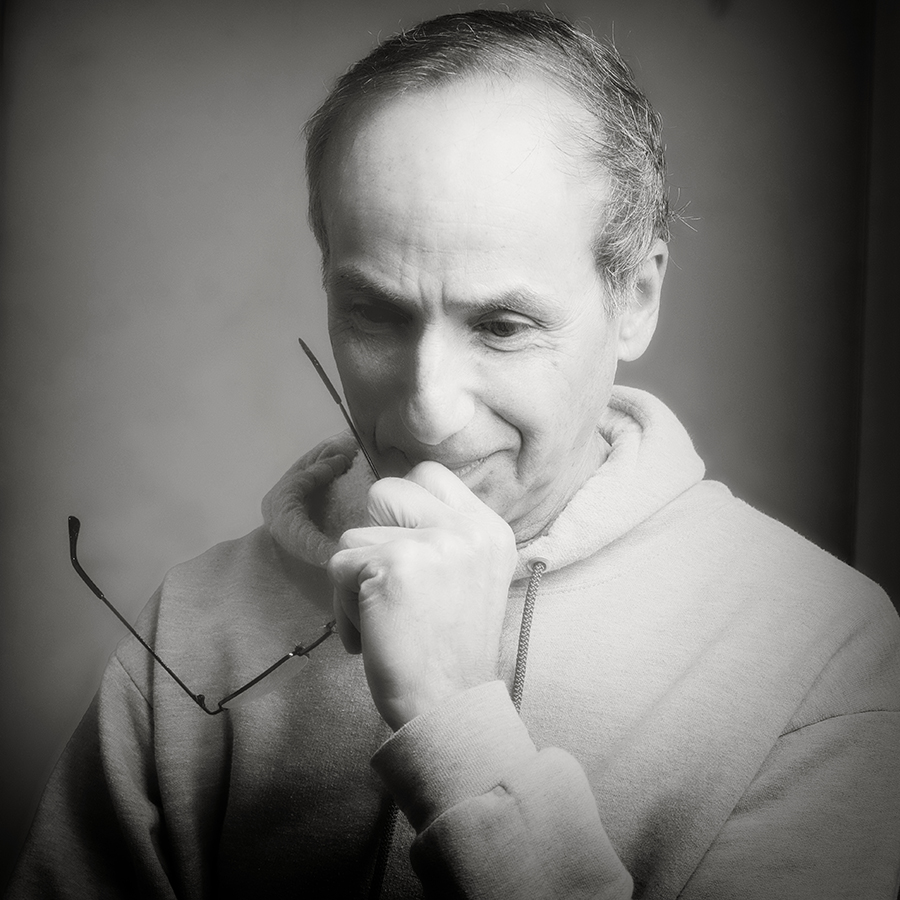 Lance Lewin
Great shot, Dale! She is so lovely!

Great idea to capture her while eating the Donuts...it adds the perfect amount of "added" interest. Well done!!

The only thing I may do is make the overall Exposure slightly higher....what do you think? &nbsp Posted: 09/03/2020 10:52:42
Dale Yates
Thanks Lance! I really like your suggestion! My goal was good, soft tonal contrast, especially in her face. I took your suggestion in the attached photo...slightly increased exposure and contrast and slightly lowered both highlights and shadows. I believe the tonal contrasts in this is more pronounced. Thanks! &nbsp
Posted: 09/03/2020 13:11:36
---
---
---
Steven Jungerwirth
I echo the comments above. Kudos to you for venturing into the realm of portraits (humans are my least favorite subjects!). The lightness of wisps of her hair - add interest/texture.

I love her downward gaze at the donut - perfect - my eyes start with her's . . . then follow her line of sight to the donut!

I think the crop works . . . wonder if it would be better/worse if you included her elbows?

Also - the marker is part of an interesting story that you can relate to - hence it belongs and adds emotional impact. If you were going to display more broadly - I might get rid of the marker since viewers will not have context and could get distracted.

I think this would benefit from bumping up the exposure slightly - and also the contrast. As they say . . . add salt to taste :)

Great shot - keep photographing humans! &nbsp Posted: 09/03/2020 12:08:18
Dale Yates
Thanks Steven! I took your suggestion to increase the exposure and contrast (see revised photo in Lance's comments)and really like how the image turns out. I agree regarding the crop...I usually would include the elbows. However in the original image I focused more on the head shot and did not include the elbows (perhaps next time I will be more conscience to include the elbows in this post, which will give more flexibility. Thanks again! &nbsp Posted: 09/03/2020 13:20:42
Steven Jungerwirth
I like what you did to it.

Regarding the elbows - I've heard two different points of view . . . . .

some say everyone knows her forearms are connected to her body - so the viewer "connects" them in their mind and "sees" the elbow even though they are not in the picture.

others would favor including the elbow in a picture like this to make the image more complete

Enjoy your grandchildren!

&nbsp Posted: 09/03/2020 13:38:56
---
---
---
Please log in to post a comment