Steven Jungerwirth
---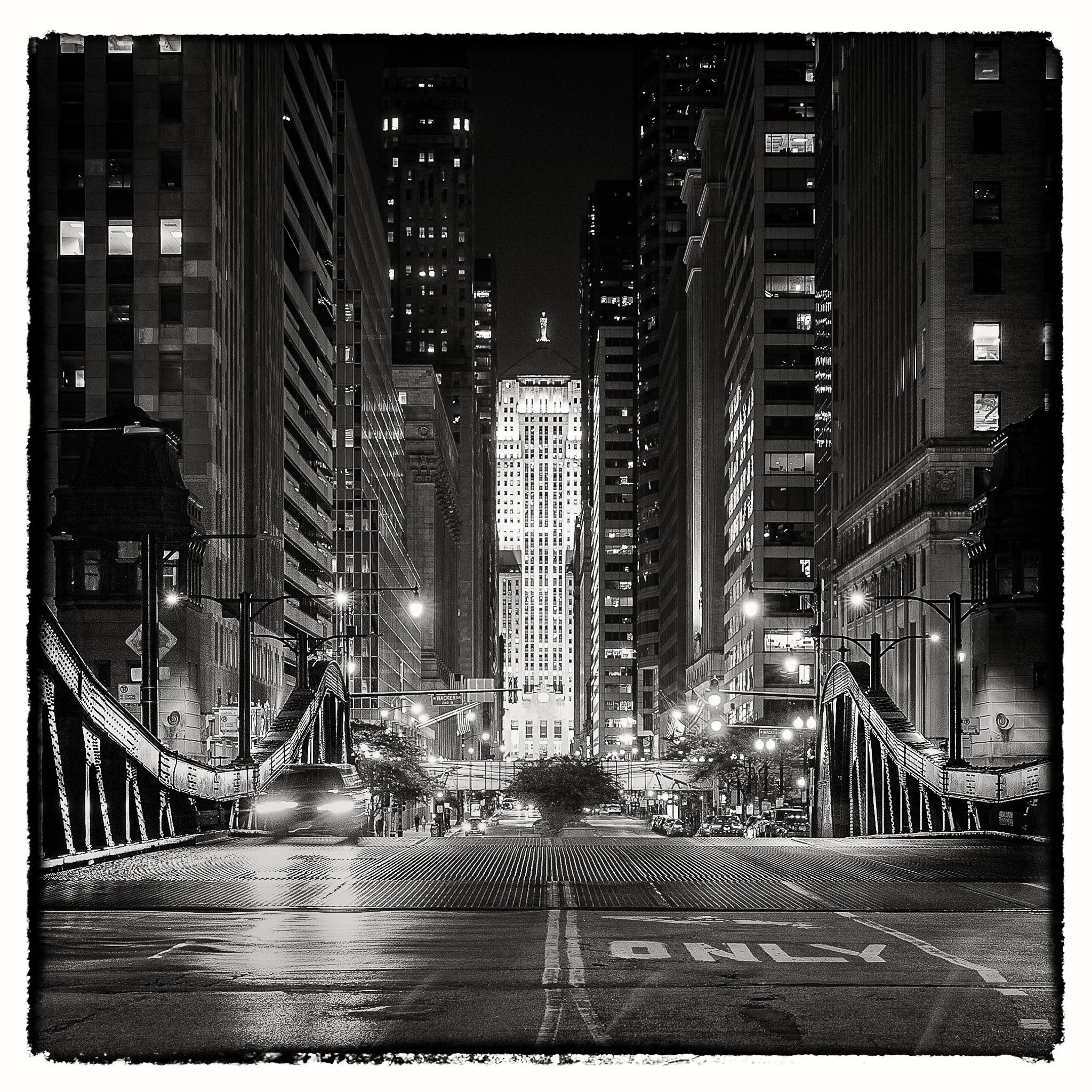 August 2020 - La Salle Street Bridge
Original
About the Image(s)
Deion: The 100-year-old La Salle Street bridge in downtown Chicago photographed on Friday July 17th at 9:30PM. During normal times the street would be alive/buzzing; due to COVID-19 there were few people/cars. The tall bright building in the center is the Chicago Board of Trade - an Art-Deco skyscraper from the 1920s - on the top of which stands an aluminum statue of Ceres (ancient goddess of agriculture/trade) overlooking the city. (That building is a mile from where I was standing).

Technical: Original image is an HDR merge of two exposures (0.6 and 2.5 seconds) to capture the range of brightness. Shot with a Canon 6D Mark II, 16-35mm lens (31mm F/5.6). HDR merge, lens correction and transform/crop in Lightroom. B&W conversion, dodging/burning and toning/vignette in Silver Efex Pro.


---
8 comments posted
Chan Garrett
I always love well done B&W. Excellent image. Your choice of crop and the "pop" of the B&W really make the image. In color, uncropped, the image does not have much appeal for me, but with what you have done, I would be proud to have it hanging on a wall in my house. &nbsp Posted: 08/04/2020 14:25:21
---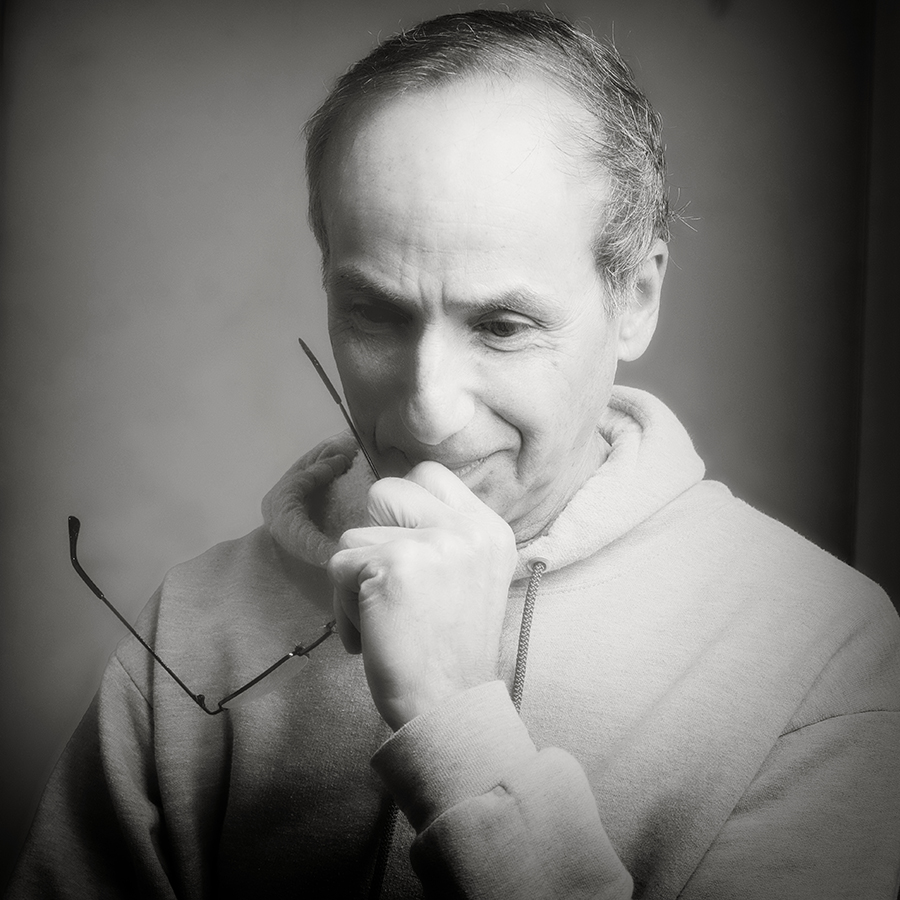 Lance Lewin
Steven, this is a wonderful composition: the crop really is perfect and the overall presentation is very engaging!

Absolutely great you had the opportunity to get this position in the street - Super!! &nbsp Posted: 08/04/2020 21:41:52
---
Jo Kelly
Very nice. &nbsp Posted: 08/05/2020 01:20:40
---
Dale Yates
Excellent B&W image! I like the choice of B&W over the color version, and the crop is excellent! This image has excellent detail and a "pop" to it. Well done!! &nbsp Posted: 08/05/2020 08:07:02
---
Jennifer Marano
Hi Steven,

Your image embodies everything I like about B&W! It is so clear and crisp - hard to believe that bright building is a mile away! I totally agree about the crop. And I am amazed at the depth of field at f/5.6 and the almost star-burst like quality of some of the lights. So well done! I was wondering why you chose the border you did. &nbsp Posted: 08/05/2020 21:18:53
Steven Jungerwirth
All: Thank you for your comments on this image.
Jennifer: Regarding the sharpness - the key is to use a wide angle lens and focus around the hyperfocal distance (i.e. NOT infinity). This is essentially a landscape photo with a 30mm lens. Not sure if you've ever tried the photopills app; it's very helpful. Playing with it this morning (see image) - for this shot (Canon 6D, 30mm lens, f5.6, focus at 100 feet) - the hyperlocal distance is 17 feet - and if focused on something 100 feet away - the depth of field is 14 feet to infinity. Changing just the focal length to a 100mm lens changes the hyperlocal distance to 194 feet and depth of field would be 65 feet to 206 feet (not enough to capture this image). Another approach would have been to take few images and focus stack; but since this also required bracketing for exposure - that was too much time in the middle of road! &nbsp
Posted: 08/06/2020 06:35:21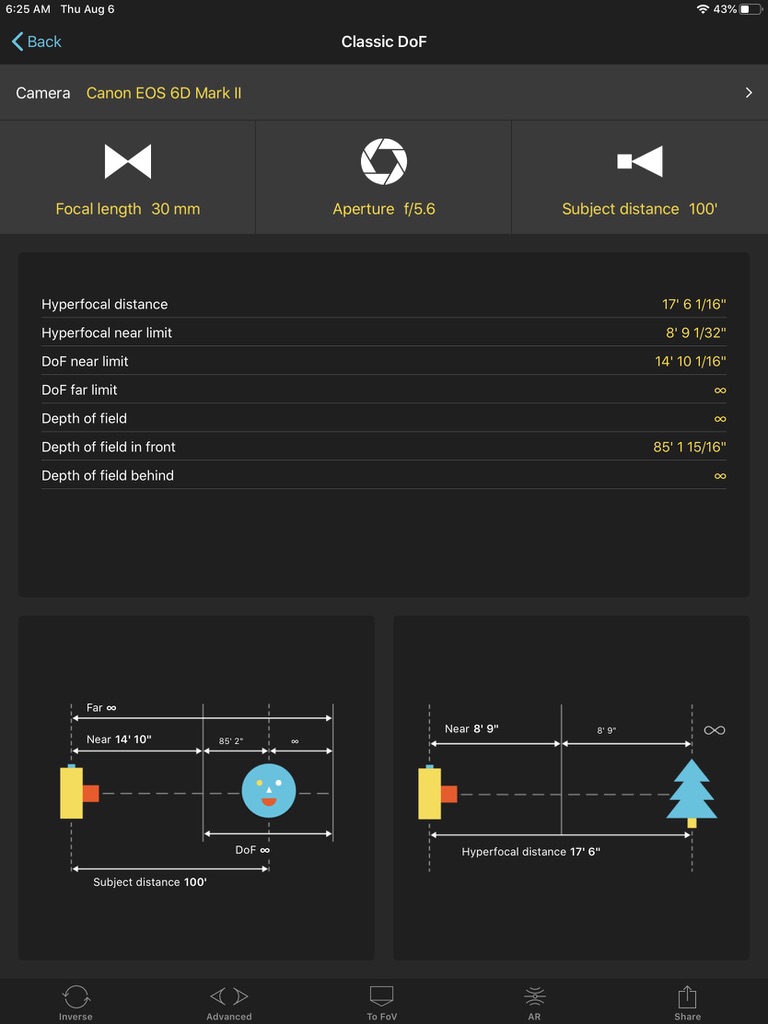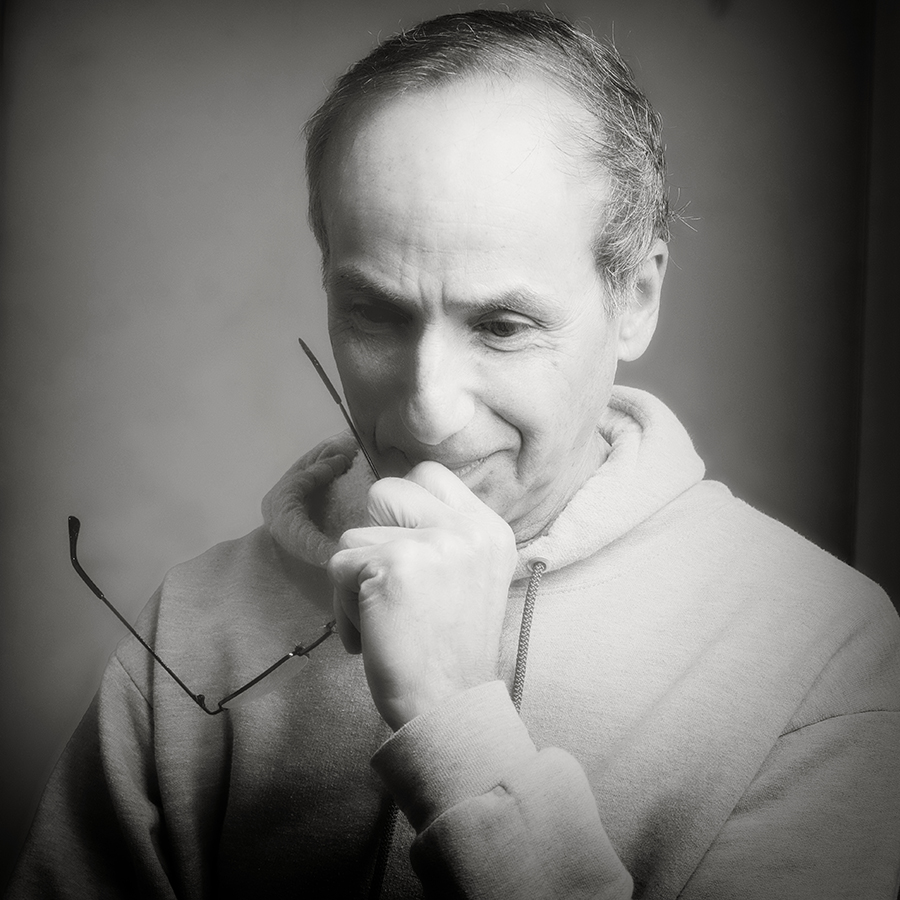 Lance Lewin
Yes, this is a perfect example for using the Hyperfocal focusing points - a major "tool" or technique in Landscape photography. Jennifer asked me to elaborate on this several months ago - but I did not post the article. Great job in describing this here, Steven. &nbsp Posted: 08/06/2020 08:19:31
Jennifer Marano
Thank you Steven! I've heard Photopills mentioned but it always sounded so complicated. Your explanation clarifies it and I will definitely give it a try! &nbsp Posted: 08/06/2020 10:15:54
---
Please log in to post a comment