Pat Centeno
---
June 2020 - SNOOPY AND WOODSTOCK IN QUARANTINE"
About the Image(s)
HOW "SNOOPY AND WOODSTOCK IN QUARANTINE" WAS CREATED--JUNE 2020--PAT CENTENO

Every time we drive past this doghouse mailbox a mile down the road, we look to see how Snoopy looks. The creative folks who live there dress and pose him according to season or holiday. Sometimes he's wearing a winter cap and riding his sled, or holding a big heart for Valentine's, or in Leprechaun garb or dressed as a patriotic Uncle Sam. In the spirit of lifting our moods, I guess, these neighbors we've never seen have put real masks on their Snoopy dog and his little bird pal, Woodstock. Since there's no place to park, I had my husband drive very slowly while I took a couple quick snapshots of the mailbox.

At Phill's suggestion, I downloaded the layering & editing app for iPhone, Superimpose X yesterday and tried it out today. For a person who has felt more at home in Adobe Photoshop, I was feeling rather frustrated as I felt my way around this unfamiliar program because I knew I could quickly do what I wanted with cropping, masking, etc. in PS--and do a better job. (GRRRRRRRRR!) So, I'm learning from square one and decided to quit before I messed it up. I DO like the idea that once I master this app, I can prep an entire image on my little phone screen without having to have a work around to use Photoshop on the computer.

Back in March, I had taken a screenshot of a map of the spread of Covid-19 from a Johns Hopkins website and thought it might make a good backdrop. I tried to select and blur it in places, but I didn't succeed in doing that. Cropping and tilting worked OK (I think). Something called "Light Wrap" used with "Screen" on the Snoopy layer gave me a pleasing effect that made it show up better against the similarly-colored background. This was a simple 2 layered image, which I added a blank layer to (to see what would happen), but haven't found out how to delete that one yet. Regardless of how you feel about wearing masks, I hope y'all are staying healthy.

---
This round's discussion is now closed!
4 comments posted
Phillipa Frederiksen
VERY clever! Loved your image and your explanation.
In Superimpose, in the mask tool, you can go into the settings of the default brush and choose its strength. For blurring the edges I choose the feathered brush, make the brush smoothness softer and adjust the brush size to how big you want the blur to be then go around the edge of the layer so that it blends better with its background.
To adjust the opacity of the whole layer you go to "layers" at the bottom of the page then to the blend option (like photoshop blending modes) above this option is a slider which you can pull back to reduce the opacity. &nbsp Posted: 06/04/2020 22:33:40
---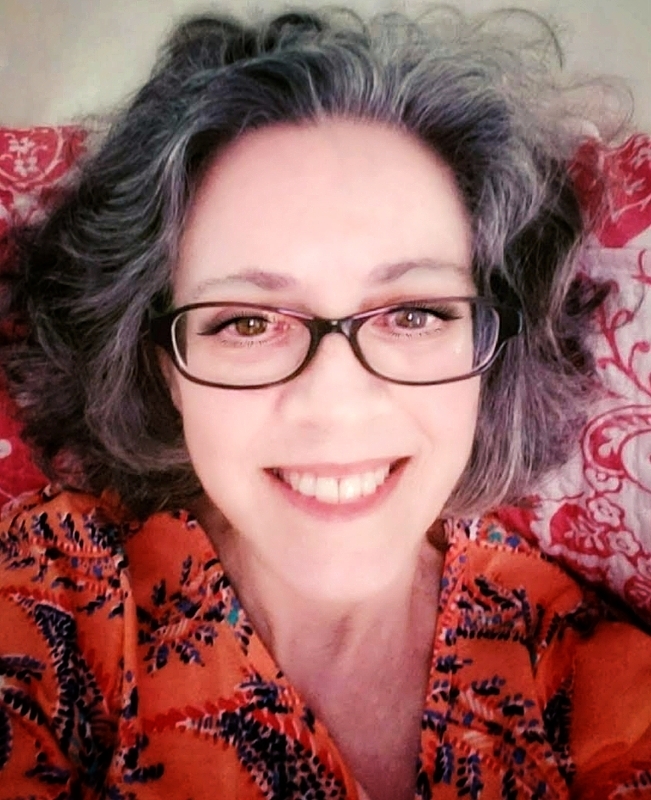 Belinda Hudnall Keller
So very cute and all-telling. I'm not sure of the program and steps you took because I don't use iphone, but your results looks great. To me, this could easily be used as an ad for how to do what we need to be doing. Nicely done! &nbsp Posted: 06/05/2020 09:51:15
---
Tom Pickering
We have a neighbor down the street that decorates like this for the holidays, putting an Uncle Sam in the tree for the 4th or a Santa Claus there for Christmas, etc. I immediately thought of them when I saw your image.

Putting it against the virus map was so intuitive and, as Belinda said, this would make for a great public service announcement (another meaning for PSA).

I'm also struggling a bit learning new tricks for I am an old dog now. I know PS forwards and backwards and, lately, have begun teaching myself Affinity Photo in place of it. Using my finger in place of my Wacom tablet is kicking my butt as I was never very good at finger painting. d;¬{D &nbsp Posted: 06/13/2020 16:25:23
Phillipa Frederiksen
Tom! You are never too old! A few years ago I gave a workshop at a convention and one of the local high schools brought a class of teenagers for my talk....you should have sent the expression on their faces when they saw the old woman out the front! Some of the boys came and asked me questions after. they had trouble keeping up! &nbsp Posted: 06/14/2020 00:43:40
---