Pat Centeno
---
May 2020 - OPEN WIDE AND SAY AHHHH
Original
About the Image(s)
HOW "OPEN WIDE AND SAY AHHHH" WAS CREATED--MAY 2020--PAT CENTENO

When I looked through all the photos I shot on May 3rd with my cell phone, I was looking for a tight closeup. The one I happened to select to submit happened to be a .MOV video file I had accidentally shot for a split second when I'd moved my fingers to zoom in and instead, the movie mode started running!

Since it still looked sharper than the regular photo I shot right afterwards, I took a screenshot of the .MOV file and cropped it and sharpened it with Filter > High Pass and changed the layer blend mode to Soft Light in Photoshop. I did that so I could keep the softness of the petals and just sharpen the "tongue" parts on a mask.

I found that I was not able to read the EXIF info on shooting settings in Photoshop on this one (f/stop, ISO, etc.) but when I'm on the iPhone, I find am not really thinking about settings as much as on my Canon--just about distance, brightness, flash, angle, and filling the frame. And, oh yes, about staying in "photo" mode.
---
This round's discussion is now closed!
4 comments posted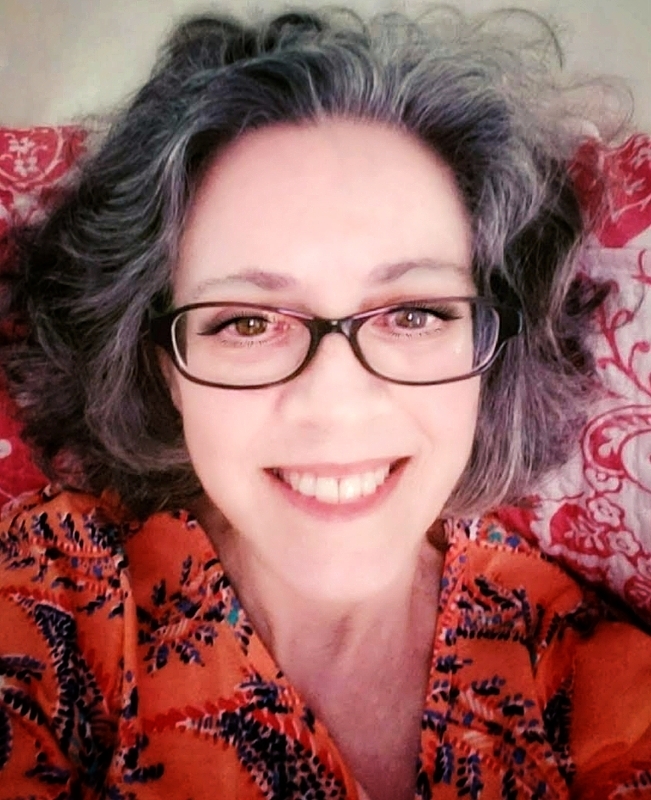 Belinda Hudnall Keller
Great title! I love irises. Closeups make great abstracts. This is a very beautiful rendering. The final results of your edits offer a pretty painterly effect. I suggest a slight crop from the bottom and a vignette added. Cropping moves the focal point off the mid-frame and a vignette would draw and hold the eye at the flowers throat, tongue, etc. Fun story of how you captured this! As for EXIF, it often is not viewable. I've experienced this too. It's not gone, but if you really want all the info you can use an EXIF 'app' to view it. I've needed to do this at times. &nbsp Posted: 05/12/2020 10:20:57
---
Phillipa Frederiksen
That flower is amazing! You have captured nearly every detail! Have you tried giving it a black background? the Green is a little busy. I often take the image into Superimpose, give it a black background then all you have to do is erase the parts of the top layer that you don't want. You can also experiment with moving the flower a little within the frame. &nbsp Posted: 05/12/2020 22:31:21
Pat Centeno
I don't yet have Superimpose, but I plan to download it now that you've explained what can be done on layers in a cellphone and not just on a desktop version of Photoshop. &nbsp Posted: 05/27/2020 13:48:17
---
Ruth Holt
Beautiful colors and sharpness. The title is good! I like irises and have yellows, purples,and whites. &nbsp Posted: 05/18/2020 10:59:51
---