Bob Patrick
---
October 2019 - Ford body and Horlic Road
About the Image(s)
Drone 5 is still flying. This shot was made Sept. 24, at 6:25 PM. ISO 400, F5.6 I/400 Sec. with the Phantom 4 Pro. The subject is The 56 Ford SW Body, but the old foundation is what was visible from Thorp Prairie Road. The other road is a dead end named Horlic Road. Windy this night.

---
This round's discussion is now closed!
5 comments posted
Lou McLove
I like this image very much. When I first looked at it I thought it would have been nice to get closer to the old Ford. After more consideration I think I like it just the way you have it. In my opinion this is a great landscape photo and the Ford is just one point of interest but not the main focal point. Beautiful countryside. &nbsp Posted: 10/12/2019 10:20:14
Bob Patrick
Thanks. This is on the dry side of the canal. There's a shot on DD33 (also from the drone) which gives a view of the contrast between irrigated land and non irrigated land, in this County. I moved here last year from the west side of the State. To me, this area still feels a bit barren.
The motive behind this composition was to attempt an environmental portrait of the old car body. Up close, it's pretty mournful. There's no market for scrap metal here, so the fields become the dumps for wasted machinery. &nbsp
Posted: 10/12/2019 11:13:37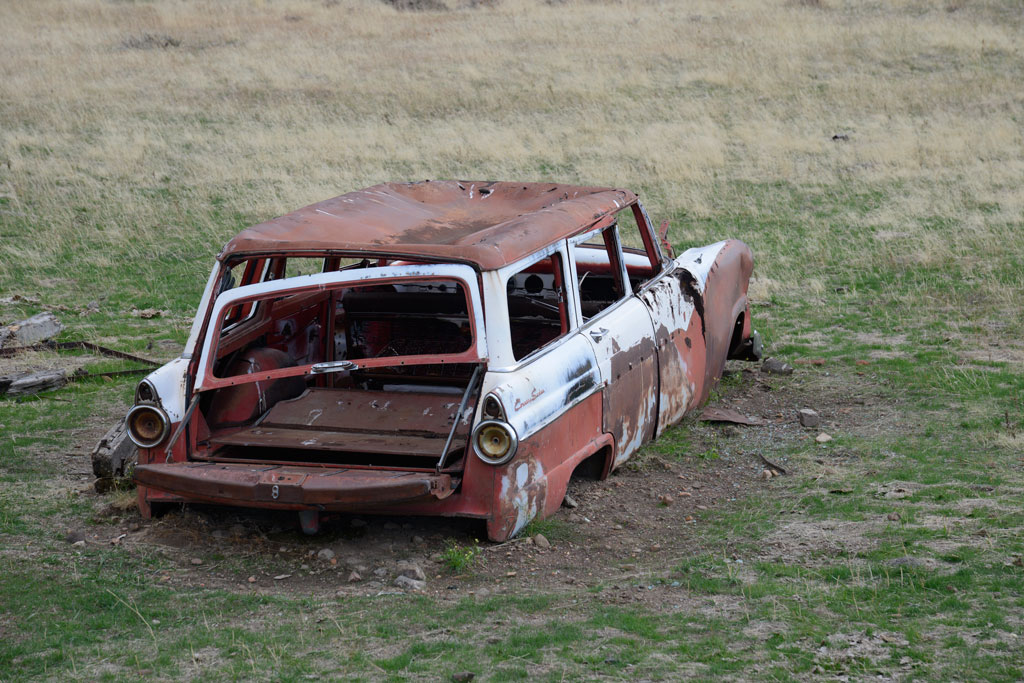 ---
Vo Dao
It's beauty country view with few colorful. Trunk ford body very attractive under sunset, i wish should wait a car or truck on the road when it approach turning point then so pic more meaning old-new, die-alive....just my opinion &nbsp Posted: 10/13/2019 22:17:14
Bob Patrick
The local traffic is sparse of 65 year old cars still running. I could hover a drone at a good curve but with 20 minutes of flight time, the odds are against a good image. This neighborhood has plenty of harsh wind, and bad lighting.
&nbsp Posted: 10/13/2019 22:22:03
---
Lisa Cirincione
This definitely has a very barren wasteland feel to it. Love the truck as a foreground element and I do agree with Vo Dao, a vehicle on the road would connect it. It actually looks like there might be one on the far road, but can't tell what it is. Nice job. &nbsp Posted: 10/29/2019 10:57:29
---