Group 85 Bulletin Board
---
13 threads - 48 total comments
This page is dedicated to discussions about our theme (Drones) that are outside the scope of our monthly images.
---
---
Thread Title: Dan Anderson Drone Photos
Pete Scifres
Lisa Cirincione
Those are great images on his website, thanks for sharing Pete. This is what I think your images are aspiring to be, fine art from your drone. You are actually doing that. I'd like to make more images in this vein myself. &nbsp Posted: 04/14/2023 15:55:28
Pete Scifres
Thnks for your very nice comment! &nbsp Posted: 04/16/2023 21:50:55
Drema Swader
Daniel is our local (Wisconsin) very talented drone photographer. I saw his presentation a few months ago at WACCO (Wisconsin Area Camera Club Association) and asked him if he would judge images for our small local camera club, which is tomorrow. If anyone wants to join us, let me know, and I will send you a Zoom link (although all we are doing is presenting a few images from our members). &nbsp Posted: 04/14/2023 16:57:47
---
Thread Title: Traveling with the ipad pro
Lisa Cirincione
Hello all,
I traveled to India this month for the PSA Photo Gathering event. It was a great time, many photos taken and many great people met. It was also the first time I left the laptop at home, and just uploaded my raw photos to my ipad and used LR mobile for editing.
I have to say it worked out pretty well, I was able to back up to the ipad and to a small external drive, and able to look at and post photos as the trip went along.
Alas, I didn't have my drone. I was too worried about drone laws, and having it taken away.
Let me know if any of you use LR mobile along with your LR Classic or Cloud. &nbsp Posted: 02/24/2023 14:34:41
Don Stouder
Hi Lisa,

I have done something similar. I generally will take my iPad on trips along with my camera as well as my drone. I love the iPad for viewing the photos at the end of the day.

I copy the photos directly from my camera via a cable. Although, I have Lightroom Desktop (proper name for cloud version?), Lightroom Classic on my PC, and Lightroom mobile on my iPad, I have not used the web version of Lightroom to take full advantage of the Lightroom ecosystem.

I do not do any editing while on the trip, except for cropping on those images I may want to post on Facebook. Actually, I am still experimenting with various workflows dealing with Lightroom.

As for my drone pictures and videos, I only work with the photos and videos recorded by my iPhone until I return home to copy the full resolution videos from its memmory card. &nbsp Posted: 02/26/2023 16:51:07
Pete Scifres
I have both LR Mobile and SnapSeed on both my phone and tablet. But since I would only be posting to social media (or just for fun looking at images I've shot), I don't do anything with RAW files. I just use the wifi system on the camera to get jpegs into the phone/tablet and then process them using one of the above programs.

Aside for more timely posting I find this system helps when I get home and do the "real" processing. I already know what most of the issues in a given photo are before I sit down in front of the desktop.

With dual cards on my camera now I don't get too crazy about backups to a hard drive. I record all images to both cards and if I am ever in a situation where I think there would be some risk to the camera I pull one of the cards and carry in it a separate, safe place.

I don't bring a computer with me on trips, except in unusual circumstances &nbsp Posted: 02/26/2023 17:11:48
---
Thread Title: Workflow: photos and videos from drone to computer/ipad
Lisa Cirincione
Hello all,
What is your workflow for getting your videos and photos from your drone to your computer, ipad, phone, tablet, whatever you use?

After recording, I usually download them to my phone, and then upload to Lightroom. Sometimes thru the phone app, sometimes copying the memory card to the computer/external hard drive and then importing.

I'm not sure what is the best way…

And do you do screen recordings? And save them? &nbsp Posted: 12/29/2022 13:09:10
Pete Scifres
I just pull the sd card from the drone when I get home and download into my desktop. I want the full resolution files for post and doing this wirelessly is more trouble than it's worth.

For FB, etc, while in the field, I was also downloading small files into my phone while it's still connected to the controller and then processing in SnapSeed. Now no longer using the phone due to owning the RC controller it is not straightforward as to how to get images into your phone. I need to spend some time on this as I do like the immediate gratification! &nbsp Posted: 12/29/2022 15:13:14
Lisa Cirincione
I've been doing both… but now that I have my new iPad Pro, I can get raw images into Lightroom a lot easier… I still want to know how to get the drone data for each photo. That was so much easier with the Spark and that app. This app is different for the Air 2S. &nbsp Posted: 12/29/2022 15:21:47
Lisa Cirincione
Don Stouder
Lisa,
I use a process similar to you and Pete. I have a Mavic Pro and use my phone as the controller. Like Pete, I download the data from the memory card into Lightroom CC. This gives me the full resolution photos and videos.
The photos and videos that are saved automatically in real-time on my phone can be downloaded to it via the DJI Go4 app I use with the Mavic, but they are not full resolution. They are adequate for FB etc. For panoramas I have shot using the Mavic's panorama flight mode, I process them while still in the air. I started doing this early on for some reason.
The real-time video also records ground audio, so it is an excellent way to document the flight parameters etc.
I have found the metadata in the .dng file does not contain valid altitude data. However, the Flight Records data of the Go4 app appears to be valid.
See the example. The LR metadata showed -121 ft. The figure below shows about 36 ft, which is correct. &nbsp
Posted: 12/29/2022 19:29:42
---
Thread Title: My Review of the DJI RC Controller
Pete Scifres
My wife jumped the gun and gave this to me for my birthday! I paired it with my Air2S

Comments-positive: It's noticeably lighter and ergonomically friendly than using the standard controller with your phone.

It mates almost instantly with the drone.

Best of all -- to my eye at least -- the screen is noticeably brighter than what I was seeing on my (old Samsung 9+) cell phone.

Comments-negative none other than he $309+tax.

Notes: IMPORTANT before you do anything update the firmware on the DRONE, using your old controller/phone. Then update the firmware on the new controller. Do this before you attempt to mate the new controller with the drone, otherwise the Air2S (or whatever) may not show on the supported drones list. The screen brightness is adjustable, Swipe down with two fingers to get to that menu. &nbsp Posted: 11/22/2022 18:20:26
Lisa Cirincione
Okay good… glad she jumped the gun and got it for you. Mainly so that I have the review, even though I broke down and ordered it earlier today. I could the info on the DJI website about it working with "our" drone. Good point about updating the firmware with the other controller. I won't get it until Monday when I get home, but I'm excited to use it.
Thanks for the info! &nbsp Posted: 11/22/2022 18:24:53
---
Thread Title: DJI Mavic 3 Classic
Don Stouder
Are any of you tempted by the new Mavic 3 Classic? I have a Mavic Pro, which I feel is getting a bit long in the tooth technology wise.

Obviously, I have not exhausted it capabilities, but upgrading is tempting. Its price point is certainly attractive. &nbsp Posted: 11/12/2022 15:22:35
Drema Swader
I would love to get the new Mavic 3! It's a little cost prohibitive for me though... there are lenses for my new mirrorless camera I want to buy to replace the old DSLR lenses before I can upgrade my drone. &nbsp Posted: 11/12/2022 15:47:49
Pete Scifres
To borrow from The Lord of the Rings " me wants it!" But I'm pretty happy with images im getting off of the Air2S. It's really more costly than the $1470 headline price, even if you can work around sales tax. At minimum you would need to spring for a second battery. And to sell your existing drone you would have to buy a charger.

And make peace with sometimes flying $1500 (uninsurable) over water or impassable terrain.

I'm not rushing into this.... &nbsp Posted: 11/12/2022 17:35:16
Don Stouder
Those are good points, Pete. The ultimate price goes up when you consider getting second battery or two, etc. I am a pretty conservative flyer now, even though I have had my Mavic for about 4-5 years. I suspect that with a new drone I would be even more so regarding flying over water and pushing line of sight limits.

There is a lot I can learn and do to improve the quality of my photos/videos using my Mavic.

On the other hand... &nbsp Posted: 11/17/2022 15:22:07
---
Thread Title: Using a tablet instead of a phone for your screen
Pete Scifres
Hi DD85, I recently bought accessories so I could hook a tablet to my DJI Air 2S controller, instead of my phone. The bigger screen is very helpful. In case you are not already doing this here is some info.
You need a bracket and a longer cable. I bought:
https://www.amazon.com/dp/B09PF8Y632?psc=1&ref=ppx_yo2ov_dt_b_product_details
AND
https://www.amazon.com/dp/B089CQNF38?psc=1&ref=ppx_yo2ov_dt_b_product_details
Thre bracket works great. It will hold a phone in a case as well, and folds up compactly enough so it still fits in the DJI case. See pix
Hope this helps someone! I'll put the 2nd pix in an other post &nbsp
Posted: 08/18/2022 16:08:00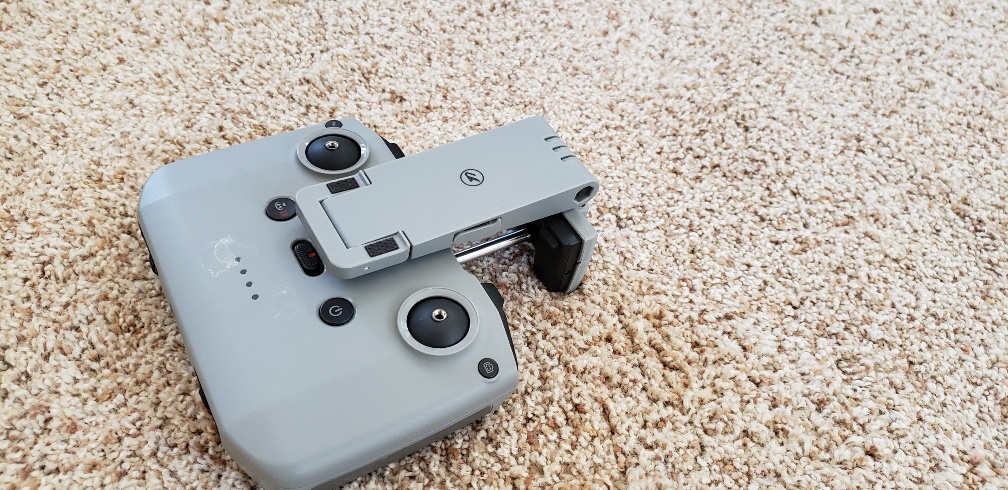 Don Stouder
Hi Pete, I went through a couple of types of brackets and hoods to mount my iPad to my Phantom 2 controller. None really worked out as I had hoped.

When I bought my Mavic Pro, I decided to stay with the iPhone. I decided to optimize brightness over size. I did try an Android phone once that was supposed to have a very bright screen. But the iPhone appeared to be brighter, so that is what I use now. &nbsp Posted: 09/01/2022 10:39:09
Don Stouder
Pete, what is the tablet and its size? Do you find it to be bright enough during midday sun? &nbsp Posted: 09/01/2022 10:41:22
Pete Scifres
Well, I try if at all possible to launch from next to my car so, after I get airborne, I can sit either in the car or on the tailgate and not be exposed to glare. And mostly I'm not shooting in the middle of the day. So the tablet, as long as I set to maximum brightness, has been ok. I do like the bigger screen

My tablet is a medium size, I think about an 8 inch diagonal &nbsp Posted: 09/02/2022 17:47:33
Lisa Cirincione
So now, what do you do with the tablet? &nbsp Posted: 11/22/2022 18:26:26
---
Thread Title: Apologies
Don Stouder
Hi Everyone,

I apologize for not submitting an image this month. I was travelling and missed the deadline by a day or two. Hopefully, I will have some interesting photos in the months ahead to share with the group taken on my road trip.

Is anyone considering buying or bought the new DJI Mini 3 Pro? &nbsp Posted: 07/17/2022 09:29:22
Pete Scifres
DJI Mini 3.....clearly there are some positives about this model. But for $400 more you can buy the Air 2S which has a 1" sensor. The larger sensor and lower mp count (20 vs 48) means you will have much greater editing flexibly and lower noise in your images. &nbsp Posted: 07/17/2022 14:44:04
Don Stouder
Pete, that is a good point. But won't the higher MP count give allow more flexibility in cropping and compensation for lack of a zoom lens? &nbsp Posted: 07/30/2022 19:51:37
Pete Scifres
Yes, the 48 MP will be great for cropping. BUT you have to consider the quality of the file. 48 mp on a cell phone size sensor means the individual pixels will be VERY small. Noise control will be difficult, among other problems.

You'd have to run a test but I'm pretty sure you would be much better off with the bigger sensor/fewer pixels on the Air2S and, if you need to, upsize with Topaz GigaPixel or similar software. &nbsp Posted: 07/31/2022 13:35:32
---
Thread Title: Mavic Pro IMU Fails to Calibrate
Don Stouder
Has anyone had trouble calibrating their DJI drone's IMU. Went out to fly this weekend and got the error saying that my
IMU needed calibrating. Tried a couple of times in the field, but it failed to complete. I would get to Step5 and the hang for minutes forcing me to cancel.

I am going try one more time at home, and then to the hobby shp to see if they can help. I am trying to this online from GoFly 4, and not through Assistant 2. I have not had good luck using that app on my PC. &nbsp Posted: 06/16/2021 19:09:37
Lisa Cirincione
I had a problem with my Spark last winter... I crashed it into the snow, and it wouldn't calibrate in the field. I took it home and had a hard time getting it to calibrate, I was almost ready to quit. I turned it off for a while, and when I started again, I was extremely careful with following the instructions. I think that I was holding it the wrong way, or that maybe it was a little water logged? It started working again though.
&nbsp Posted: 08/27/2021 18:20:13
---
Thread Title: Wish List: New Drone !
Lisa Cirincione
Hey there,
I am suffering from GAS - Gear Acquisition Syndrome... I have been shooting with my DJI Spark since July 2017 and I'm ready to upgrade. I'd like a drone that shoots raw and has a better sensor.
The drone I had picked out is the Mavic 2 Pro. But... now I've been watching videos of the DJI FPV, and that is fantastic. The combo is the same price as the Mavic 2 pro combo. But it doesn't shoot photos in raw!
Any one out there familiar with these 2 drones and have an opinion for me?
thanks!
&nbsp Posted: 03/11/2021 17:49:31
Don Stouder
Lisa, as you have seen in my posts, I own the Mavic Pro (not the Mavic Pro 2), and I love it. I have since I believe they first introduced in 2017. In my opinion, being a serious photographer at your level, I would not consider the FPV if it does not take RAW images.

Plus, it does not appear that DJI has targeted the FPV for serious or professional photographers. That being said, I only read a short article about the FPV and know very little about it. FWIW &nbsp Posted: 03/11/2021 21:30:05
Lisa Cirincione
Thanks Don... I don't think the FPV is right for me. I can't believe it doesn't take raw photos. You said on a comment on your March photo that the Mavic Pro is set at f/22 only? How can that be? No way to manually change that? I guess it makes sense but it is limiting. &nbsp Posted: 03/31/2021 07:36:35
Don Stouder
Not sure off the top of my head as to how the Mavic Pro can get by with a fixed aperture, but apparently the is one of the improvements in the Mavis Pro 2.

Getting back to your original question. Have you looked into the DJI Mini 2S? Lots of buzz about it. &nbsp Posted: 04/25/2021 19:43:53
Lisa Cirincione
oh yeah... I'm looking at the DJI Air 2S... 1 inch sensor, raw, packable and not a bad price... hope to get it this summer... &nbsp Posted: 04/27/2021 19:34:39
---
Thread Title: Flight Modes & Camera Settings
Don Stouder
I was wondering just what Flight Modes and camera settings/tips you use for both your photos as well as your videos? I need to pay more attention to the camera settings. I get so wrapped up in the flying that I sometimes get unusable results.

For example, during my last flight, my still photos were all out of focus and over exposed it was a bright sunny day, and I failed to see this.

A second question. I have a DJI Mavic Pro. I often use the 360-degree pano setting. I have yet to find a site/app that I really like to convert the 34 images making up the pano into a 360 projected image. I know we all do not have DJI drones, but I suspect all our drones can take automated panos.

Thanks for your inputs. &nbsp Posted: 10/11/2020 18:20:43
Bob Patrick
I fly a Phantom 4 Pro. I usually have the camera (for stills) set in aperture priority, no compensation, at around F8, unless lighting conditions require a more open aperture. Sometimes I actually look at the screen and will adjust exposure, but like you, I am usually trying to fly the A/C. In video, I set the aperture and go with what I get. The meter favors highlights, so if there is a good amount of sky in the frame during twilight the ground is underexposed. I tend to favor what's on the ground unless the sky is the subject.

So far, I have not attempted to run any of the automated features on the drone. &nbsp Posted: 10/12/2020 10:41:33
Lou McLove
Hi Don, I don't use the panorama feature. As far as focusing, I was having some problems too, I didn't understand how the various focus modes work. This is one site I looked at
http://fromwhereidrone.com/dji-drone-camera-focus-guide/
<br />
<br />I found that I need to turn off AFC (it is in the camera menu in the app), I think AFC causes problems with sharp focus. Then I turn on AF (on the main screen of the app)the focus box will be green. Then I focus every time I change my view, just as I would with a DSLR. &nbsp
Posted: 10/17/2020 17:05:10
Don Stouder
Thanks for the link, Lou and the tip. I'll check them out. &nbsp Posted: 10/22/2020 12:54:16
---
Thread Title: Drone certification
Don Stouder
Hi Bob Patrick et al,
It seems you are using are aiming to use your drone photography professionally. That being the case, I presume you are or planning to operate under Part 107 - I thin I have the right law.

How difficult was it to get certified or what are you doing to complete certification requirements? I do not plan to make money with my drone photography but am thinking about becoming certified anyway. What are the advantages to flying under Part 107, as you see it.

Although, I addressed my question to Bob, I am interested in comments from everyone. &nbsp Posted: 09/03/2020 21:49:49
Lisa Cirincione
Hi everyone
<br />I am not aiming to make money from my photography or drone use. I do enter photo contests thru PSA and other places. I have looked into taking the Part 107 tests, to learn more about drone rules and maybe have license to fly in places that I might not otherwise be able to fly.
<br />
<br />Has anyone looked into taking the test? Or have taken it? &nbsp Posted: 09/23/2020 10:49:34
Bob Patrick
I do have a 107 License. Still, I am not currently pursuing commercial work. The drone is an extension of my photography efforts. I want photography to be fun, not an obligation to someone else's needs.

Last year I considered joining the Search and Rescue volunteers working under the local Sheriff. After meeting the people involved, and getting a better understanding of their requirements for membership, I knew it would not be a good fit, and dropped the idea.

BP &nbsp Posted: 09/23/2020 11:31:08
Lisa Cirincione
What was your process for getting the certification? Did you take a class or prep course? &nbsp Posted: 09/23/2020 12:50:18
Bob Patrick
I took the online training (and test) at the FAA website. &nbsp Posted: 09/23/2020 13:58:52
Lou McLove
Can you suggest a website for the online training? &nbsp Posted: 10/12/2020 06:03:52
Don Stouder
Thanks for the reply, Bob. I suspect the Phantom 4 has similar controls and capabilities as my Mavic Pro.

I forgot to mention that I have a 16 ND filter over my lens and seem to get the best results when I have the EV at a negative number, sometimes as low as -2. I often have a large part of the frame devoted to the sky.

&nbsp Posted: 10/17/2020 11:23:54
---
Thread Title: An Introduction
Don Stouder
Hi Everyone,
It seems that this is the first time this general comment thread area has been opened, so I will paste my introduction here just to get started. I realize (now more than ever) this group and PSA in general is about photography and the the images themselves. As I get more use to interacting with the organization, I will learn the norms. But for now, Hi everyone.

I got interested in drones primarily because of my interest in photography, which I suspect prompted you. My current drone is a DJI Mavic Pro, which I have had for about 3-1/2 years. I bought it as soon as they were introduced. Before that I had a DJI Phantom 2 Vision+, which I flew a couple years.

You might think that owning a drone for that period of time, I would be an expert by now. Not really! I am still learning. I live in the South Bay of Los Angeles, so places where I can legally fly are limited. I take both still images and videos.

&nbsp Posted: 08/26/2020 15:55:18
---
Thread Title: Bulletin Board Available
Lisa Cirincione
Hi everyone, here is our space to share our thoughts on all things drones! &nbsp Posted: 08/26/2020 12:03:23
---
Please log in to post a comment