Georgios Kazazis
---
June 2020 - Wonderwall
About the Image(s)
Camera settings: NIKON D200 F/16; 1/1000sec; ISO-800 at 90mm

Captured Îťovember 2019:

A street shot during my vacation in Baku, Azerbaijan. Near the well-known Heydar Aliyev Center, a building complex designed by Iraqi-British architect Zaha Hadid, there was a fantastic outdoor photography exhibition
and while we stopped for sightseeing, I saw somebody walking on the opposite position of a move depicted in one great picture of the exhibition. I didn't have the time to think so I just pressed the button.



---
This round's discussion is now closed!
16 comments posted
Judith Ponti-Sgargi
Georgias
Good reflex action and monochrome does a wonderful job in removing color distraction.
I understand that street photography does not follow the traditional rules applied to images. However, as I scrolled down removing the top of the image, it simplified the image and brought more attention to the legs. The image became more universal. I cropped down to the boys head because the man on camera left was cropped to mid forehead.
JPS &nbsp
Posted: 06/07/2020 16:24:19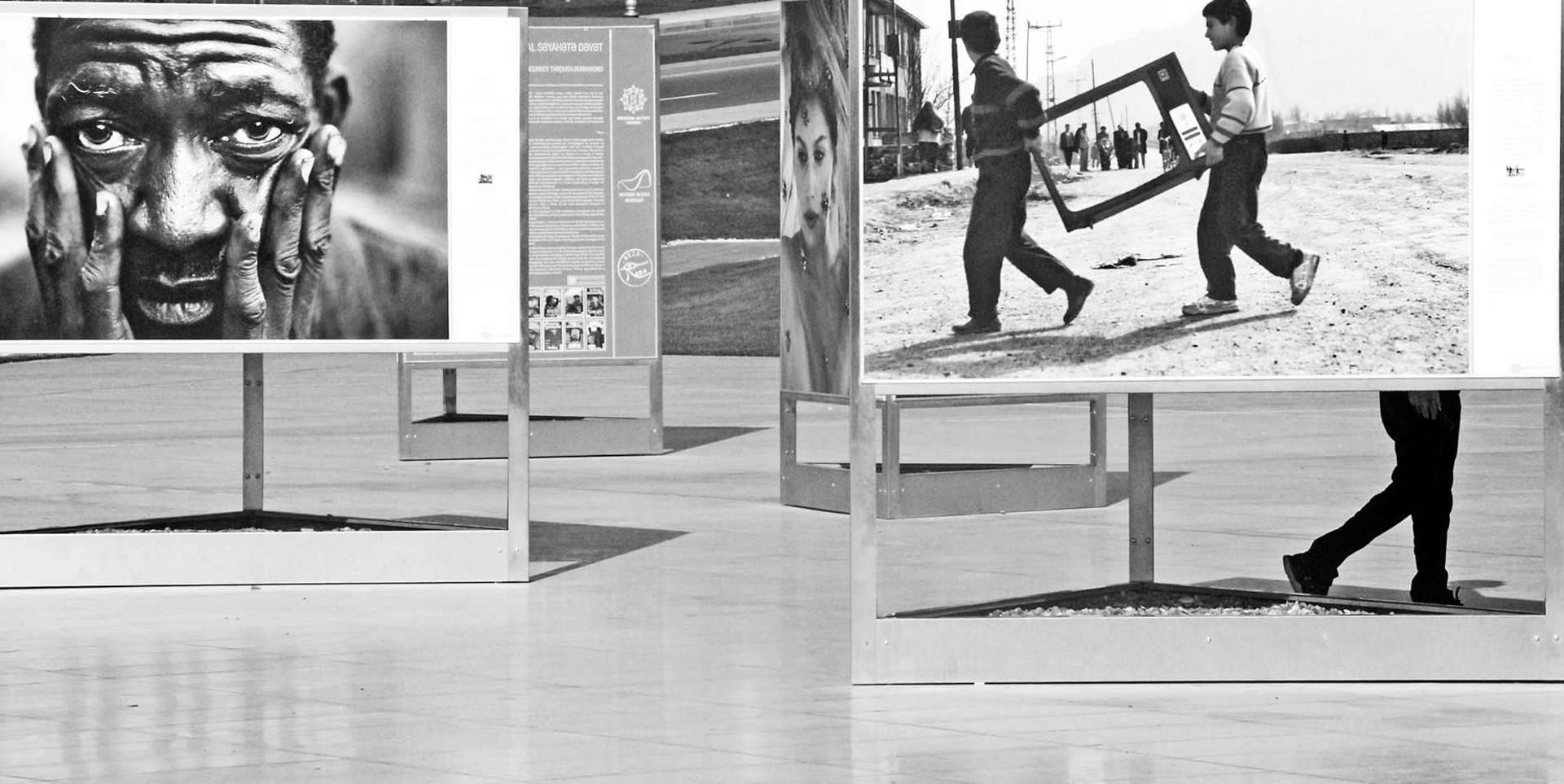 Georgios Kazazis
Judith

Thank you very much for your comment on target and of course for the new perspective you gave to my picture with your apt crop, which emphasises on the legs. I think i may try this picture also with your crop in the future. &nbsp Posted: 06/08/2020 03:21:42
---
Judith Ponti-Sgargi
Georgias

I found this image interesting. When I first looked at it I thought it was a composite.

With your original crop, it emphasizes the nature of street photography, the quick eye you had and provides setting.


&nbsp Posted: 06/08/2020 09:08:21
---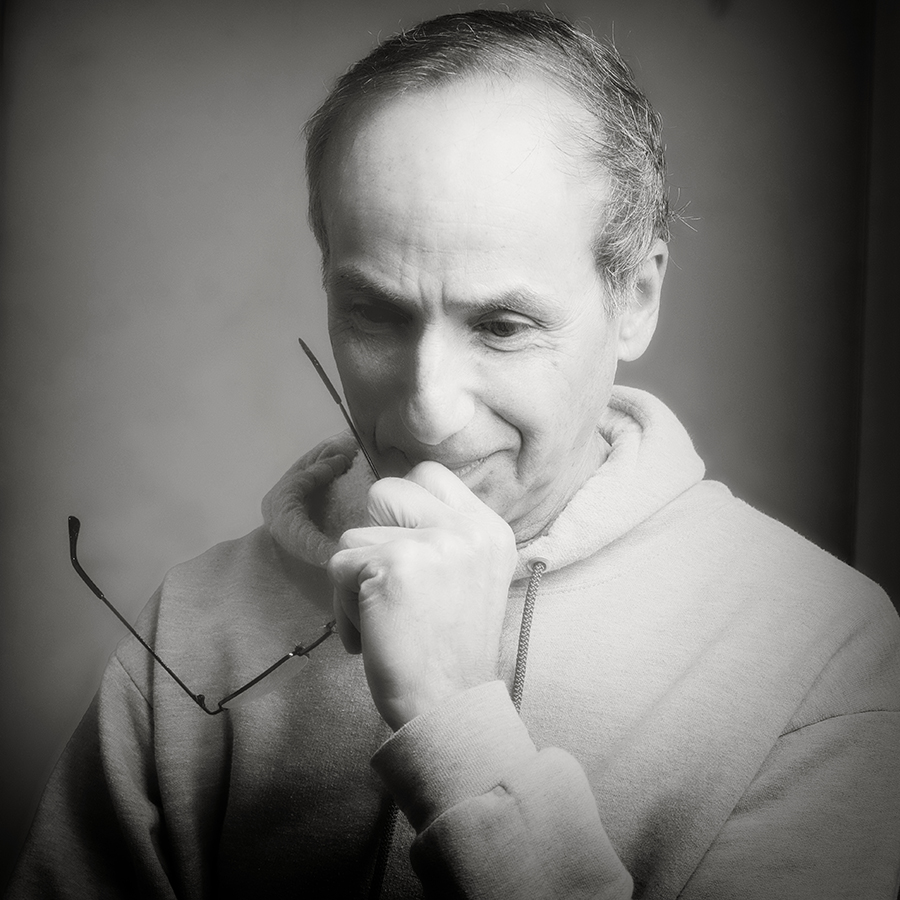 Lance Lewin
Absolutely love this composition, Georgias.

Though Judy crops spells a possible alternative, the original composition makes it less abstract??

But indeed, the cropped version is very compelling.

In any case, very good eye in capturing this scene.

Well done. &nbsp Posted: 06/09/2020 06:54:05
Georgios Kazazis
Thank you very much Lance for your positive and encouraging words!I think that this shot was a combination of rather experienced eye but also luck!All of our communication in this group helps me think more wide and discover other ways of creativity!Very educational indeed!
I am grateful also for this! &nbsp Posted: 06/09/2020 16:09:24
---
Jose Luis Rodriguez
Hello Georgios
Street photography is one of the most complicated and demanding branches of instantaneous reactions.
Your image has two very strong and strong attention centers
From the comfort of my chair observing your image, I would have taken only moment 1, the person going behind the children's photo, that would be a super strong image.Then I would have calmly framed the image of the face trying to include in the composition the image of the woman seen in the middle, I also think that another powerful image would emerge from there.
But of course all this from the comfort of my chair.
Street photography are instants and you captured it, well done &nbsp
Posted: 06/09/2020 18:15:48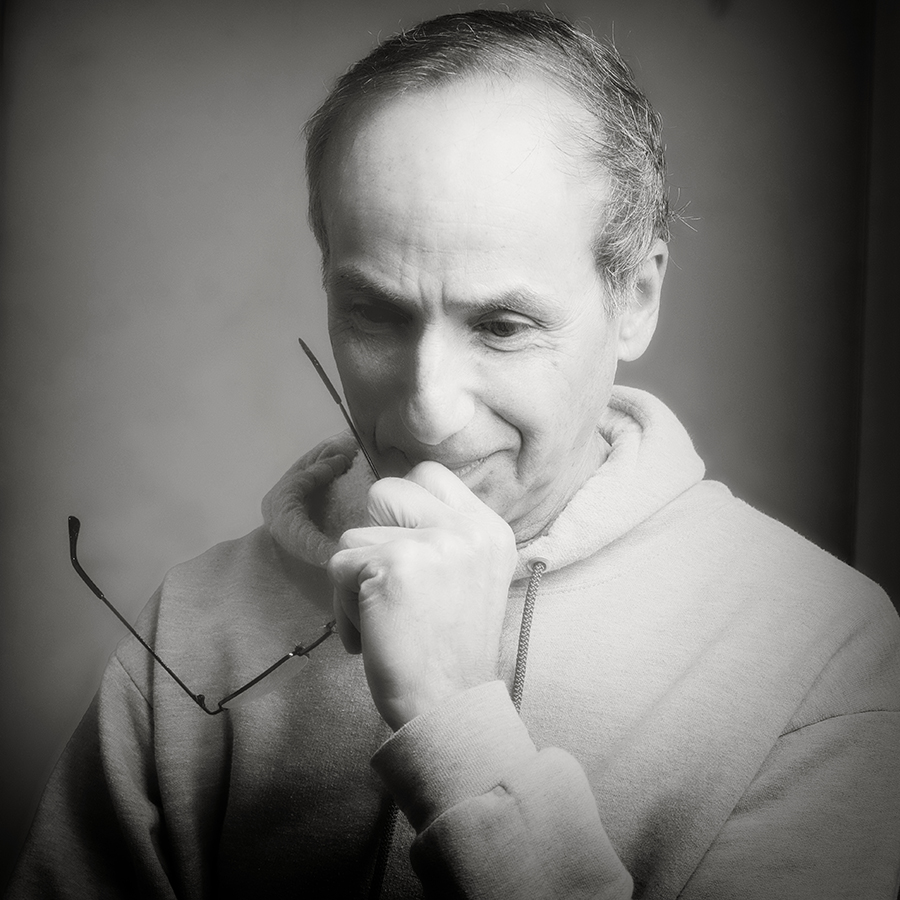 Lance Lewin
Well described, Jose. &nbsp Posted: 06/10/2020 13:56:09
Georgios Kazazis
Hallo Jose,
It is so nice for me to see your comment and I read it many times to understand totally (looking at the same time the red points) the alternative ways that you propose! I find them very interesting and is really fascinating for me going deeper and see further on that picture of mine! I really appreciate your sincerity when you admit: «from the comfort of my chair» (that is a thought that I make so often) and of course your so nice words!
&nbsp Posted: 06/10/2020 15:37:19
---
Debasish Raha
Hi Georgios, The timing of the photo was great as I see that the right foot of one of the boys align vertically with right foot of the passer by. I agree with Jose that there are multiple stories in this photo but there is only one that goes with the man walking by-it is the photograph of the two boys carrying a television. I would keep the buildings in the background though as they give a signature of the place. &nbsp Posted: 06/09/2020 19:38:23
Georgios Kazazis
Hi Debasish,
It is very insightful your observation about the right feet of one boy and the passenger. I did not realize it til you mentioned it! I am not opposite to the perpective of the backround and if I blur it a little like Georgianne proposes it might seem even more interesting. Thank you very much!
&nbsp Posted: 06/10/2020 15:48:56
---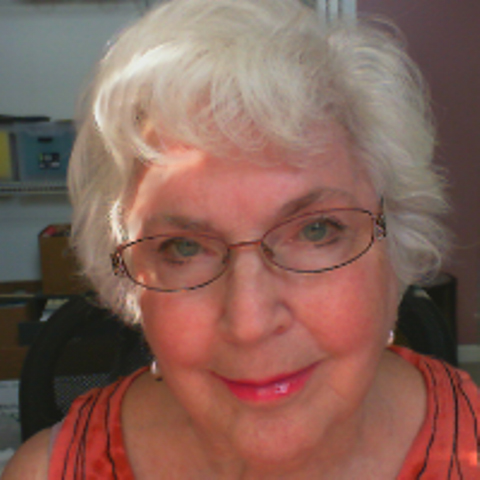 Georgianne Giese
Georgios, your street photography is compelling. I agree with the discussion about cropping and/or homing in on just part of the multiple stories conveyed in your image. if you want to retain the upper background buildings, how about blurring them, to simulate a more shallow depth of field? &nbsp Posted: 06/09/2020 22:16:40
Georgios Kazazis
Hi Georgianne,
Thank you very much for your lovely words and your good idea about the backround!!
&nbsp Posted: 06/10/2020 15:56:40
---
Judith Ponti-Sgargi
Georgias
In the LR print module, one can create a tryptych. It would be interesting to see how this image works in the tryptych format with your original crop as one image, and the left and right image per Jose's comment as another.
See attached example of a tryptych I did on Social Distancing. I apologize for using my example, but did not want to suggest a yet other crop since the crop depends on your purpose.
&nbsp
Posted: 06/10/2020 13:03:21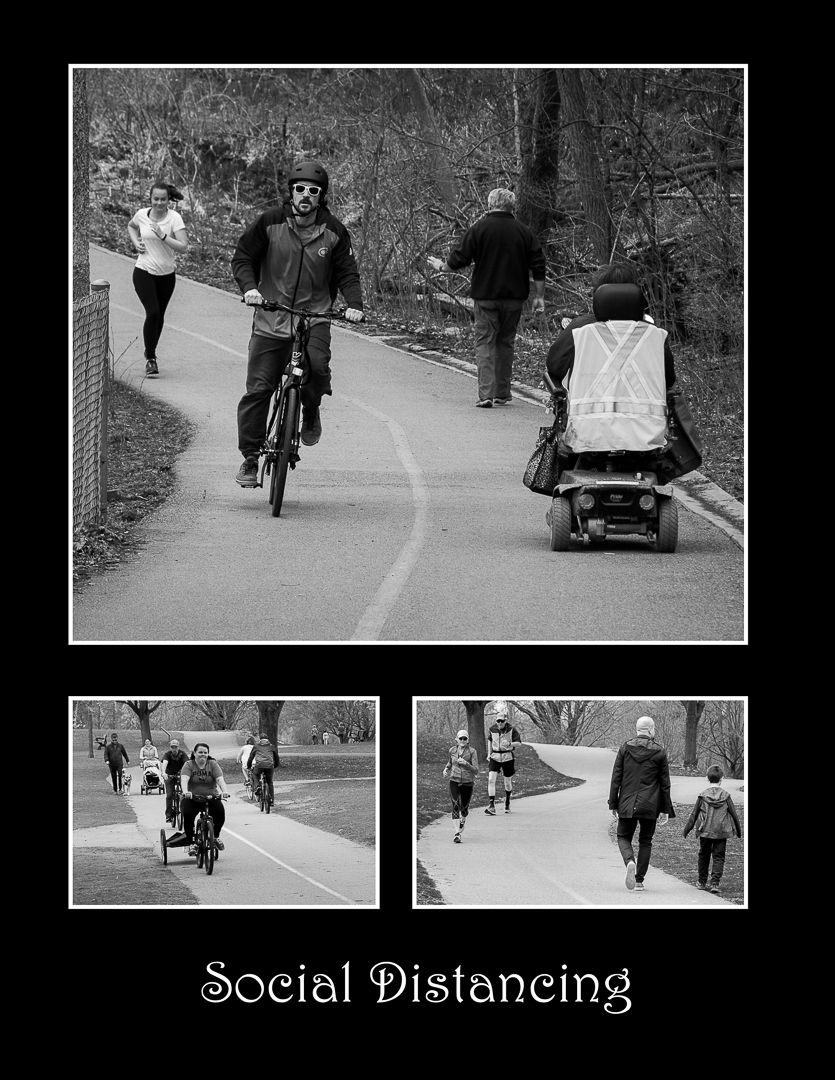 Georgios Kazazis
Judith,
Your example of a triptych (I like that word, we use it in greek exactly that way) is great and thank you that you shared it with us! I have in my mind now the 3 images together inspired by Jose's comment!
&nbsp Posted: 06/10/2020 16:08:55
---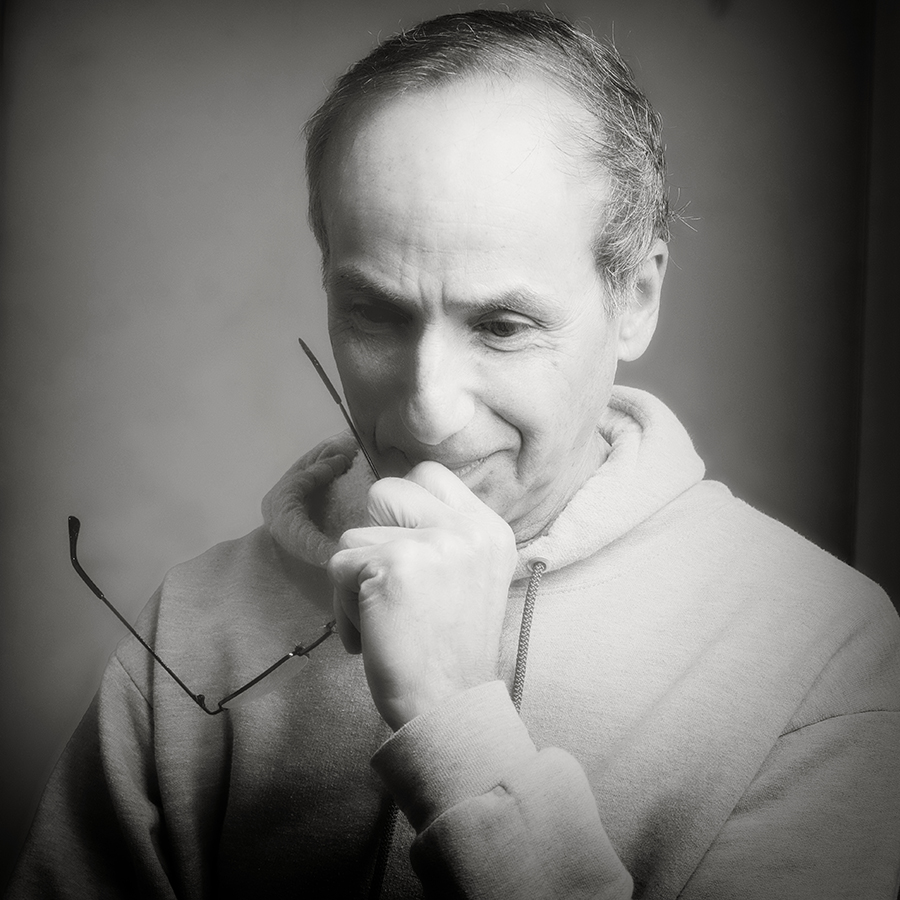 Lance Lewin
Street Photography takes on more than one type of narrative: for example, the implied "instantaneous" capture as we see in Georgios example is one narrative (and in itself, has two possible methods of capture; we will expand on this shortly, on Bulletin Board)in creating a narrative, and the second is more like Judy's, that of which resides within a documentary narrative.

The first pure instantaneous street photography example I think of is the work of Gary Winogrand (1928-1984). His approach is truly "instant" and for some (like myself) not a fan of most of his work, though his style/technique is worth research, indeed.

For an example of a photographer that spends more time "looking" and "feeling" or becoming one with a particular space before seeing and taking the shot, I do not find easy; of course, this also leads us to the type of work Judy or my work express - a more documentary, less spontaneous reaction.

I hope we can continue this conversation on the Bulletin Board along with Judy's topic on "Why Black and White?" &nbsp Posted: 06/10/2020 14:13:36
---
Georgios Kazazis
Lance,
i agree with your point of view. It is nice you reminded me of Gary Winogrand and his speciality on Street Photography. I will follow the conversation with much interest on the Bulletin Board. &nbsp Posted: 06/10/2020 16:53:19
---