Dirk-Olaf Leimann
---
November 2019 - Harley Days Hamburg
About the Image(s)
I visited Hamburg in June this year to see the musical Tina Turner. Direct in front of the theater was this motor rider, who took part of the yearly Harley days in Hamburg. I asked, if I would be allowed to take a photo and he gave permission. The theater is directly at the Reeperbahn. I had only my cell phone with me, so it's an image taken with a Huawei P9 pro with Leica lens. The back ground in the direction of the image was bad, so I just turned around and took a photo of the Reeperbahn.
In PS I changed the background in the moto image and made one image from those two. Then I converted to BW.

---
This round's discussion is now closed!
4 comments posted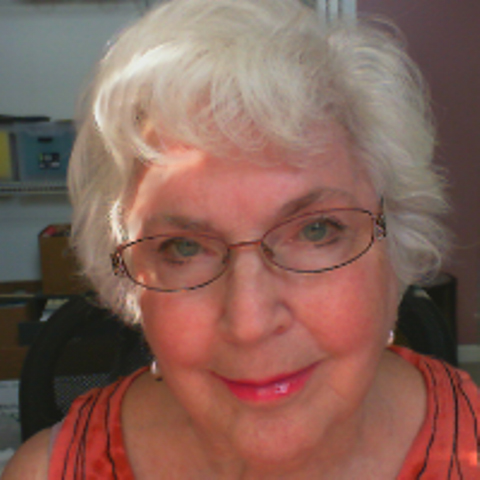 Georgianne Giese
Dirk, I do like the subject of your image.
In my opinion, it is important that nothing else in the image compete with the subject, which is the motorcycle rider and his bike, in this case. The background does contribute to the story, so it is best to keep it. However, there are too many bright spots in it, including the windows with the lady. The spots need to be removed, and the window with the lady needs a good deal of darkening. Also, the background should be out of focus, so that its detail does not compete with the subject.
Here is what I did, by means of suggestion, for this image and its story.
1. I ran the image through Topaz DeNoise AI, to remove the considerable amount of pixelation noise.
2. I selected the bike, rider, and surrounding cement; inverted the selection; applied a 2.6 Gaussian blur in PS CC to the selected background layer. I then used a mask, painting in black with a soft brush, to soften the edges of the selection.
3. I stamped up (ALT CTL SHIFT E) to create a top merged layer, without destroying the layers beneath.
4. I used the Spot Healing Brush to eliminate the bright lights in the background; used a selection + Edit > Fill > Content aware fill to eliminate the large bright spot to the left of the rider's head; used the Burn tool to darken the window with the lady, until it was darker than the rider's head.
5. Finally, I used NIK Color Efex Pro > Darken/Lighten Center, to darken the edges and keep the rider bright. I applied a mask to that layer to remove the edge darkening from the bottom and bottom sides. &nbsp
Posted: 11/08/2019 13:25:10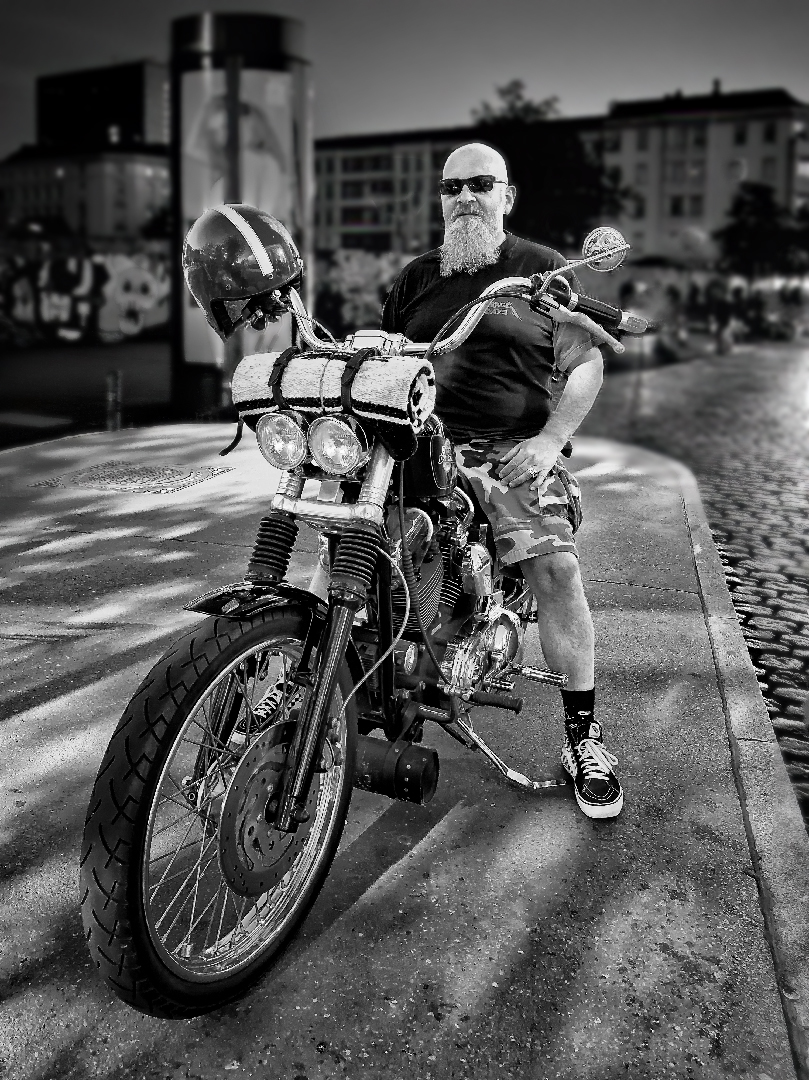 ---
Judith Ponti-Sgargi
Dirk

You certainly proved the point, the best camera is the camera you have with you.

For me, Georgianne's edit improve the image making the rider stand out.

My question now is "where is the light coming from? How should the light falling on the man, cast shadows on the pavement. The shadow on the pavement does not seem consistent with the image. Perhaps Jose with his lighting knowledge could advise on this.

JPS &nbsp Posted: 11/08/2019 17:18:44
---
Jose Luis Rodriguez
Hello Dirk
Good portrait of the biker and good editing work. Technically I am struck by the hardness of the daylight that causes the shadows on the floor, with the night background you chose, maybe you should have used a background with more daytime lighting &nbsp Posted: 11/09/2019 09:02:46
---
Dirk-Olaf Leimann
Hello and thank all for your remarks and the improvement, I follow Georgianne with the changes made to the Image. May be I can also find another background &nbsp Posted: 11/16/2019 02:43:11
---