Judith Ponti-Sgargi
---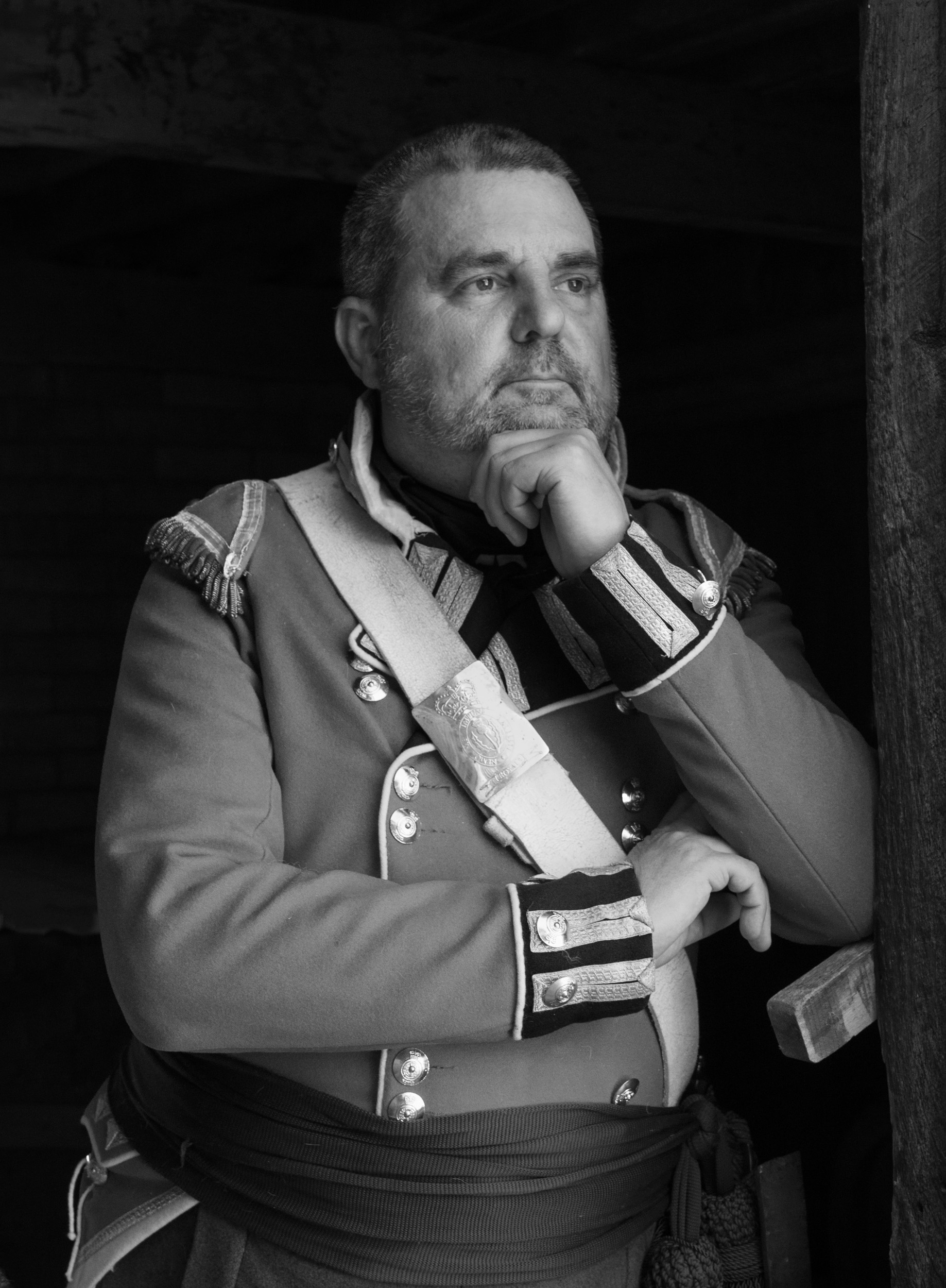 August 2019 - Soldier
Original
About the Image(s)
Soldier: 1/160 sec., f 5.6, ISO 800, 35 mm

This image was taken June 23, 2019 at Pioneer Village when it was celebrating its 60th anniversary. Fanshawe Pioneer Village is an open-air museum established in 1959 and located in the Fanshawe Conservation Area in London, Ontario.[1] The village uses historical re-enactments to communicate the history of rural communities in the former townships of Westminster, London, North Dorchester, Delaware, West Nissouri and Lobo in Middlesex County from 1820 to 1920 and the founding and development of the City of London up to 1840.[2]

I photographed the soldier in the doorway to provide opaque diffuse light. To convert to monochrome, I used PS BW adjustment layer with the green filter and adjusted the sliders.. The monochrome conversion immediately emphasizes the problem with highlights on the forehead where the skin texture is altered. This is not as apparent on a color image. I will try to learn frequency separation which could fix this problem.

I am now starting to watch highlights on the nose and forehead to assess how far back to put a person in a door way to avoid losing detail/texture.

---
This round's discussion is now closed!
19 comments posted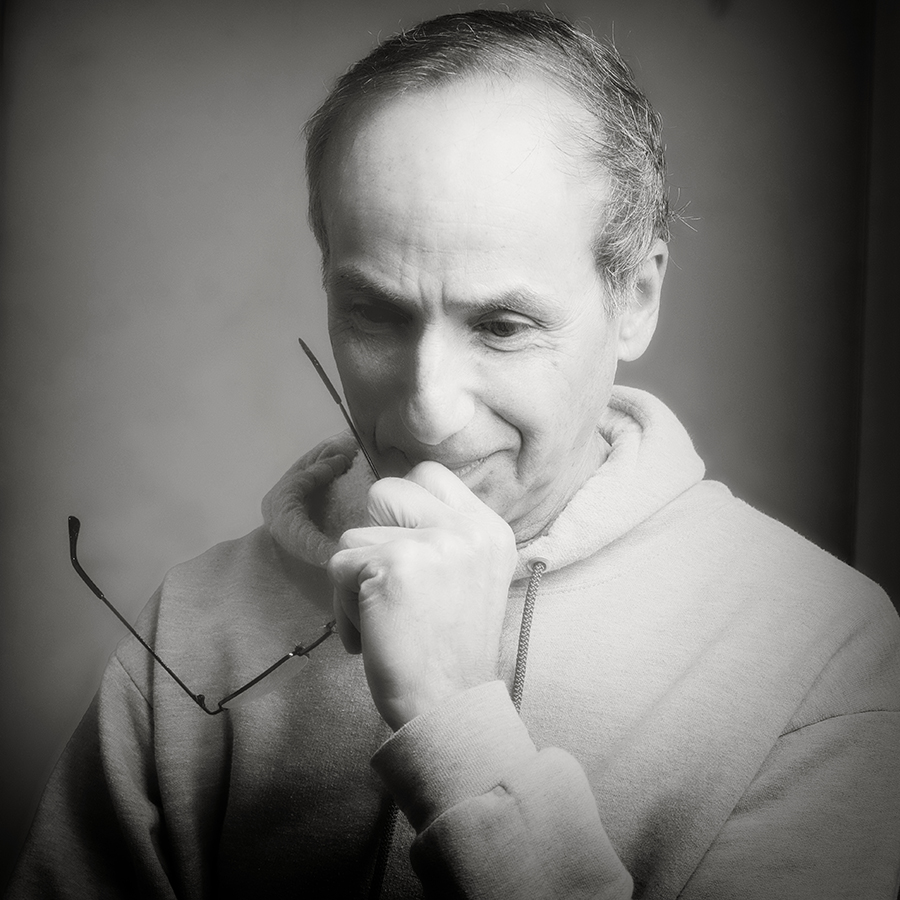 Lance Lewin
Hello, Judith - I am new to the group and look forward to hanging out with you all.

A very nice portrait - the color and clarity is OK and i can see where you "burned" away excess highlights: But overall, i like his pose, and exposure. Nice shot!

Not sure if you already tried this or part of your shooting routine, but bracketing 3, 4 or 5 shots on the exact same composition may have helped with exposure. (Of course this is completed more easily and efficiently using a tripod). Some things that can be tried on each pull of the shutter release:
1. change F-stops (in this case) maybe F/7.0
2. Lowering ISO to 500 or 400 - may help in controlling exposure brightness - maybe.
3. applying a negative Exposure Compensation or maybe add exposure compensation with higher F/stops.
Food for thought! &nbsp Posted: 08/15/2019 12:26:54
Judith Ponti-Sgargi
Cory

For me, you are suggesting a routine which I would consider if I were photographing architecture or landscape, not strangers in a dynamic situation.

My settings were deliberate: manual aperture and speed with auto ISO to deal with any situation I encountered photographing at Pioneer Village, a historical museum. I wanted an aperture that would not exceed 5.6 because I wanted to black out the interior and a shutter speed sufficient to reduce impact of shake.

In this setting, a tripod was not an option since people were moving in and out of the entrance of the structure. This man was a complete stranger and I asked him if I could take his picture. Using a tripod, may have resulted in "no, I do not want my picture taken". I followed common sense and courtesy and had 2 minutes to take 5 different poses. I was fortunate. He had studied photography and new how to pose and quickly followed my direction.

I photographed a variety of willing strangers in different structures. As I photographed, I did check my camera histogram and depending on the situation, determined if I had to move people forward or back in the doorway or use exposure compensation to get a good exposure.


&nbsp Posted: 08/15/2019 22:38:31
---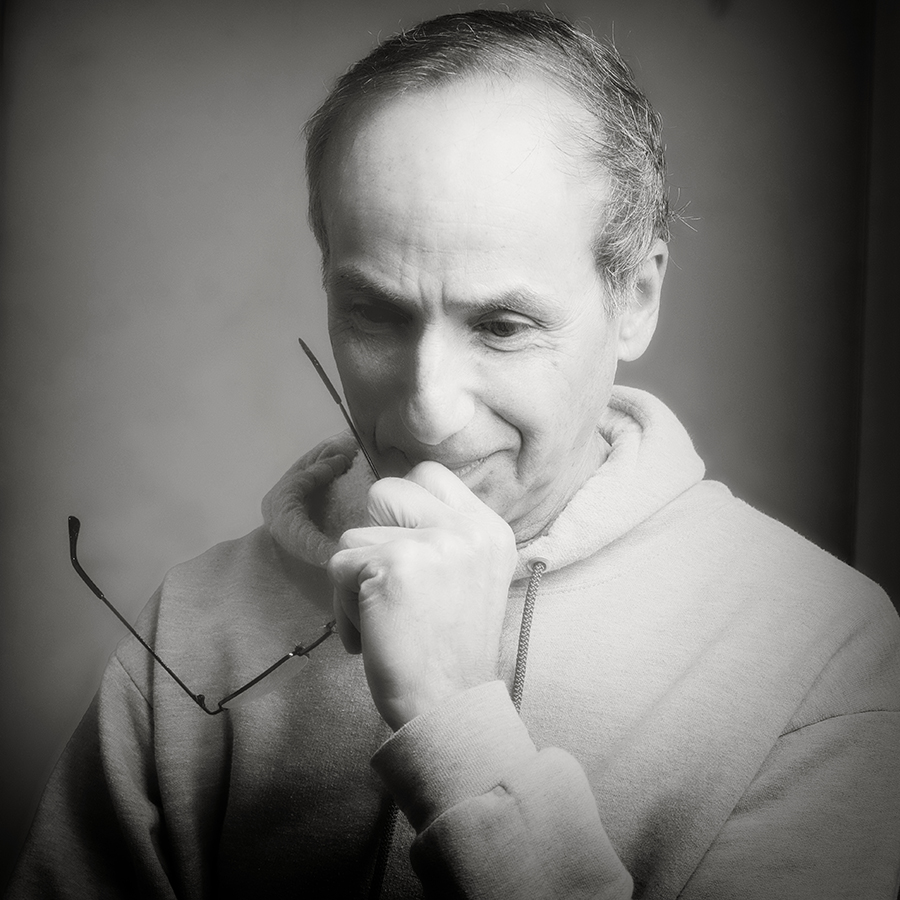 Lance Lewin
Judith - no one here can know what situation you encountered while shooting this portrait: if it actually hindered or otherwise prevented you from taking the shot in a certain manner. This said, my comments and suggestions still prevail.

When we critique photos in online or classroom format the "blanket suggestions" are for all photographers (participants) to read or hear and hopefully try to better their photography in similar circumstances.

Regardless if you had the time, need or encountered a situation you feel the suggestions did not work or be applicable, next time you shoot you may remember these (or whatever suggestions in the future) to better or otherwise have an alternative outcome.

For the sake of everyone in this Critique Group, a word on "Bracketing": a very important and strategic photography dynamic

"Bracketing" is essential for better photography that should be practiced more readily. Each Bracketed shot can be completed rather quickly (and efficiently) with practice, so even in the situation you had above, 3 or 4 shots could have been triggered with little issue of the subject feeling uneasy.

Thank you.

&nbsp Posted: 08/16/2019 05:22:30
Jose Luis Rodriguez
Let's reflect on bracketing
Obviously bracketing is something necessary to replace the lack of dynamic range of digital sensors, in front of the human eye. (Although that difference is smaller every day)
Let's analyze its use in this situation, a portrait with an indirect natural light with the camera in hand.
Running a bracketing with the camera setting is very easy and fast with the burst shot. But do you have practicality for a highlights? Or do we want to see the bottom of the room? Personally if it is for a highlights in the tip of the nose I think it does not apply, it is much more work, align and merge the images of the bracketing that retouch up the hightlights in PS &nbsp Posted: 08/18/2019 11:01:08
---
Judith Ponti-Sgargi
Lance

I read your biography to understand your background with photography and fine/visual arts. Please read mine. We are polar opposites in knowledge and experience with photography. One thing we have in common. We both share the passion for fine art photography and looking at the masters. I just completed the PSA History of Photography course the end of May. I followed this up with a one month study of portraiture in natural light and looked at the work of Karsh, Penn, Avedon, and Eisenstadt. This month's image is as far as I reached in understanding how to take a portrait in natural light. It is far different than from photographing in a studio or photographing things that are static. The concept of bracketing for portraiture did not occur to me.

I interpreted your comment as directed at me not the group since our group members are so skilled with photography and Thank you for clarifying your approach to critiquing as a method of educating all group members.

For clarification, I understand how to meter, bracket, use exposure compensation and merge images using LR, PS, and Photomatix. When I first learned to use a digital camera, I photographed in our local cathedral and practiced these techniques along with using a tripod. I also know how to set up my camera for bracketing. Last Saturday, I experimented with adjusting the exposure on an image with all other elements constant and then blending using Lumenzia.

I am now learning Lumenzia and am working my way through Greg Benz's course on exposure blending. He has good videos on how to determine correct exposures and blending. He also advised to learn how to get a good exposure and not always to rely on bracketing. Therefore, I opted for assessing my exposure, and taking one exposure only during the different poses. I have also followed David Morrow and watched his videos on determining exposure, hyper focal distance etc., DoF, tripods etc. and setting the lowest ISO.

A week ago, I started watching videos on portrait retouching and high frequency separation. Yesterday, I bought a wacom tablet and experimented with how cloning using the wacom pen produces such a different result from the sledge hammer approach of using just a mouse.

There is so much I have had to learn within a couple of months, test, and evaluate. With portraiture, the challenge is not just technical, but interpersonal skills, keen observation and instinct how to position oneself and when to press the button. Karsh said anyone can be taught how to press the button. What one has to learn is how to photograph with heart and mind. That is what I focused on heart and capturing essence.

So back to technical skills and bracketing, I shall try out your suggestion and see if in a more candid situation, it provides me with a better starting point for editing. Indeed, will much editing even be required????

I will be interested in Jose's comments on bracketing with portraiture.

Thank you for taking the time to critique my image.









&nbsp Posted: 08/16/2019 09:35:59
---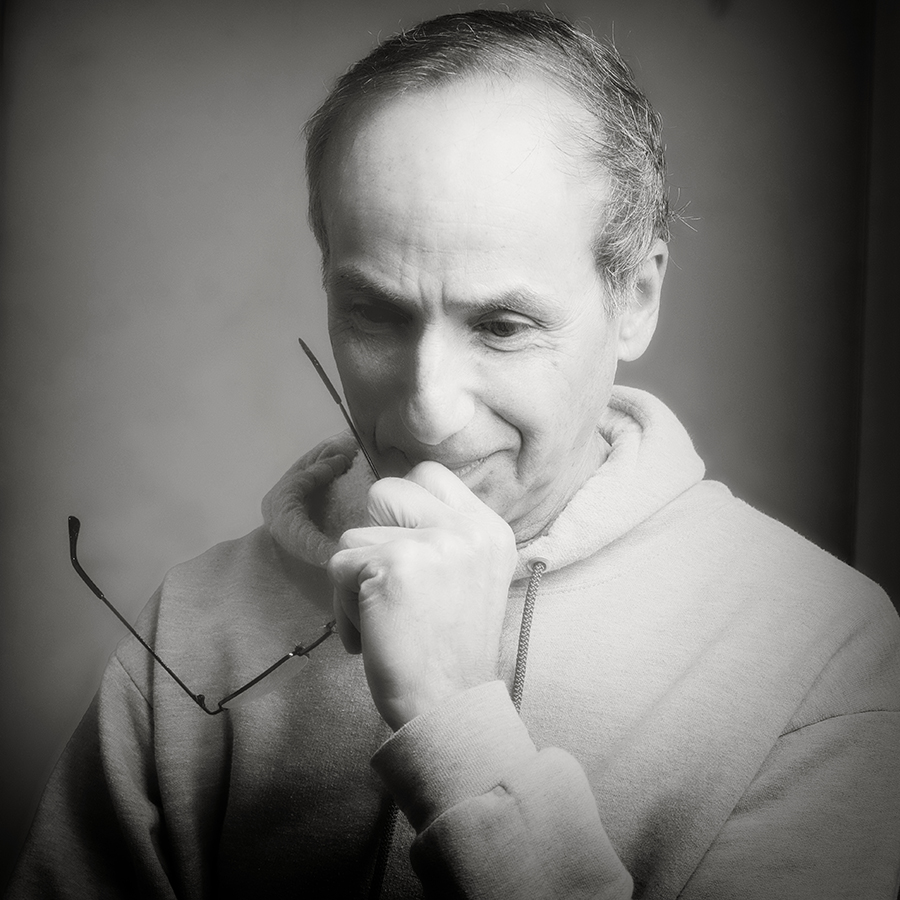 Lance Lewin
Its refreshing and a joy to see your passion - keep up the good work.

Best regards,
Lance &nbsp Posted: 08/18/2019 08:12:40
Judith Ponti-Sgargi
Lance

Please see my comment to Dr. Nair.

JPS &nbsp Posted: 08/19/2019 10:43:54
---
Jose Luis Rodriguez
Hello Judith

Good portrait, of natural light with a good cacht in the eyes and a correct exposure. The highlights in a portrait is a sum of several factors, skin type, amount of fat, sweat, curvature of the features.
I don't see any highlights that bothers your image. &nbsp Posted: 08/18/2019 09:31:40
Judith Ponti-Sgargi
I do not know whose comment to reply on.

In my luminosity masking course, I can e-mail the instructor so I asked Greg Benz about whether he would recommend using bracketing. He suggested I expose to the right, and then blend two exposures from the same raw file. He sent me a video on how to edit portraits that I will look at.

I have been editing a set of images, mainly people, taken at a barbecue last night using the wacom tablet. It is amazing how using pressure sensitivity with any of the pressure sensitivity PS tools improves retouching skin.

I will reedit this image using Greg Benz's approach and reattach it on someone's comment later. &nbsp Posted: 08/18/2019 14:55:38
---
Dr V G Mohanan Nair

(Groups 16 & 68)
Judith Ponti-Sgargi
Dr. Nair

I went back to the series of poses I did in the door frame.

Using the technique of putting a person in the door, one has to be so careful about how far in or out the person is and whether the sun suddenly peeks or comes out from behind a cloud. The slightest turn of the head makes a difference on how light falls on the face and alters the background.

Using a tripod, at least for me, is not practical. Photographing this man was like a dance, flowing, and responding to the slightest nuance or movement of light, expression and pose. Greg Benz made a similar comment in his video on portrait reediting using Lumenzia. Sometimes, using a tripod, takes the spontaneity out of the situation.

In other poses I did, with a different facial orientation the highlight is minimal.

I edited this image using a variety of luminosity masks to avoid blown out highlights in the shiny buttons, belt, and face etc.

I have attached an image with a reedited PS face layer. In my earlier version, I was overzealous with the clone tool. I do not think it is a case of noise.

&nbsp Posted: 08/19/2019 10:40:44
Dr V G Mohanan Nair

(Groups 16 & 68)
Ok. Thank you for a detailed explanation.
Today is world photography day. Best wishes. &nbsp Posted: 08/19/2019 11:03:32
---
Superb portrait. I was wondering if it was a candid or posed? If the latter, it is very natural indeed! &nbsp Posted: 08/20/2019 12:49:16
---
Superb portrait. I was wondering if it was a candid or posed? If the latter, it is very natural indeed! &nbsp Posted: 08/20/2019 12:49:17
Judith Ponti-Sgargi
Charles

This man belongs to the King's Company of Historical Reenactors. He had studied photography at college and knew how to pose. When I asked him if he would pose by the door, he went into a series of poses for me. When I said, I wished I had brought a stool to photograph from a higher position, he went down on one knee and kneeled for me. That was impressive. The whole interaction with him was about 2 to 3 minutes.

&nbsp Posted: 08/20/2019 13:08:05
---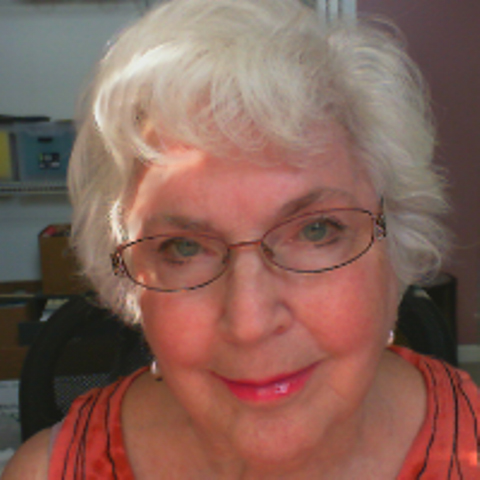 Georgianne Giese
I can see that I have a lot to learn from you folks, about monochrome! I didn't notice anything that I would change. The natural light, the doorway shot, everything really is emotionally powerful, to me. Good job! &nbsp Posted: 08/24/2019 19:30:39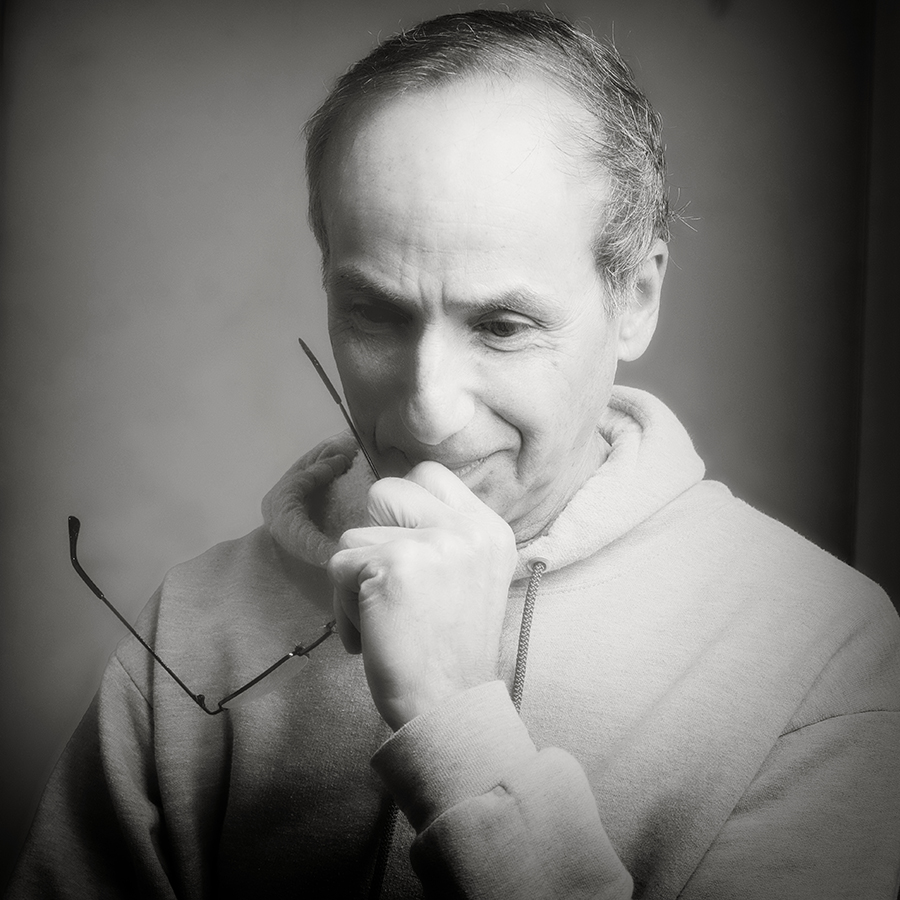 Lance Lewin
Georgianne, actually your correct - for the most part, this image is great! We were just speaking a little about some over highlighted area on the models forehead that Judith made less prominent in post-production: the conversation is all about alternative methods in getting this done before post-production, but the photograph Judith posted is splendid, as you point out. &nbsp Posted: 08/26/2019 16:45:54
---
Jane Luo
Judy, I save this the last as you know I have a lot to learn. :) I like your portrait. I like the pose, the exposure, and the effect of the natural lighting. I'm amazed that you could come up such a great shot only within 2~3 min. To me it'll be hours. That's why I don't do portrait as I don't know how to do it. lol Talking about the highlighting spots, as you mentioned, I did notice the buttons having some washing out, but I don't think that matters that much. As the details of the forehead, I'm not that certain if it's from the highlighting or opening up of the shuttle. I feel your image is a little bit like Julia's photos, which belongs to the soft focus type. I learnt her style from Lance's posting. :) Please correct me if I'm wrong. &nbsp Posted: 08/31/2019 16:19:37
---
Judith Ponti-Sgargi
Jane

Objects like the buttons naturally have strong highlights. I applied a luminosity mask and was able to reduce the highlights to bring back detail. Ditto for the white belt.

I found that it is critical for posing a person in a door frame to look at how the light hits the persons face and it is dependent on the angle of the sun relative to the face. In another image, where the man has his head turned toward me, there is no highlight. However, I chose this image because for me it was more dramatic and proved that in a portrait, a person does not have to always look into the camera. The important thing is to capture the mood, to have catch lights in the eyes (Jose taught me this), and to have a strong pose.

For one month in June, I practiced photographing my husband in natural light, experimenting with settings, backgrounds, poses and diffuse light.

I enjoy photographing people I do not know, watching them, and sending them their image. Because I do not know them, I have no preconceived ideas. It is just the moment.

Perhaps this is comes from my experience of sailing where people are like ships passing through the night, or walking the Camino of Santiago, where one meets a strangers on the path, shares time together, and then the person is gone forever. The image is the short sweet memory where we shared time together and in an unguarded moment connected with each other.

JPS
&nbsp Posted: 08/31/2019 21:08:37
---