Kathleen Colligan
---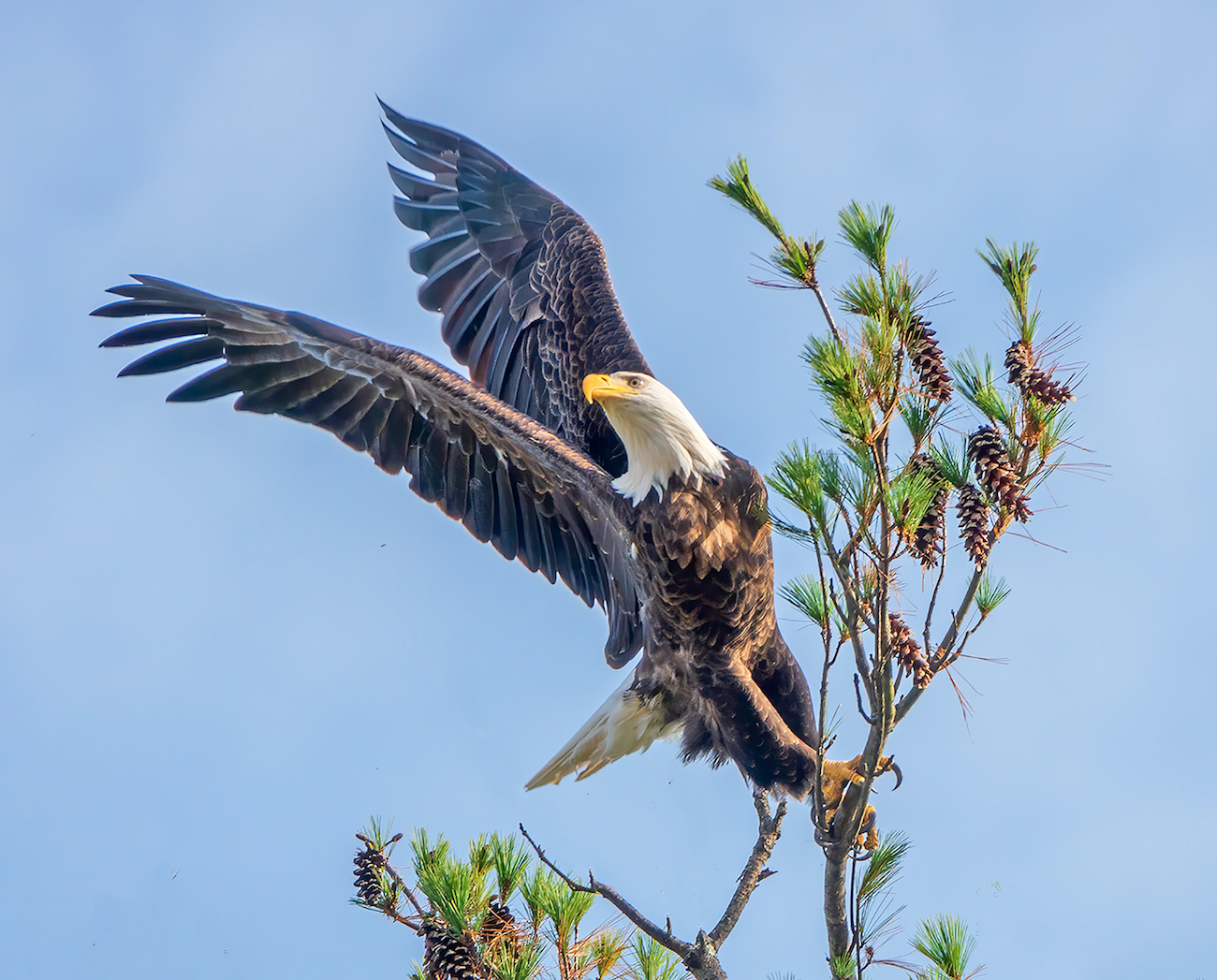 November 2020 - Bald Eagle about to take off.
About the Image(s)
I spotted this eagle in a tree above my house on Oct 21 ,2020 in the middle of the afternoon while I was walking my dog. I rushed out with my camera to get some shots so this photo was hand held. My settings were F4, ISO 100., 1/1000 sec. The hi burst feature was on my Sony Rx10iv camera to try to multiple photos and catch it in flight.
How does everyone how they keep track of what exactly you do in post processing ? Is there a way you can tell with Photoshop? I can't remember exactly but usually I start with Lightroom adjusting shadows and highlights. Then- I follow up with Topaz adjustments looking at getting rid of noise and sharpening plus adjusting contrast if needed.
---
6 comments posted
---
---
---
Andrew Klein
Dynamic, high energy, great capture. I love it. Maybe a tad "over" sharpened. I say this because it occurred to me almost immediately when I looked at the picture for the first time. &nbsp Posted: 11/06/2020 20:04:01
Kathleen Colligan
Yes - maybe it is too sharp and needs to be softened a bit. &nbsp Posted: 11/07/2020 10:01:21
---
---
---
Gregory Stais
This is an awesome photo of a beautiful eagle! Great Composition.

I do agree with Andrew that the photo would benefit from being softened just a bit. &nbsp Posted: 11/07/2020 13:20:17
---
---
---
Laurie McShane
It must have been a thrill to have seen this, and nice that it didn't have branches obscuring it at all. A little bit softer, as they said, but it's impressive. &nbsp Posted: 11/08/2020 10:58:03
---
---
---
Ruth Benson
I love the angle of the wings, it's a fantastic shot. I quite like the eagle "sharp" not sure if softening would improve anything, comes down to personal taste. Love the image. &nbsp Posted: 11/10/2020 01:21:28
---
---
---
Prasad Indulkar
wow what an great capture , amazing timing. superb action shot .

I would increase contrast a bit to give the image some depth. &nbsp Posted: 11/10/2020 21:35:36
---
---
---
Please log in to post a comment