Kathleen Colligan
---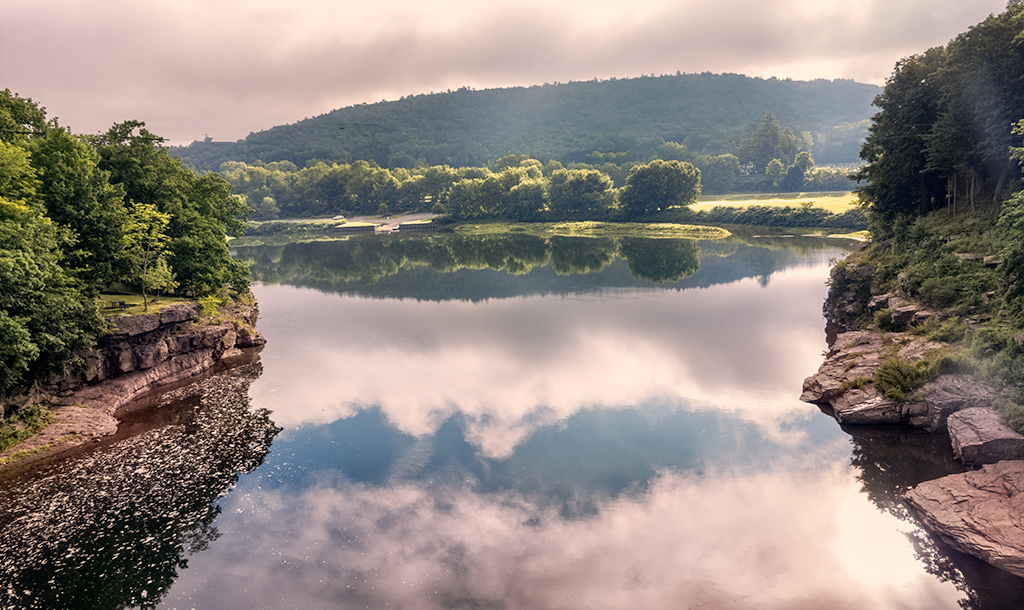 August 2020 - Delaware River
About the Image(s)
This photo was taken at 7:20 am this morning 7/31/20 while on a morning walk . I stood smack in the middle of the Narrowsburg NY bridge which is over the Delaware River. The beautiful reflections with some mist in the background over the river were extra special today.
My camera is a Sony RX10iv and my settings were ISO 100, F7.1 , 1/160 sec

I cropped some of the water in front and adjusted the highlights and shadows in LR. I also removed the telephone wires crossing the river in PS.

Welcome, Gregory!
---
9 comments posted
Gregory Stais
Kathleen,

What a spectacular photo! I really love the how the sky and clouds are reflected on the water.

The only suggestion I would have is to maybe increase the contrast slightly to bring out a little more detail.

Other than that - kudos for a great photo!

&nbsp Posted: 08/01/2020 15:31:46
---
Andrew Klein
What a great capture...and YESTERDAY!. A real lesson about keeping your camera with you. I love the serenity of the scene. So many lovely touches, the reflection, the mist, the leading lines. A touch of contrast, maybe. There is either mist or a bit of lens flare in the upper right corner. You might burn or clone it out. You should submit this to the Delaware River Commission for use in their PR or their calendars. &nbsp Posted: 08/01/2020 15:35:44
---
Kathleen Colligan
Thank you for your constructive comments. I was thinking of putting this one in a local contest and now I will. I agree the contrast needs to be increased . PS my house and property are on the PA ( left side ) in the photo. We live right next to the bridge and you can see our picnic table .
&nbsp Posted: 08/01/2020 15:41:24
Andrew Klein
Can I move into your house so I can see this each day! fantastic. &nbsp Posted: 08/01/2020 15:42:39
---
Laurie McShane
Lovely. The rock outcroppings on each side frame the far side so well, leading you right to the beautiful greens of the trees. The reflection is stunning, and really adds value. Well done! &nbsp Posted: 08/02/2020 15:11:41
---
Amy Lu
Wow, what a beautiful image! I like the reflection of the trees, cloud and blue sky! &nbsp Posted: 08/02/2020 22:21:58
---
Ruth Benson
What a beautiful image Kathleen! I love the soft colours, the detail of the outcrop, but my favorite part of the image is the oval shaped reflection of the dark hill in the background. The reflections of the trees within the oval is just perfect.
PS: I am very envious, the location of your home is just amazing. &nbsp Posted: 08/08/2020 01:42:58
---
Prasad Indulkar
I agree with Ruth, I too am envious of such an amazing place to live in. Just awesome .

Love the pic , cant think of anything to add towards Improvment. Love the clouds reflection in water.

Also its good to see Landscape from Kathleen , as she is an avid Birder and wildlife photographer. I follow you in insta and just love your images. &nbsp Posted: 08/08/2020 02:27:50
Kathleen Colligan
Thank you all for your kind and constructive words. &nbsp Posted: 08/08/2020 05:45:41
---
Please log in to post a comment