Prasad Indulkar
---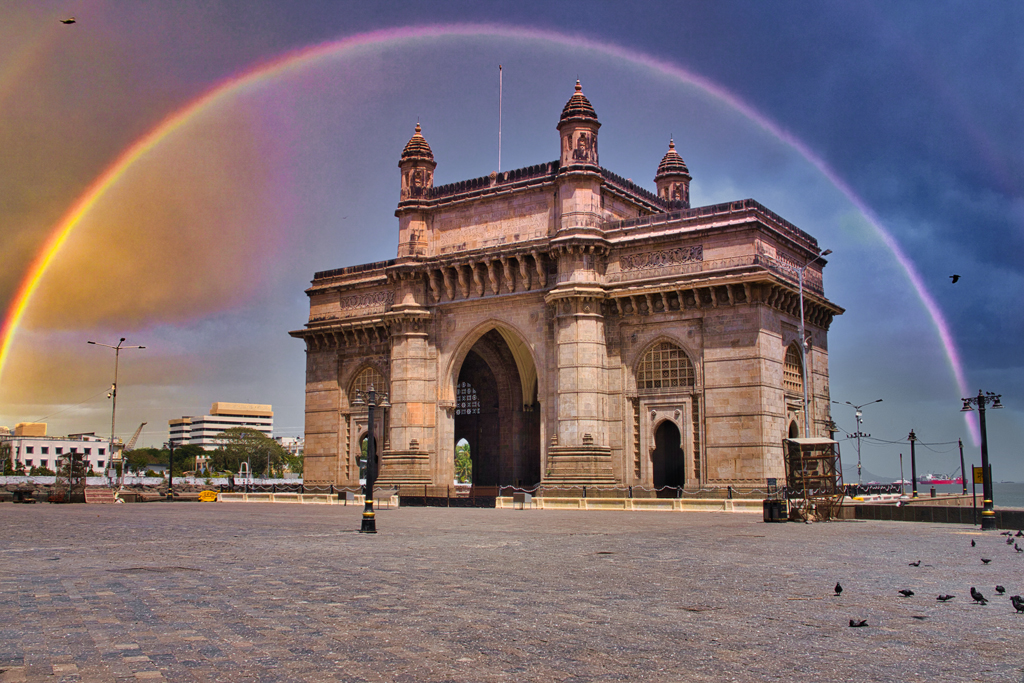 June 2020 - Gateway Rainbow
About the Image(s)
Today i will share another image of an iconic structure from my city ,Mumbai. The Gateway of India.

The Gateway of India is an arch-monument built in the early twentieth century in the city of Mumbai,
It was erected to commemorate the landing in December 1911 of King-Emperor George V and Queen-Empress Mary, the first British monarch to visit India. The gateway is also the monument from where the last British troops left India in 1948, following Indian independence. It is located on the waterfront at an angle, opposite the Taj Mahal Palace and Tower Hotel and overlooks the Arabian Sea. Today, the monument is synonymous with the city of Mumbai, and is amongst its prime tourist attractions.

I clicked this image on 5th May 2020 , amidst the lock down in the city . Hence you dont see any human presence in the photo. And this is a very very rare sight , as this place is always crowded , even late in night and early morning you will find people here , all kinds of people hawkers, cops , homeless , lovers , pre wedding shoots . etc . always a buzzing place . So i tool the chance of clicking this during the lock down.

This final image is an composite of two images , the structure and foreground is clicked by Sony RX10M4 , while the sky and rainbow is an old iphone click way back in 2016 shot in Germany. I merged them in Photoshop .

EXIF for main image
Model Sony RX10M4 Handheld time of shoot 12.41pm
Focal Length - 12mm
Exposure - 1/320s
F/8 , Average Metering.

Since this area is restricted and there were cops patrolling the area. I could not reach to the point from where i can shoot it perpendicular . I shot this frame within the bars of the metal fence . I had to Squeez my lens between the two bars of the fence and click it quickly as the cops were not allowing anyone to stand or wait . As it was curfew going on in city due to the pandemic. I had gone for some urgent work to city and i had carried my camera with me. I have also attached the image which shows the fence and the sky that day.

This is also one of the most clicked images from my city , every indian and non indian who visits this place has one image of it .

I hope you will enjoy it as much as I did.
---
This round's discussion is now closed!
10 comments posted
Laurie McShane
Your narratives are always so interesting, and I look forward to them. Having the monument at an angle makes it even more appealing, I think. I'm not positive about the rainbow though - the left side has that yellow/orange triangle that extends toward the building, and seems a little out of place. That's just me, though. It's a cool image. &nbsp Posted: 06/07/2020 15:07:01
Prasad Indulkar
Thanks a lot Laurie . The rainbow was clicked by mobile phone in 2016 . the colors are as per the original file i havent modified them. I was trying to make the two photos combined to make it into a more interesting one. guess I need to revisit this to blend it properly.Thanks for the input . &nbsp Posted: 06/07/2020 21:08:09
---
Kathleen Colligan
Thank you for sharing the interesting background and details of your special photo. You are very clever and creative to add the rainbow around the monument. I wonder how the photo would look if you cropped a little of the bottom front bricks out? &nbsp Posted: 06/07/2020 20:22:03
Prasad Indulkar
I try to give some background on my photos which helps people to imagine and conditions and history ( if any) attached to the subject.The empty courtyard space in front of the structure is of significance . All the people who have visited this place even once or even the people who see it everyday , ask me only one question when they see this image , and question is How did you manage to click it without even a single person in the frame. Because As i have said in the narrative is this is one of the most visited place by tourists and locals . this is like Eiffel Tower of Mumbai . everyone who visits Paris goes to Eiffel isnt it . So to get this frame without anybody in frame is the real story of this image. Trust me when i say this , this place has people round the clock . even 2am , 3am, 4am if you go you will find atleast 2-5 people, so the real signnificance of the click is "no human" Element. In Mumbai it is next to impossible to get such clicks. And anything that is Rare is valuable . So now you know why i kept the empty courtyard in front , as that is the real interesting thing . There might a million images of this structure from this angle , but not without humans / dogs .

&nbsp Posted: 06/07/2020 21:21:45
Kathleen Colligan
Yes, I understand and it does emphasize the lack of people by having the empty space. Amazing photo! &nbsp Posted: 06/08/2020 05:25:03
---
Ruth Benson
Capturing the Gateway of India without people in the image is of historic significance and value. I am sure this has never happened before. It's also a very nice photograph taken at this angle. The rainbow is not perfect, but adds interest to the image I think.
A very significant shot, well done Prasad.

PS: meant to mention - the buildings in the background could be cloned out to put more emphasis on the Gateway building. &nbsp Posted: 06/14/2020 02:38:43
Prasad Indulkar
Hey Ruth
Thanks a lot for the words of appreciation. I was considering removing the buildings . but then for a Mumbai resident the image will become unreal in totality , it will become like an painting . Hence i decided against it . However I have on version in monochrome which i love , i will share it here for you.
Hope you like it .
Thanks once again. &nbsp
Posted: 06/14/2020 23:34:15
Ruth Benson
Wow, I love your monochrome image! &nbsp Posted: 06/15/2020 19:42:52
---
Andrew Klein
I, too, love your narratives. I have a mixed reaction to the image. On one hand I love the moment you captured...a rare vacancy of people and other distractions, the lovely framing by the rainbow. On that basis, it is very nice. I am not sure it conveys a message of mood or storytelling essence. Maybe a lone figure or something like that would raise the impact level. In the upper right corner is a spot that is probably a bird, but it is a spot. Having your camera with you all the time is wonderful and not only do I applaud you, but you are my role model! &nbsp Posted: 06/14/2020 13:07:42
Prasad Indulkar
Hey Andrew

Thats a really high praise , Please i am far from a role model, you can call me an opportunist , as I never wanna miss an opportunity for a good shot. hence I carry my camera everywhere , I have a Nikon point and shoot pocket camera which I keep in my office back pack as well. And my Iphone XR is always handy . Thats the curse of a photographer , we rarely let go of a good frame.

I agree with you about a single figure , it would have added so much more to the image story and impact. But there was none , as it was Lock Down and there were cops patrolling around the city to maintain the curfew , I had with me two passes to protect me from cops - A press card and Doctors vehicle. hence I could do this . Or else i too would have been stopped at all check posts.

As I said earlier opportunist.

Thanks for your kind words. &nbsp Posted: 06/14/2020 23:39:34
---