Angela Bonner, QPSA
---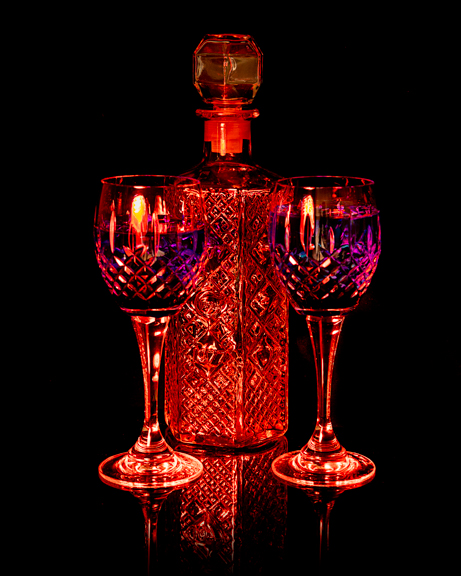 January 2021 - Drink for anyone?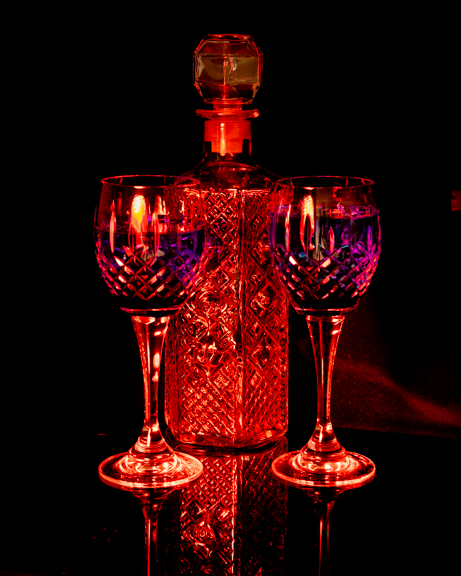 Original
About the Image(s)
Looking for something to occupy myself during our full lockdown decided to have a go at low light with crystal glasses and a decanter. Put red gel over LED light and held slightly above subject. Taken with Canon R6, 24-70mm lens at 70mm. f9, ISO 800, 4 secs.
Slight cropping and tidied up background a little. Toned down the highlights a little to try and avoid them being blown out. Used gradient to fade reflection a little from the base. Not totally happy with it but kept me occupied!!!
---
4 comments posted
---
---
---
Randall Gusdorf
Angela. Angela, always creative. First observations: like the colors and the purple that shines through. Is that a flame reflection I wonder. Then I read your description. I was then wondering why you took the picture at ISO 800. That all is in your control I would think the lowest ISO would be strongly preferable. Tighter shot quality, and better color resolution. My eye keeps going to the base of the glasses, a and I would darken those. It is nicely done, and would want to see a main subject with supporting characters. Here I looking at the whole thing, and still long for something to put me in awe. Might even be in the reflections. So, if it were mine, I would look at the reflections to see if there is any interest to draw out. &nbsp Posted: 01/02/2021 11:38:21
Angela Bonner
Agree about the ISO rather stupid to keep it so high. Using new camera and still getting used to it!! Not flames but a good suggestion to use perhaps a candle for the lighting? Not too sure what else I can get out of the reflections? I used the gradient tool to blur it a little at the base.
Still got liquid in the glasses and decanter so may have another go. &nbsp Posted: 01/02/2021 12:09:37
---
---
---
Janet McLaughlin
Angela, you always show such creativity! I love the play of light and the beautiful reflections you captured! The hints of purple are lovely compliments to the composition! Well done! &nbsp Posted: 01/10/2021 11:42:09
---
---
---
Cheryl Dubois
I really like what you did here - Love the reflections. I am wondering about the specular highlights. Seems like I may have read recently something about using vasoline to rub on top of highlight areas to tone them down. I confess I have not yet tried that. &nbsp Posted: 01/15/2021 11:19:00
---
---
---
Please log in to post a comment