Randall Gusdorf
---
January 2020 - Always Bee working
About the Image(s)
Taken in France, in a flower garden, tight crop. Fujifilm XT-2, 50-140 telephoto lens, iso 200, 140mm shot, f3.2, 125th of a second. I would now take that same shot at 500th of a second, and f5.6 or around there.
---
This round's discussion is now closed!
8 comments posted
---
---
---
Angela Bonner
Great macro shot and showing a lot of lovely detail. The colours are superb!! Bee very well placed and a nice diffused background.
Not too sure if it isn't a bit too sharp? Might just be my poor old eyes!! &nbsp Posted: 01/01/2020 11:51:29
---
---
---
Janet McLaughlin
Randall, this is a wonderful macro shot! I love how the light plays on the bee's wings, enhancing their iridescence! I wouldn't change a thing! &nbsp Posted: 01/01/2020 20:03:09
---
---
---
Bonné Noël
Very nice picture of a Bumblebee, very sharp - missing the shallow depth of field common in macro's, very beautiful famous Fuji colours. Fantastic shot. &nbsp Posted: 01/06/2020 01:22:22
---
---
---
Brent Doornbos
Great shot. Love it. Wish the moisture droplets had more definition (because they caught my eye as cool) . . . but that is SUPER nit-picky.

VERY nice. &nbsp Posted: 01/09/2020 08:36:37
---
---
---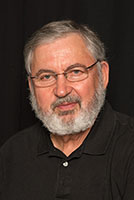 Isaac Vaisman M.D.

(Groups 4 & 58 & 72)
Randall, I am very surprised as how you were able to obtain such a sharp macro image at 140 mm and using f/ 3.2 and with that much depth of field. Tell me your secret. &nbsp Posted: 01/14/2020 10:37:19
Randall Gusdorf
Isaac, if I tell you then i have no secret. lol. Actually, i practice a lot, take a lot, and this is a very tight crop. i would be more than happy to send you off line the original so you can see, but i also use topaz denoise, topaz sharpen, and photoshop, along with lightroom. I believe i only used topaz denoise on this picture. i acually went to photoshop after i posted this image and i think i got it better. I would be more than happy to share that too. if you wish, my email is
rgusdorf@attystl.com
, and i will share those with you, and would be happy to talk on the phone anytime about what i like and do not like and how i use the programs. &nbsp
Posted: 01/14/2020 10:49:20
---
---
---
Cheryl Dubois
Great image Randall. In my camera club we have a lit of fine macro images and this ranks up with the best. I like the way the sharpness falls off ever so slightly on the edges. &nbsp Posted: 01/18/2020 20:07:17
Randall Gusdorf
Wow Cheryl, that is an awesome compliment. I really never know for the most part the impression my pictures have, as I usually minimize my view of my pictures. Yet, when I get feedback like yours, I elevate my awareness and appreciation for my own pictures as well as others. So, a big hug. &nbsp Posted: 01/18/2020 20:56:22
---
---
---