Cheryl Dubois
---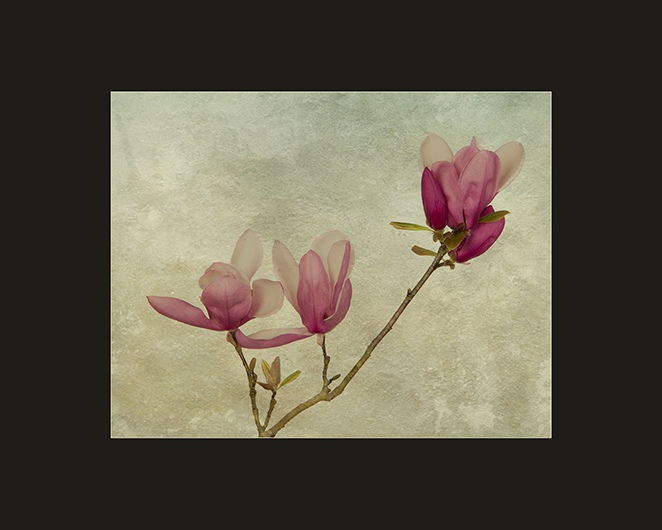 October 2019 - Japanese blossoms
About the Image(s)
I snipped a branch off of this Japanese Magnolia last spring, brought it home and photographed it in the studio. I replaced the background and added a mat.
Enjoy!
---
This round's discussion is now closed!
3 comments posted
Angela Bonner
Beautiful and a style I have been trying to do but so far not too successful!!! The BG really compliments the flower and I love the subtle tones of the whole image.
I do wonder about the large surround though as I feel it overshadows the image? I have cropped it off and just darkened the border (as learnt from you!!). See what you think! &nbsp
Posted: 10/04/2019 11:10:42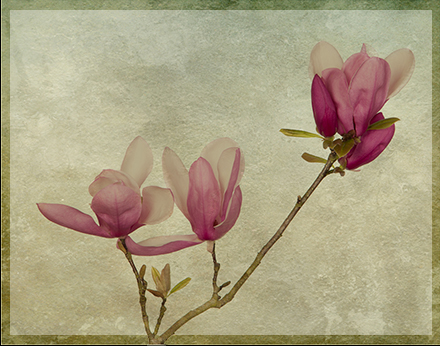 ---
Cheryl Dubois
Thanks so much for the feedback. I really like your border. I'd probably go for it being wider, more like a mat, but I do not disagree that my border is probably a bit too large and a little dark. In our club competitions they like to see matting. But if I bought this print to hang in my house, I like your mat better! &nbsp Posted: 10/04/2019 15:49:26
---
Janet McLaughlin
Beautiful, Cheryl! This looks like a Japanese style watercolor! Great background that compliments, but remains in the background. I do like Angela's idea for the frame! &nbsp Posted: 10/04/2019 17:08:33
---