Brent Doornbos
---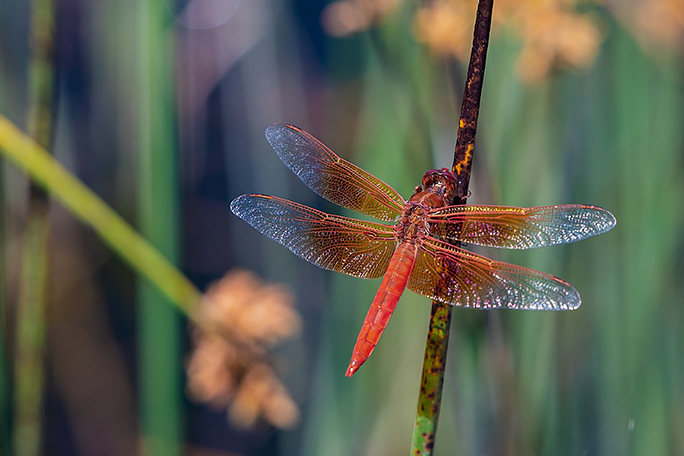 August 2019 - Red Dragonfly
About the Image(s)
Found this red dragonfly while shooting a wedding in Hopland, CA.
Handheld with the long end of a 70-200. 1/160, ISO 100, f/5.6.

I enjoyed the pic so figured I would share. I do wish I got the right
wings a bit more in focus. Was shooting AV and by the time i got the
shutter speed faster it was not accessible.
---
This round's discussion is now closed!
6 comments posted
Angela Bonner
Well seen and well taken! I know they are not easy to get!! Plenty of detail and the slight out of focus of the right wings does not detract from the overall effect.
I do wonder whether the Dragonfly has not been a bit over sharpened?
Also the light coloured plant on the left and just below tends to take my eye away from the subject. Perhaps could be toned down a bit? &nbsp Posted: 08/06/2019 10:28:37
Brent Doornbos
Yeah. I was in 1PM sun on the top of a mountain - zero clouds. I messed with trying to edit the extreme glare/shine out of the wings, etc. It didn't look good (in my opinion). I actually de-saturated the insect a bit. Yes on the plant. I thought about taking it down a bit, but for some reason I liked it.

Thanks as always!! :)

Easier to take glare or reflection out of eyeglasses than dragonfly wings I found. :) &nbsp Posted: 08/06/2019 11:12:52
---
Randall Gusdorf
Brent, what a wonderful find. I don't think i have ever seen a red Dragonfly. Nice shot with the limitations you described taking the shot. &nbsp Posted: 08/11/2019 06:05:05
---
Wow! This is fantastic! I'm impressed that you were able to get a photo that was in focus at all. Way to know your camera well enough to make adjustments quickly enough to get this high quality shot. I wouldn't have been able to do it. You may be able to get the right wings "in focus" by using Topaz AI Gigapixel. As far as toning down the plant head and stem on the left, try using Adobe Camera Raw adjustment brush and adjust the exposure on just that. &nbsp Posted: 08/12/2019 14:57:50
---
Janet McLaughlin
I adore dragonflies, and this picture is fantastic! I think you captured the sparkle on their wings perfectly! I've never seen a red one! I wou,d have loved seeing this one! Well done! &nbsp Posted: 08/12/2019 20:02:06
---
Cheryl Dubois
The dragonfly is nice and sharp. It stands out well. I do agree that taking down the lighter color flowers might help the dragonfly stand out a little more. Great job on a sharp image. &nbsp Posted: 08/18/2019 07:20:33
---