Karen Johnson-Nieuwendijk
---
August 2020 - Man in a Blue Suit
About the Image(s)
I was at a festival in Providence and saw this man sitting outside a clothing store and thought he looked so dapper. I assume he was advertising the men's clothes. Unfortunately I cut off his feet, but still like the photo right down to the brown and white wing tips and Argyle socks. Taken with my Sony A6300, 86mm, 1/160 sec. at f8, ISO 1250.
---
3 comments posted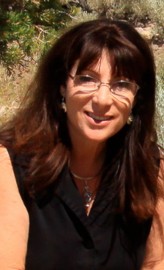 Carol Sheppard
What an image, very fun! Having that sign next to him is awesome! Without that sign, he's an interesting subject....with the sign, there's humor and irony. What an excellent subject, and he really pops from among all that clutter. &nbsp Posted: 08/02/2020 23:05:30
---
J. Lanning Smith
Henri Cartier-Bresson said that a good street photograph should provide intellectual pleasure, and while most do, I think this one does so for me in a way that really stands out. I really enjoy looking at this image. This man is a very interesting and unusual man, and he is not dressed like the typical person might dress. But his clothes seem to match his face, his expression and his pose. He is just really, really interesting to me. The composition and the sharpness of the photograph are good. Good job! &nbsp Posted: 08/06/2020 20:51:06
---
Victor Dallons
Yes, quite the interesting character, with that blue suit, fedora hat,
argyle socks and spectator pumps. Seeing people like this is what makes street photography fun for me. I think he displays an engaging gesture, with his hand on his chin looking straight at you with that grin. That "Babe" sign behind him fits right in.
For my tastes, I find the shadows to be a bit blocked up, it would be nice to see some of the detail in the dark area above the man. I also think that some of the bright areas could be toned down a bit.
The color space is un-tagged, so the colors appear different when shown with different viewers. Photoshop assumes it is in the RGB color space whereas my browser assumes it is in the sRGB color space. I suggest that when you convert the image to .jpg, you set the color mode to sRGB so that we see it as you intended across all viewers. (In photoshop go to the Edit Menu, / Convert to Profile.) I attached a comparison of the colors I see when the viewer assumes different color spaces. &nbsp
Posted: 08/08/2020 16:02:22
---
Please log in to post a comment