J. Lanning Smith
---
August 2019 - Through the Window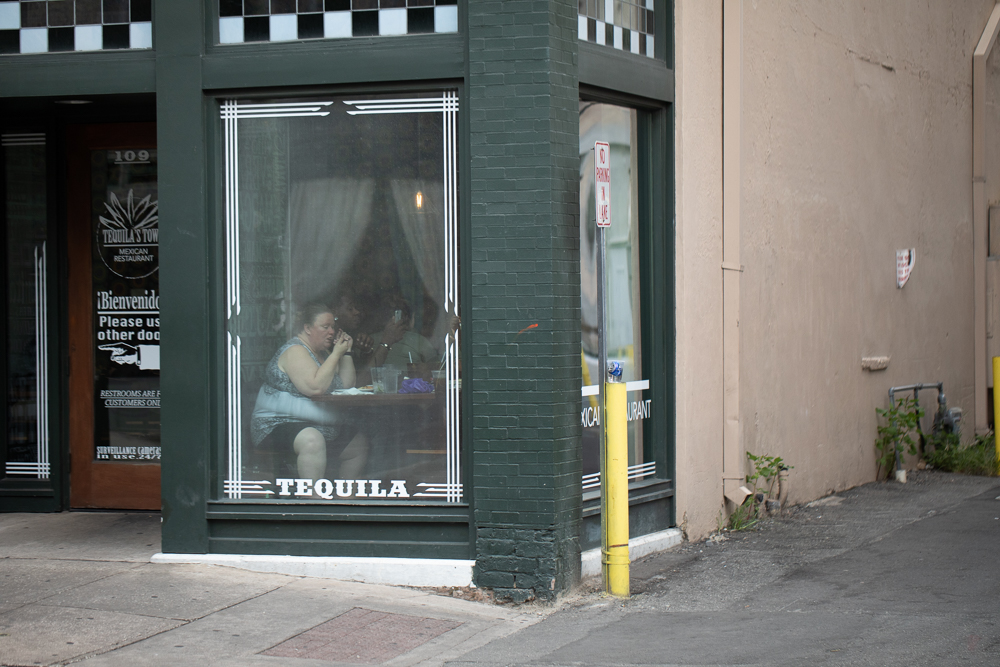 Original
About the Image(s)
I found this shot too compelling not to take. It's along the lines of a theme that I'm starting a photographic project on. If you look closely, there are three people on the other side of the window, and to me, they appear to be sitting together at a long table. One would assume that if they are sitting together they are friends, but each is ignoring the other. The one by the window is obviously focused on her food and the one in the middle is focused on their cell phone. And the third one I'm not sure what the focus is there. But I found it a compelling shot, especially since I'm interested in images of people on their phones while others who are with them are being ignored. I think that speaks to our current culture. And I think that would be true whether these three are friends or strangers to each other.

A friend of mine who looked at this image after I took it yesterday said it reminded her of a Norman Rockwell painting on the covers of the old Saturday Evening Post. After she mentioned that, I now see it that way too.

Interestingly, I took this shot using a 100mm Canon macro lens. I find that I like that lens for doing street photography now. And to me, the shots are more interesting than what you normally use a macro lens for. I'm attaching both the Before and After, mainly so that it can be seen why there is no possible way to fully straighten this image. I'd be interested in knowing if anybody else has ever tried using a macro lens in their street photography.
---
This round's discussion is now closed!
16 comments posted
Ed Tepper
I really like the idea of the shot through the window and I think it has a nice feel to it. Focus looks sharp and exposure looks good to me.

The window looks crooked to me and I think it should be straightened. I would prefer a wider view, maybe including some of the original photo on the left might give it more of a sense of place. &nbsp Posted: 08/04/2019 18:02:30
J. Lanning Smith
Thanks Ed. I have spent quite a bit of time trying to straighten this image, but the truth is if you straighten one edge then something else isn't straightened. This was the best looking of the straightenings that I have done on it. The problem is that not all parts of the window are square or parallel with other parts and the slant of the bricks is different (even different in different places). Trust me, I've tried it a lot of different ways. It's an old building and it's done a lot of settling. &nbsp Posted: 08/04/2019 20:17:58
---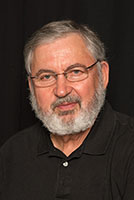 Isaac Vaisman M.D.

(Groups 4 & 58 & 72)
---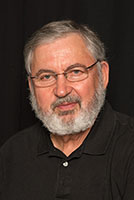 Isaac Vaisman M.D.

(Groups 4 & 58 & 72)
J. Lanning Smith
Thanks Isaac. That's interesting because I couldn't do that in Lightroom. What is ACR? &nbsp Posted: 08/05/2019 09:39:06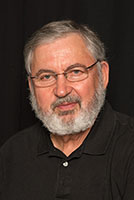 Isaac Vaisman M.D.

(Groups 4 & 58 & 72)
ACR: Adobe Camera Raw (filter inside photoshop). Lightroom is ACR on steroids...... &nbsp Posted: 08/06/2019 18:02:15
---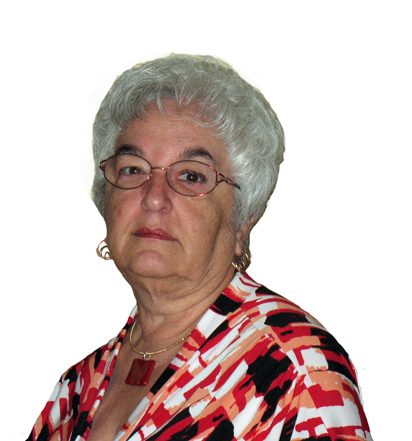 Beverly Caine
I don't think it's the window that's crooked,to me it looks like the right side of the building is a bit off kilter and can probably be adjusted in CS6 &nbsp Posted: 08/10/2019 13:25:51
---
J. Lanning Smith
Thanks Beverly. That's what I'm saying. No matter which part of the picture you try to level, something else is out of kilter. That's because the building has settled over time in different places and at different angles. I think Isaac did ta good job of straightening it. Better than I was able to anyways. &nbsp Posted: 08/11/2019 12:24:20
---
I think its too tightly cropped. The fact that its a storefront is mostly lost. Try cropping it such that the corner is visible. &nbsp Posted: 08/11/2019 23:07:15
---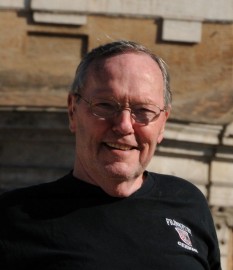 Bill Foy
I think I'm seeing a different story that everyone else. There are two people on the left - one's eating and the other's using a phone. There appear to be two people on the right, hidden by the building. And, there's another person with her(?) back to us. I'm not bothered by the apparent crookedness of the image. I think the colors are OK and the sharpness is about a good as can be expected given the condition of the window. Norman Rockwell? Perhaps the haziness might make one think that's true. I don't think so. &nbsp Posted: 08/18/2019 21:14:02
---
Karen Johnson-Nieuwendijk
I think the idea is good and it certainly is true that so many times one person is isolated by a friend using the cell phone which is a shame. But the haziness of the window makes it hard to see the entire story, in my opinion. The crookedness of the window doesn't bother me much. &nbsp Posted: 08/19/2019 09:21:21
J. Lanning Smith
Thank you Karen. I found it interesting that you don't like the haziness of the window because I was thinking that added to the mystique of the overall image. To me, it was part of the character of the image. I wonder what others think on that? If anybody else cares to comment on that? &nbsp Posted: 08/19/2019 10:01:01
---
Stuart Ord

(Groups 6 & 64)
An interesting thread! Perhaps I can add some observations?
Use of a macro lens - why not? I use Olympus and my 60mm macro (120mm full frame equivalent) performs well at longer focus distances even though that's not it's primary function. Other lenses can better it, but if in a storm, it's a safe port to land at.
Straightening - I suspect any full photo editor would solve this problem. I use Affinity Photo and it would have no trouble doing what Isaac has done in PS / ADR. However, as street photography, I'd have left it as it was.
The story - I think it's a good social commentary on several levels - grubby window, heavily overweight person in a cafe, people sitting close but ignoring each other, preferring their phone - sad but so often seen these days.
A good capture in my opinion! &nbsp Posted: 08/29/2019 07:59:38
J. Lanning Smith
Thank you Stuart. I like your comments. One fellow photographer, not in PSA, suggested that I shouldn't use the 100mm macro lens for street photography because it didn't give enough of a view of the entire street scene by focusing in on the subject so narrowly. I'm struggling with that because my view of street photography has been about the people more than the entire scene. Am I wrong about that? I guess that would explain why most street photographers use a 24 mm, 35 mm or 50 mm lens as opposed to a longer lens. But I'm interested in the thoughts of others on that question too. &nbsp Posted: 08/29/2019 09:14:40
Stuart Ord

(Groups 6 & 64)
You're welcome, it's the sort of street photo that I like to take too.
Personally I use any lens for street, although I usually prefer a small zoom. My Olympus 14-150mm is good for this (28-300 in full frame terms) although their 14-42mm (28-84mm) is probably better as it's much smaller and less "photographer" looking. But I'm forever buying lenses, I can't carry them all! I think it depends on your style - some people like to shove their camera into people's faces, but I don't like to do that, so very wide angle is not usually what I use. If shooting candidly (especially if from the hip), 30 to 50mm full frame seems useful - any more and I'm always chopping off people's heads etc. But sometimes you see something interesting at the other side of the street and a longer lens is needed. I recently took a nice pic of a guy in a street with 800mm! So my view is, if it works, then it's the right lens. Your present picture is a great example of that. You need enough of the full scene in to show your story, and no more. &nbsp Posted: 08/29/2019 09:59:49
J. Lanning Smith
Thank you Stuart. That was helpful for me. &nbsp Posted: 08/30/2019 09:24:31
---