Freddie Kelvin
---
March 2023 - March Watching
Original
About the Image(s)
They are of two folks staring at art in a Dresden gallery. FUJI XT3. ISO 800 1/4sec. f4.5
I am not sure what my game plan was, but - since I'm leaving town tomorrow - I needed to get them in!

In LR: I cropped, increased exposure, played with saturation and colors, decreased texture, and also dehazed.
---
This round's discussion is now closed!
5 comments posted
---
---
---
Peter Newman
Freddie_ Proof that not every image needs to be sharp. Good composition and a nice color palette. You made good choices in processing. The story I see, is that these folk were at the museum just to say they were there. They seem to have no real interest in the image itself. Some of do good work under preassure, Well done. &nbsp Posted: 03/04/2023 14:44:15
---
---
---
Judith Lesnaw
Very interesting ICM shot. The distortion in the figure on the left gives an impression of angel wings. To the right of the female figure could be another figure, or is it a distortion of an object in the painting. I think I would remove the streaks under the frame that appear to be legs. This would strengthen the story of two creatures, one human and the other angelic, talking. The colors are wonderful. If you took a shot without the ICM can you please post it? &nbsp Posted: 03/09/2023 12:59:32
---
---
---
Karl Leck
Hi Freddie, I also see the angel but admit that I live in a house full of them from my late mother's collection. The colours are a strong theme in this abstract. I like the 'legs' at the bottom but would crop 25% off the top to visually raise the 'figures' in the image. Abstracts are always open to interpretation. This image has feeling. One aspect that confused my mind was the sharper outlines of the two 'figures'. They help to define the figures but seem a bit out of place in the softness of the image. Interesting. Karl &nbsp Posted: 03/10/2023 09:54:12
---
---
---
Freddie Kelvin
I agree with Judith that it would help to remove the streaks under the frame, for they serve no purpose. I wanted the focus to be on the two figures and so it felt OK for them to be relatively sharp. I did not take a shot without ICM. More and more, I move around with the intent of shooting only ICM, and galleries are a great source of subjects since they are so wrapped up in the paintings or sculptures or whatever. &nbsp Posted: 03/16/2023 22:41:29
---
---
---
Gerard Blair
Freddie, I see you are a Monet sort of guy, the impression of an image rendered in soft, broad patches of color. The ICM makes for a great starting point - and you then evolve in digital processing feeling your way with sliders towards your personal harmony.
It a fascinating way to work - and the outcome are generally appealing to all, perhaps in part because they are so personal to you and your vision.
I wonder if this could become a form of psychological profiling tool - and I fear what it might mean for me since I come to so much more stark an endpoint than you :-) &nbsp
Posted: 03/17/2023 19:58:08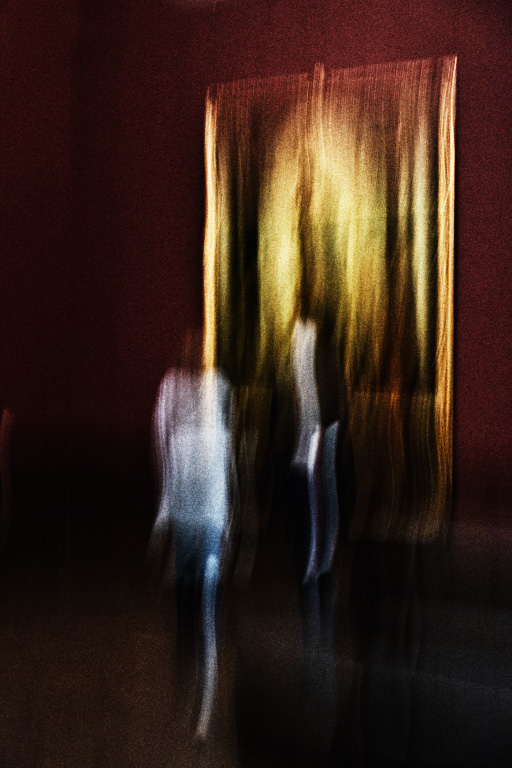 ---
---
---