Sandra Irwin
---
November 2020 - Flowers with Time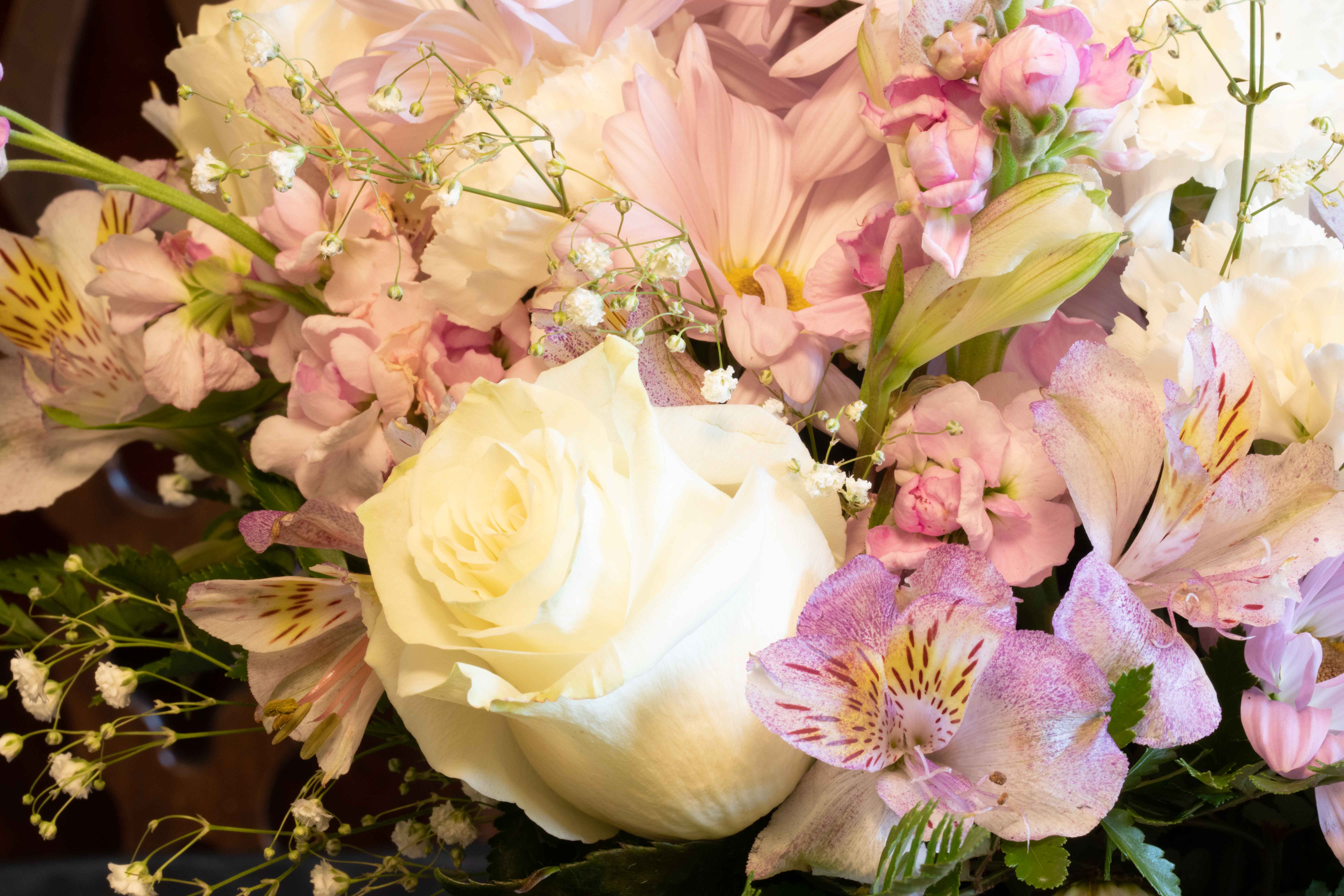 Original
About the Image(s)
I took this with my Canon EOS 5D, my Canon 100mm macro lens, a Hoya polarizing filter, a tripod, and a cable release. ISO 800, 100 mm, f/32, 2.5 sec. During the long shuttering time, I zoomed in and out. In LR Classic I reduced contrast, highlights, saturation, and darks, and I increased tint, shadows, and lights. I also added a slight vignette.

I thank Judith for her suggestions on how she did something even better in September!
---
This round's discussion is now closed!
6 comments posted
---
---
---
Lauren Heerschap
Using zoom like this is very tricky. I think that the large white rose puts the palette of colors off balance, and so I would suggest starting the zoom not in the center of the bouquet but on the pink of the right side. This is fun and I wonder if more of the flower shapes could have been replicated in the zoom? &nbsp Posted: 11/09/2020 18:15:15
---
---
---
Marie Miller
Hi Sandra, Love this! The first thing I though of when I saw your image was outer space. You captured the smoky beauty and softness of nebulae. Lovely image. &nbsp Posted: 11/09/2020 22:24:25
---
---
---
Valerie Pohio
Hi Sandra....lovely and soft, gentle colours.....but I feel I need there to be something at the end of the tunnel, so to speak. Or even just very subtle hints throughout the image. What would happen if you layered them and used a soft light blend mode, I wonder...and lowered the opacity to let some shapes come through, graduating them very gently until there was a more obvious hint of the petals of the rose in the centre. Or perhaps slowed the zoom a little? I think Lauren's idea will produce interesting results too. Looks like you're having great fun experimenting too! &nbsp Posted: 11/09/2020 23:31:13
---
---
---
Judith Lesnaw
Sandra, beautiful colors! And I love your title. My eyes long for some bit of definition within the blur. You might try lowering the ISO to 100, and either at the beginning or or end of your lens zoom let the lens be stationary. In this way one can capture enough definition of something to steady the looker's eyes, and still achieve the stunning zoom effect. Thanks for mentioning my attempts at zooming. Keep experimenting; I am also. We shall continue to share tips. &nbsp Posted: 11/10/2020 15:18:35
---
---
---
Peter Newman
Sandra,
I agree with the comments above. Since you already have the image, I took the liberty applying a quick and dirty fix, while using Valerie's suggestion. My first step was to apply a Gaussian blur to the original, to help preserve the soft appearance. Then I played with the blending and opacity modes, and moved the bright center. I did this just to provide some thoughts.
&nbsp
Posted: 11/12/2020 17:27:42
---
---
---
Karl Leck
Hi Sandra, Zooming always puts the convergence point at the center unless the camera itself is also moved during exposure. Asymmetric compositions are usually more interesting so I agree with Peter's suggestion. The soft colors and vignetting give a beautiful feeling. Very calming emotion. Karl &nbsp Posted: 11/14/2020 10:43:00
---
---
---