Sandra Irwin
---
November 2019 - Westin Los Cabos Architecture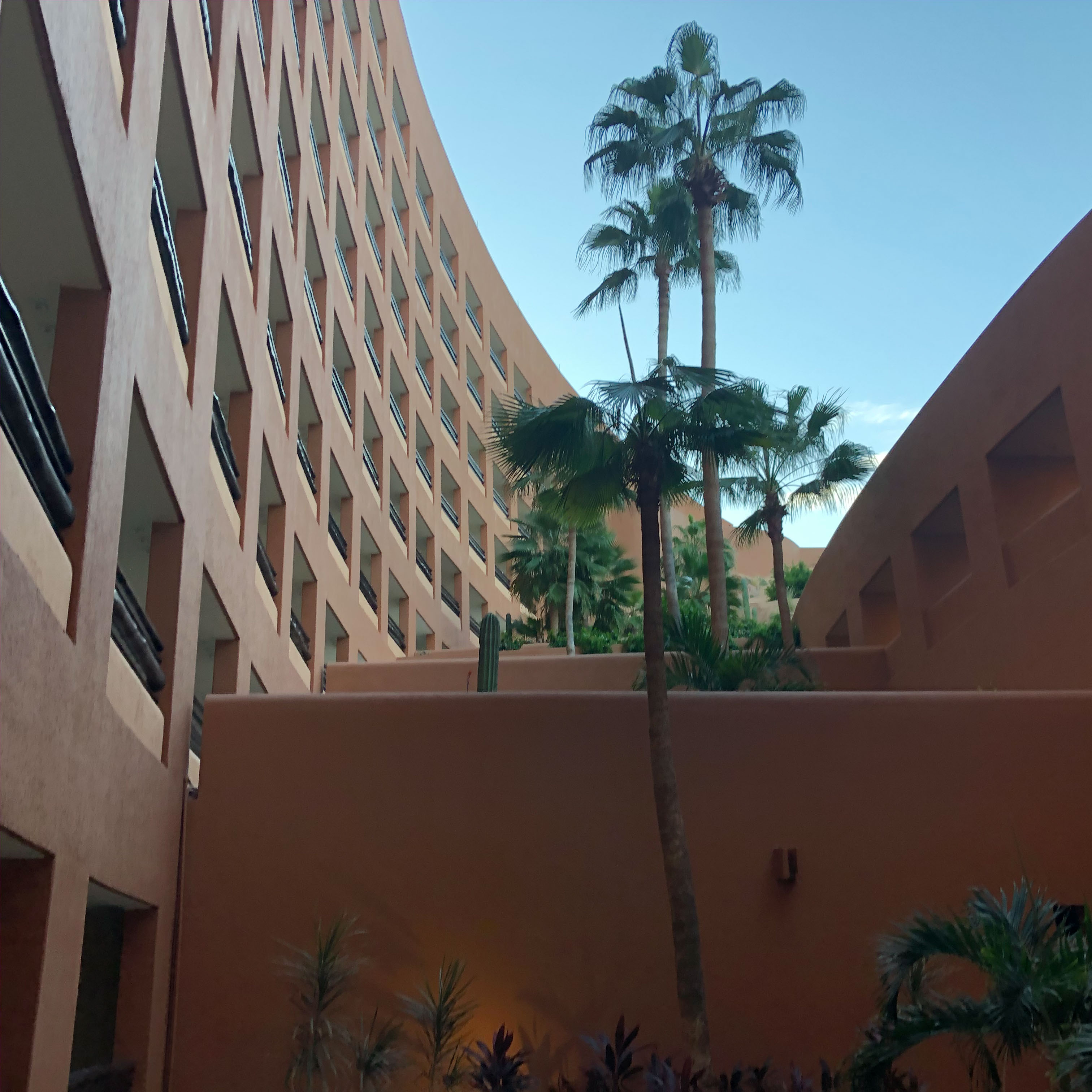 Original
About the Image(s)
I have just come back from vacation in Cabo San Lucas. I only had my iPhone 6 with me. The architecture at the Westin Resort and Spa was really interesting and novel. This is one of my photos.
I cropped it a bit and adjusted vibrance, saturation, contrast and highlights in LR.
ISO 40, 3.99 mm, f 1.8, 1/120 sec.
---
This round's discussion is now closed!
8 comments posted
Karl Leck
Hi Sandra, Great composition! My only suggestion would be to clone out the item on the wall at bottom to the right of the palm trunk. I thought about architectural photography and making vertical lines truly vertical but I really liked the curved lines leaning inward as a better frame for the trees. I think the crop is perfect. It emphasizes the vertical lines of the trees growing up to the sun in a manmade brick and mortar environment. Karl &nbsp Posted: 11/09/2019 11:08:16
---
Lauren Heerschap
I like the architectural lines in this photo, and the perspective of looking up. I wish there was a way not to center the trees in the middle, and perhaps playing around with the crop might be a good suggestion. The difficulty would be to lose some of the windows which are a strong part of the image. The question is whether the architecture is the subject, or are the trees? &nbsp Posted: 11/11/2019 00:28:57
Sandra Irwin
The architecture is the subject. That's why I let the trees be in the middle - which I don't usually do on my subjects -- i.e., put them in the middle. &nbsp Posted: 11/12/2019 21:14:27
Lauren Heerschap
Aha. So I think the focus is on the trees if they are in the middle. I will think about a more creative crop to move the trees over somehow.
&nbsp Posted: 11/12/2019 22:55:50
---
Valerie Pohio
Hi Sandra
Not an image that works for me as I am not clear what the subject is. I know you have said architecture, but I believe the trees being centred and there being so many of them, tend to take precedence. I also keep looking at the background tree which seems to be growing out of the front tree.
I like the sweeping exterior and the consistent patterns of the windows and how the opposite wall mirrors this, but I just feel that the trees split the image into two parts.
I think I would have maybe tried for the architectural aspect from an angle which didn't give the trees so much importance, if that was possible. Val

&nbsp Posted: 11/16/2019 04:07:52
---
Valerie Pohio
&nbsp Posted: 11/16/2019 04:07:55
---
Judith Lesnaw
What wonderful architecture! Where were you when you took the picture? Street level? I like the composition. The deep shadow on the right and the light on the left, together with the opposing curves of the buildings generate a yin/yang balance. The central trees reinforce the image's symmetry. Many have said that the best camera is the one you have in your pocket. They are correct. &nbsp Posted: 11/23/2019 18:52:31
Sandra Irwin
I was on the first floor of rooms, just starting into the hallway that led to our room. &nbsp Posted: 11/26/2019 10:45:05
---