Karl Leck
---
November 2019 - Frosted Cone
About the Image(s)
Fall is a time of dying and preparation in nature. I was photographing in the Mt Cuba Center trial garden early (8 AM) on a cold morning last week when frost had touched many plants which were slowly dying and exhibiting their final beauty. A few coneflowers remained and took on nature's finest crystals. The image from a 105 mm macro lens is corrected only by vignetting to de-emphasize the background.
---
5 comments posted
Sandra Irwin
This is gorgeous! I love the frost on the tips of the leaves and on the stamen (or whatever they are) in the center -- so clear and crisp! Happens to be a color I love, too.
The leaves in the background are a little fuzzy. That is kind of a matter of taste, I think. I raise the question to others -- when you have a subject like a flower with leaves, do you think the leaves should be blurred or clear? &nbsp Posted: 11/10/2019 17:19:22
Sandra Irwin
Note I am in the macro group as well as this one -- so there I have done some work to keep the background on flowers in focus. However, I'm not sure it's at all always the right way to go. &nbsp Posted: 11/10/2019 17:22:30
Karl Leck
I like to provide some feeling of depth (3-D) to images. This can be done with color, luminosity and focus/blur. In this case the increasing background blur assists the depth feeling and the flower's color separates it from the background.
The frosted leaf image from the same shoot is a more extreme example. The background was heavily darkened and partly desaturated. All the leaves in the image were about the same dull, brown tone in the original. I added red & yellow saturation to the big leaf. Warm colors seem to appear closer to you. When projected on a large screen, the leaf seems to float above the background.
Karl &nbsp
Posted: 11/11/2019 08:35:57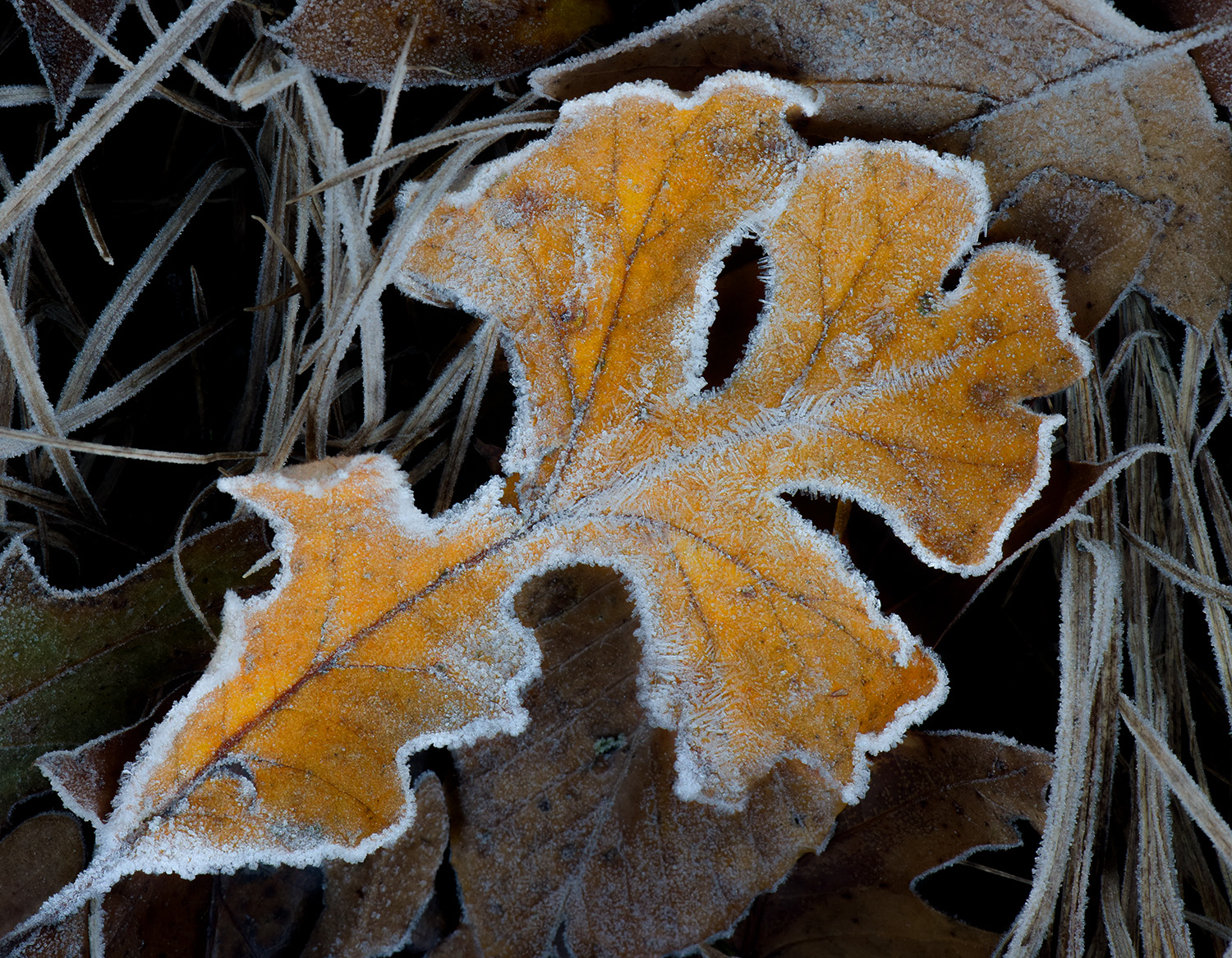 ---
Lauren Heerschap
I love the sharpness of this image,and the way you caught the crystals on the flower. I think you made the correct decision not to have the flower floating on black,but to keep the leaf in the background. It gives a nice textural contrast to the sharpness of the flower. &nbsp Posted: 11/11/2019 00:31:16
---
Valerie Pohio
Hi Karl...love the flower.....all of it; frost, colour, shapes, textures and the wonderful detail you've captured. I don't know about the grey furry shape, bottom left though. It's distracting and bothers me because I can't identify it. I wonder why you chose to keep it?
I don't love square crops, but wonder if one would have worked here???
Re subject of sharp or fuzzy bought up by Sandra, I think either are appropriate depending on the effect you want to achieve at the time. Perhaps sharp if you are photographing the flower as a specimen rather than as a work of art. Val &nbsp Posted: 11/16/2019 04:22:23
---
Please log in to post a comment