Robert Schleif
---
March 2023 - Sunken Park
Original
About the Image(s)
I took this a couple months ago. It shows the steps down into a delightful little park, Sunken Park, in the Guilford area of Baltimore. This was designed by the well known landscape architects, the Olmsted brothers.

Only long after taking multiple shots of the steps did I realize that the picture would have been much better if it had included someone going up the steps. Finding someone to "pose" at the time would have been difficult however, as it was a cold, dreary, misty, and somewhat foggy day and no one but an intrepid photographer was out. As usual, when I take shots like this, I shoot in raw, and do exposure bracketing. In addition to cropping, I did a little warping and some selected adjusting of brightness.
---
This round's discussion is now closed!
11 comments posted
---
---
---
James Troeger
Hi Robert ... I hesitate to offer any feedback on this photo as I feel the entire DD78 team is on a whole different plane this month.

I love your photo. All of it.

The winding staircase, while potentially enhanced with a person ascending it, is great all by itself.

To offer something for an observation, considering that the entire depth of field appears to be largely in focus, it has the potential to feel a little "busy."

Possibly, if the foreground 1/3 to 1/2 and the background 1/4 to 1/3 were just a touch out of focus with just the staircase itself being focus, it would have more impact? &nbsp Posted: 03/01/2023 20:20:59
---
---
---
Robert Schleif
Good idea, use sharpness to emphasize depth and the subject of the image. I've also added some vignetting to further direct attention to the steps. At the same time I've selectively adjusted brightness in areas of the image. Finally, I found that the orange leaves on the bush right in the middle of the image caused me a problem. When I first look at the image, I don't see the bush, but as I look longer, I then see the bush and I'm annoyed by the confusion between bush and leaves on the steps. I've therefore brightened the leaves on the bush and shifted them towards yellow. Now they cause me less confusion and annoyance. &nbsp
Posted: 03/02/2023 12:08:22
---
---
---
Sunil Mehta
Robert Schleif
I like your cropping, in addition to feeling more "comfortable" to me, the image dimensions are more normal. &nbsp Posted: 03/03/2023 07:04:55
---
---
---
Brenda Fishbaugh
Good eye to see all those repeating lines!

If you go with Sunil's crop, I'd recommend darkening the background and hiding that house, as those leaves are light lemon and drew my eye immediately. What I love about Sunil's suggestion is that we don't have the trees on the left "splitting the image into two or three pieces" and breaking out the competition.

I'm distracted by the low bush in the left corner, those bright yellow leaves pull my eyes. I didn't see the bush near the steps until I read your information. It is much less bothersome, but I do think it could blend in with the same color leaves and wouldn't even be noticed.

I might consider a light radial gradient in the center steps with a hint of yellow + exposure to bring us to the center. It could be tilted like a shaft of light.

&nbsp Posted: 03/03/2023 16:12:26
Robert Schleif
Thank you. I'll see what I can do with your ideas. &nbsp Posted: 03/04/2023 14:42:15
---
---
---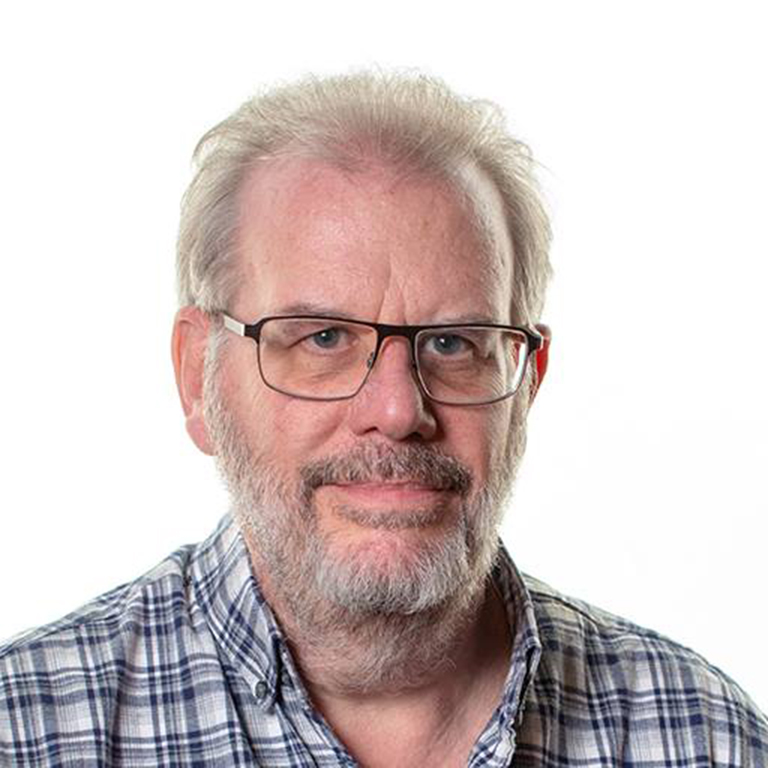 Terry Walters
Hi Robert, great image well seen and processed, but I agree with Sunil about the richness of the colours in the original.
My crop would be just right of the left hand tree, and include the road behind for scale. The road area itself would need darkening down to stop the eye from wandering up.
I don't see this as a park but as a giant footprint, so maybe you could use that in the title or how you choose to finally present this?
&nbsp
Posted: 03/08/2023 10:07:38
Robert Schleif
Thank you for your ideas. I'm seeing that there are quite a few ways of cropping my original--all of which are better than the one I chose. I don't generally enter competitions, but if I display it anywhere but my office, I'm thinking of a title somewhat like "Steps into Winter". &nbsp Posted: 03/08/2023 11:14:24
---
---
---
Jim Hagan
---
---
---
Robert Schleif
This is what I've come up with after taking note of all the suggestions and comments. Cropping to remove that dark, overbearing tree on the left then placed the nearer, bottom end of the stairs rather close to the border. It took some effort to move it a bit further away from the edge. I also cropped, darkened the house and sidewalk near the upper edge, lightened a shadow area near the center, tinted slightly for more orange color, and introduced some vignetting. Thank you all for your suggestions. &nbsp
Posted: 03/16/2023 19:10:09
Brenda Fishbaugh
Robert, It was a lovely image to begin with, but I think its stronger and more interesting now. Hopefully, you are happier with this version, too! Great job! &nbsp Posted: 03/17/2023 20:47:14
---
---
---