Helen Warnod
---
November 2020 - Film Noir
Original
About the Image(s)
Settings: Shooting manual, f/4.5, 1/15sec, ISO-400, Focal length 55mm, Aperture 4, Spot metering,

This month I have submitted an image that attempted to mimic the genre 'Film Noir' I planned it, found a model to pose, organised the locale and planned the shot.

Not very happy with my result.
I wanted to start again, but thought that perhaps my Dialogue group may have some helpful suggestions.
I first began with the straight shot, but felt that the watcher needed to be looking at something through the blind. So, I resized and copied him and pasted a small version of him outside plus added a vignette.
Still not too happy.
Any suggestions?
---
8 comments posted
---
---
---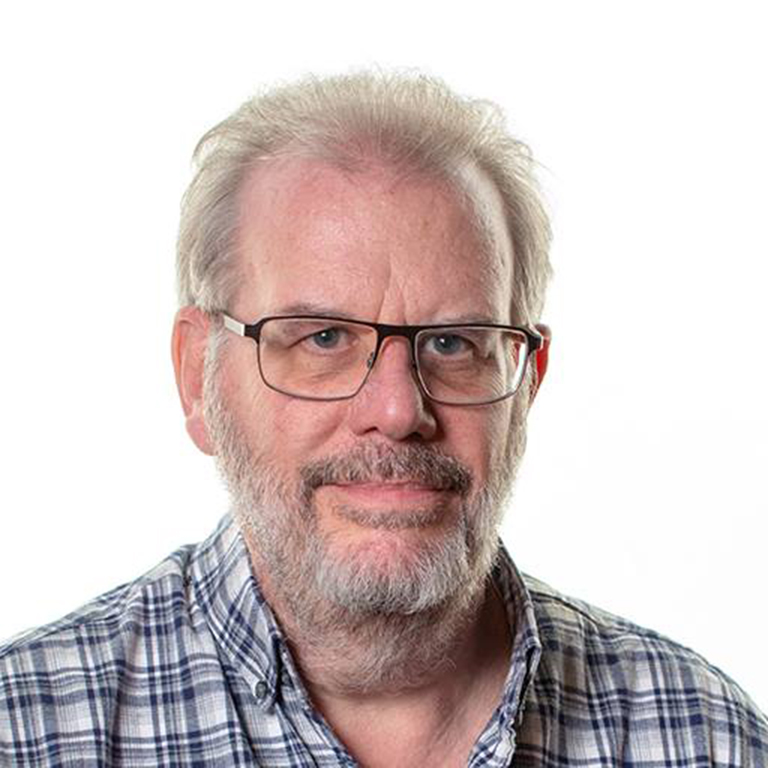 Terry Walters
I don't know why you're not happy, I think this is a good attempt at the genre. The change of lighting of the blinds works really well, but be careful of the halo along his back, a soft brush on the mask should get rid of that.

I don't agree with adding him again outside the window because it looks more like a reflection than what's going on outside, plus he's not actually looking outside but concentrating on his paper, so keeping it simple works better for me.

As for the paper, it looks too new and wrong for the period, maybe making it yellow and darker before conversion to B&W would help, and using a broadsheet crumpled may work better.

You have also lightened the face but not the hands, so they look strange to me. Lots of potential in this image so I look forward to any update.

&nbsp Posted: 11/04/2020 11:21:53
Helen Warnod
Wow Terry, thanks so much for your compliments and especially for the constructive feedback.
I hadn't noticed things like the halo, the darkness of the hands against his face, nor considered the aged broadsheet.
Off to do some twiddling! Thanks again.
&nbsp Posted: 11/04/2020 20:05:06
Abdo Allam
i loved it , why you not like it i find it awesome , agree with terry in his comments &nbsp Posted: 11/16/2020 02:16:26
---
---
---
Jason Kravitz
I think you've done a pretty good job with the genre / objective.
I love the look of your model, the cigarette dangling, and his outfit. The blinds are a good prop too.
A couple things I would have changed if possible during the shoot
- Getting more light on your subject than on the blinds (they seem overexposed compared to the subject)
- Utilizing some creative lighting to add selective shadows to his face or body (could do that in post as well)
- His face seems a little soft or out of focus. Would have like to see it much sharper but looks like it is possible to sharpen a bit in post.
- Get a couple shots of him looking through the blinds vs at the paper. (not so crazy about the cloned person outside as it seems strange and doesn't add much to the scene IMO)
Here's my version from your original. I used a LR preset called "B&W Punch" for starters. Then brought highlights and whites down, upped the "texture" slider to make his face sharper, and added a pretty strong vignette as well.
&nbsp
Posted: 11/04/2020 17:20:01
---
---
---
Helen Warnod
Hi Jason
Thanks so much for your help on this. Now that I have read your lighting suggestion, I am kicking myself for not thinking to take multiple exposures.
He was quite a challenging model. He was a lovely older Austrian gentleman who didn't quite understand what I wanted him to do. In the end, I had to make do with the best of it.
I appreciate your post suggestions, especially the Lightroom one, as I rarely use it. Your edit was great, thanks.
Hopefully, I'll get something better out of it. Moral is, take a good shot in the first place, n'est pas? &nbsp Posted: 11/04/2020 20:23:46
---
---
---
Brenda Fishbaugh
Helen, props for trying completely new and out of your wheelhouse! I think its a great start and much better than I could do! I think you've gotten some great suggestions from Terry and Jason.

I just had a private session with Scott Kelby (!) and he said that I need to make sure the subject is the lightest thing in the photo and to burn down everything else. I think that Jason's advice also suggested this concept. &nbsp Posted: 11/05/2020 19:07:50
---
---
---
Jim Hagan
I like the image except the face should be sharper. To me it is an image of a man trying to read a newspaper from the light of a window so it doesn't bother me that his face is brighter than other parts of the photo but I would skip having an image outside the blinds and I would also darken the outside areas. I like the composition very much. &nbsp Posted: 11/15/2020 19:38:53
---
---
---
Sunil Mehta
Helen,

liked the processed BW tone, as this is a planned picture, the way paper is in his hand does not look natural and needs repositioning, the person behind the blind is not required. &nbsp Posted: 11/25/2020 19:28:14
---
---
---
Please log in to post a comment