Terry Walters, PPSA
---
November 2020 - If You Like Art
Original
About the Image(s)
Canon 5D mk3 with 24-105 F4L lens at 105mm.

Iso 200, F8, 1/640 sec

This was a grab shot while walking in Berlin, I have no others like it so nothing else to work with. It has been cropped and rotated to get the horizontal lines, then Topaz Adjust and even more sharpening before turning B&W as I need more mono images for competition.
---
This round's discussion is now closed!
5 comments posted
---
---
---
Jason Kravitz
I like the candid view of this street artist at work. The B&W looks good, though I was surprised how colorful the art was when looking at the original.
I wish his bike wasn't behind him like that but probably would have been hard to find an angle where it wasn't and more so if you were taking a quick street snap.
I feel like the flow of this image is on the left side and would consider cropping it with more room on the left for the shadow of the man and bike tire to fall out of the frame. I made a quick crop for illustration.
&nbsp
Posted: 11/04/2020 17:35:48
---
---
---
Helen Warnod
Hi Terry
Well spotted. An interesting shot. I liked the colour version and find that the mono also works well.
Similar to Jason, I prefer a little space on the left of the subject.
My main suggestion is to perhaps crop under the grout line of the background wall and level the image using the grout line behind the bike. It feels a little more balanced. (see in my example)
I also did a little dodging on the subject's face and cropped some of the base, as the B&W conversion removes the purpose of keeping all of the writing on the road. &nbsp
Posted: 11/04/2020 21:25:22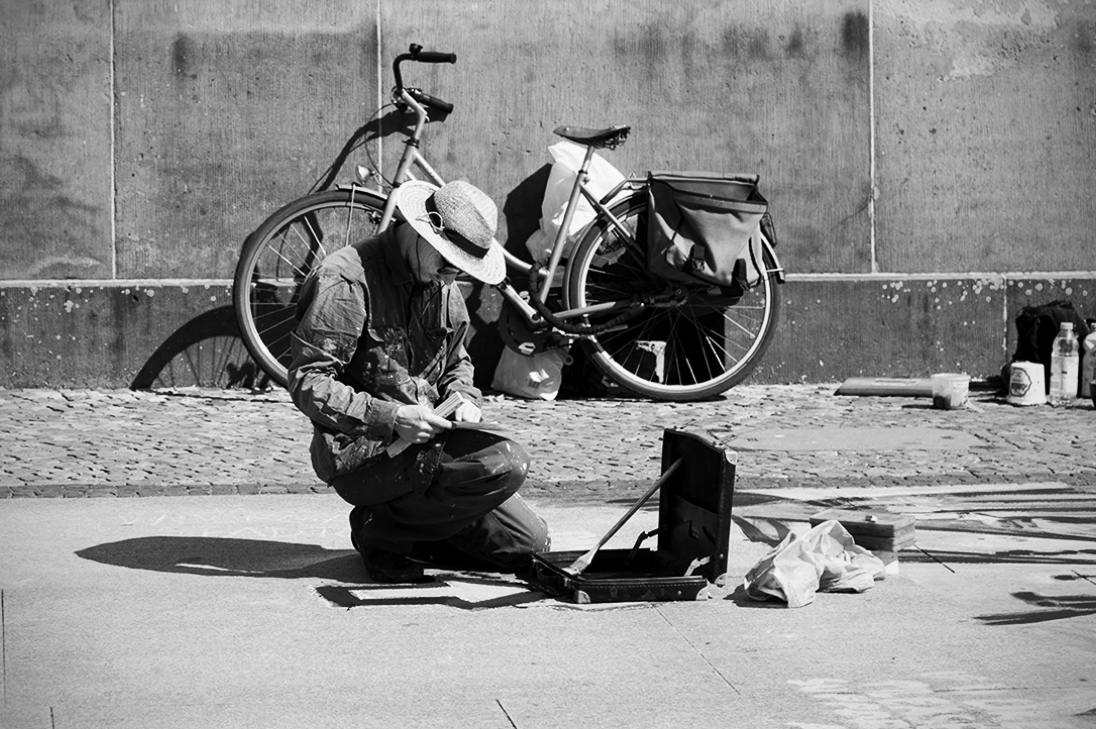 ---
---
---
Brenda Fishbaugh
Terry, fun shot! My first impression was that it was too bright. I love what Helen's and Jason's modifications were, as it really toned down the brightness that took my eye away from the really interesting subject and composition. I think it really made the photo feel more old style and timeless. &nbsp Posted: 11/05/2020 19:18:15
---
---
---
Jim Hagan
I like the image except that I find the bike to be very distracting. Also, I would have liked to seen more of the paint supplies (in the background) and also more of the work that the artist is painting. &nbsp Posted: 11/15/2020 19:44:45
---
---
---
Sunil Mehta
---
---
---