Jason Kravitz
---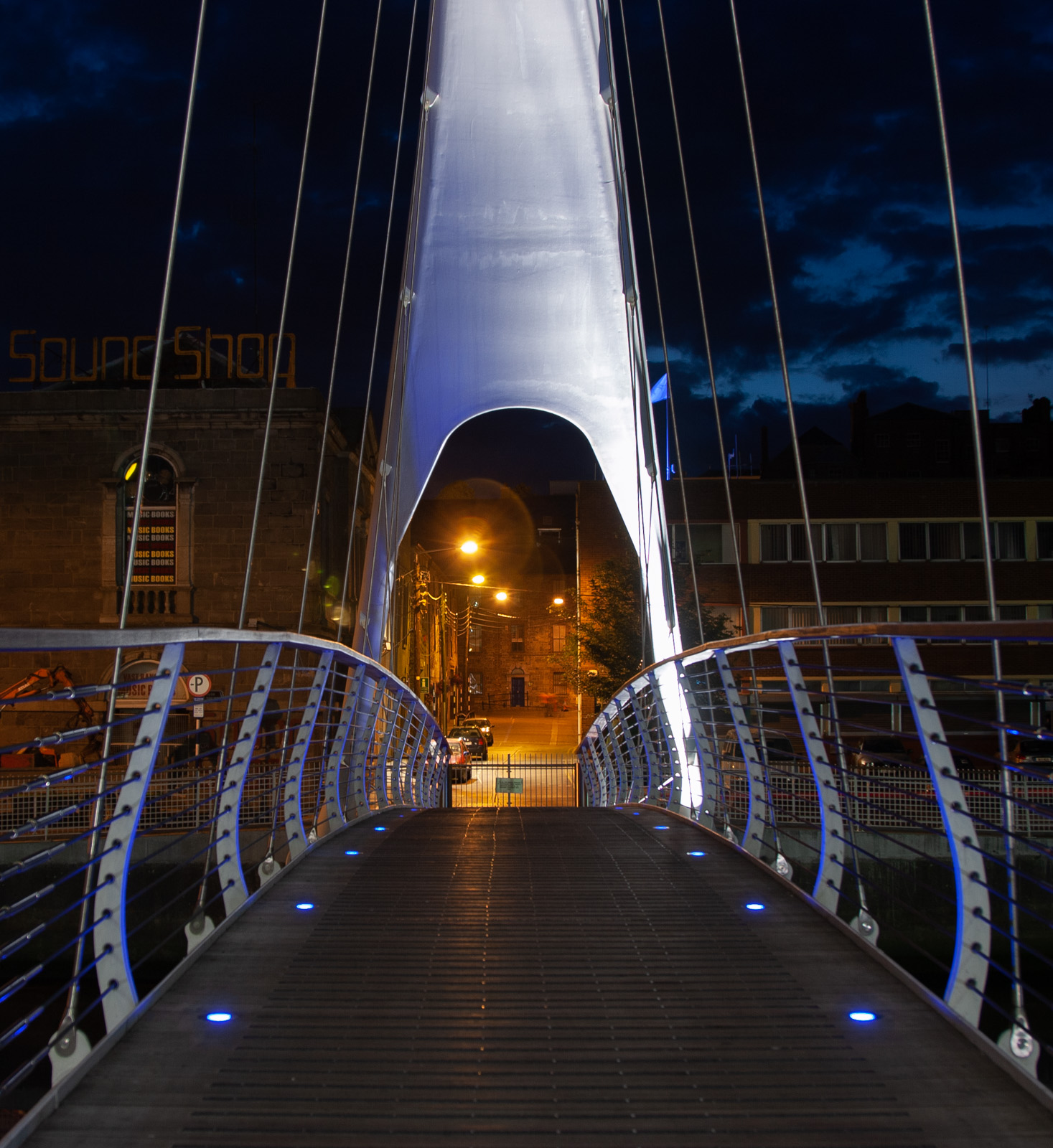 September 2020 - Foot Path
Original
About the Image(s)
I was going back through some old photos from Drogheda, Ireland and I liked this one. Any suggestions on how to improve?

EXIF: Canon EOS 20D 2 seconds F/4.0 ISO 100 24 mm
I liked the late blue hour sky on this one and street lights. I had a few other images of this scene and had passed this image by (for a decade or more) when I rediscovered it and decided to pare it down to a more minimal composition with stronger leading lines into the frame. What do you think of the edit? How would you have processed the original differently?
---
11 comments posted
---
---
---
Brenda Fishbaugh
What an odd bridge! I do like the white "hat" tower and the gold light. I really didn't see the blue hour for the first 3-5 glances! I find the gate at the end of the pathway to be bothersome, as it ruins our eye stopping after some marvelous leading lines. I'd remove the gate, and we go out to infinity. Very interesting shot, glad you found it! &nbsp Posted: 09/02/2020 18:27:20
Jason Kravitz
Thanks Brenda. Good thinking on the gate, it does tend to stop the flow through the image. &nbsp Posted: 09/07/2020 19:02:52
---
---
---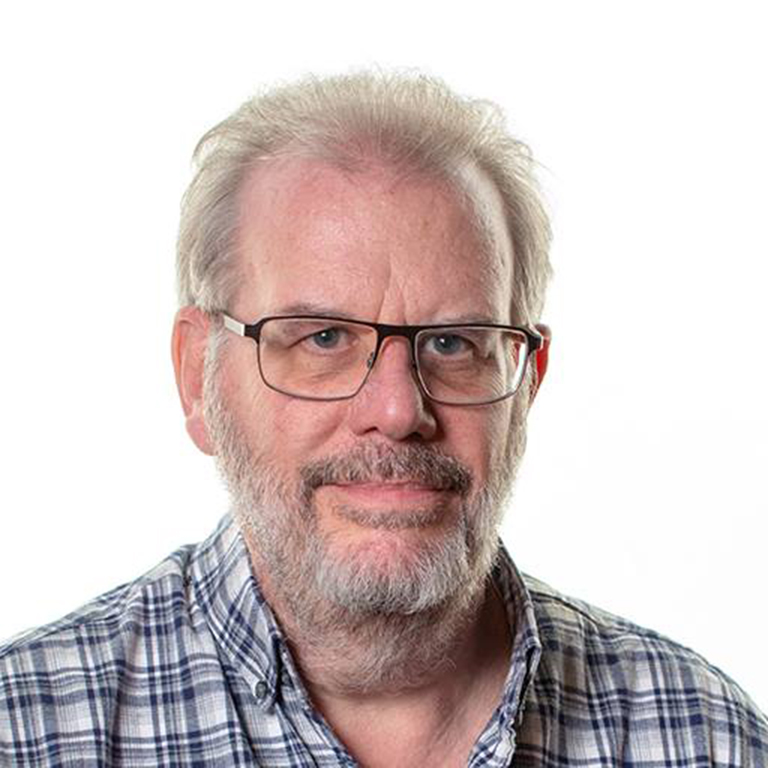 Terry Walters
The rotation and crop of the image is spot on, and I wouldn't change the lighting either. I agree with Brenda that removing the gates at the end of the bridge would improve to movement through the image, but that's not as easy as saying it.
I copied and flipped a bit of the blue light sky from the right to the left to balance up the dark area above the building. I also removed the light from the left building window, blobbed out the parking sign on the left, and removed some flare on the left of the bridge near the base of the sail, all of which keep the eye going down the middle.
&nbsp
Posted: 09/06/2020 07:27:37
Jason Kravitz
I like the idea to add some more light to the left side. Thanks Terry! Yeah I have not tried to remove the gate yet but as you observed it might be trickier said than done. &nbsp Posted: 09/07/2020 19:06:38
---
---
---
Jim Hagan
To me the more interesting part of the image is the street beyond the bridge. So in my revision I cropped off much of the white tower and then burned the remaining bright white areas. I also cropped the bridge so that is was not quite so centered. And, I lightened the shadow areas and then flipped the image horizontally. &nbsp
Posted: 09/13/2020 19:25:09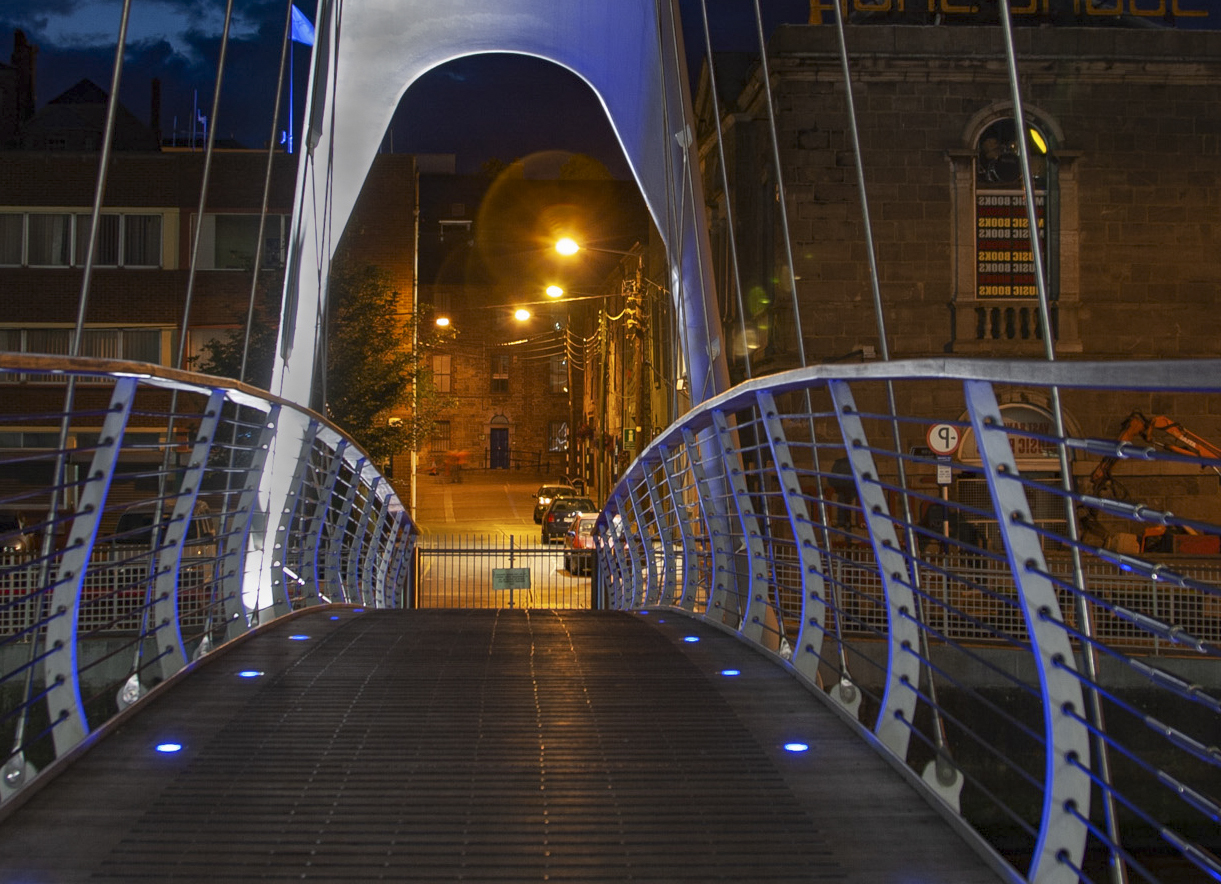 Jason Kravitz
Interesting concept, thanks Jim. I like how in your revisioning of this image, the lines of the bridge still guide us but more so into the street and beyond. In that case, would have been nice if there was a lone figure or other subject in the street. What do you think about the gate? Would you try to edit it out in this version? &nbsp Posted: 09/14/2020 10:39:39
Jim Hagan
Jason, I agree that a figure in the street would add more interest but I like your image without one. I don't find the gate that objectionable but do agree with the others that it's removal would be a plus. &nbsp Posted: 09/15/2020 05:43:49
---
---
---
Abdo Allam

I liked the picture, and I agree with Terry's suggestion to add some blue light to the left side, give the picture more vibrancy. &nbsp Posted: 09/15/2020 03:01:49
Jason Kravitz
Thanks Abdo &nbsp Posted: 09/21/2020 10:53:59
---
---
---
Brenda Fishbaugh
I still prefer the vertical, as it feels very "Hobbit House" to me--trying to figure out what it is. I do love the idea of some blue light on both sides. &nbsp Posted: 09/20/2020 15:20:22
Jason Kravitz
ha on the "Hobbit House". I didn't see that before but can't unsee it now :) &nbsp Posted: 09/21/2020 10:54:22
---
---
---
Please log in to post a comment