Richard Huang
---
November 2019 - Canadian Museum of History at Night
About the Image(s)
EXIF: Canon 5D4, ISO8000, -0.7EV, 1/80s, 14mm

Took the picture when I was working at a winter evening at the Canadian Museum of History. I was attracted by the lines and the light. So I handheld my camera to take some pictures.

For the post processing, I reduced some noise, and adjust the distortion a little bit. Other than that it was a straight forward BW conversion as there was not much color in the original picture when it was really dark.

---
This round's discussion is now closed!
7 comments posted
Brenda Fishbaugh
What an extraordinary pic, Richard! Fantastic leading lines taking us through the composition and a bit mysterious with the dark building. Great texture on the front bricks. I don't see much noise, so good work on that!

Nice job hand-holding, although that forced you to keep your f/stop from being high enough to "star" your lights. What was your f/stop? Everything is nicely in focus.

What did you use for your b/w conversion?
&nbsp Posted: 11/03/2019 14:33:48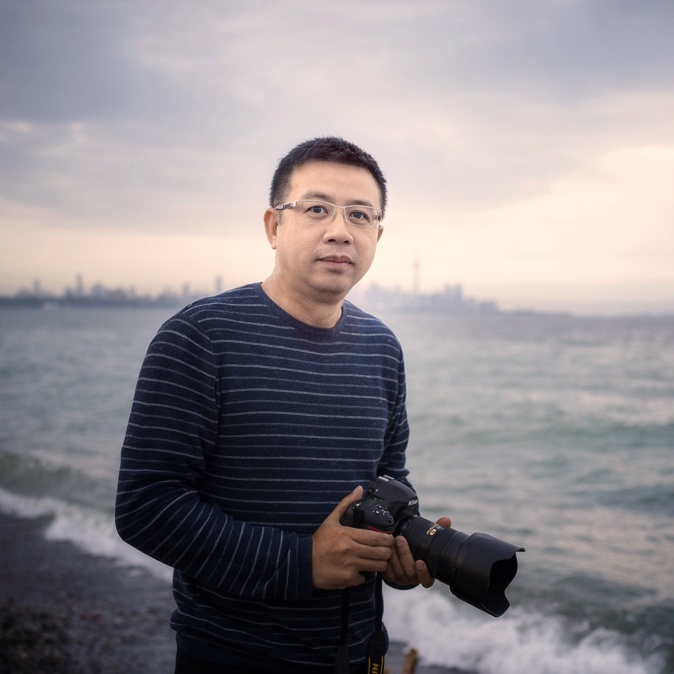 Richard Huang
Thanks Brenda,

For the noise reduction, I apply that differently depending on the texture. On the dark sky and some smooth surface, i.e. the ceilings, I apply heavier noise reduction. For those with more textures, I did lighter.

For some strange reason, I cannot see the f/stop in the EXIF, maybe I was using a manual lens. Regardless, for the landscape like that I usually used 8 or 9. I am pretty sure about that.

For the focusing, since I am using a ultra wide angle lens, there is a hyper focal point. Everything beyond that will be sharp.

Usually, I use Nik sliver efex to do the bnw conversion. &nbsp Posted: 11/04/2019 10:43:47
---
Jason Kravitz
You do have a knack for finding these surreal locations.
I like the way the curvy sidewalk mirrors the curvy building, all enhanced by the perspective you choose for the pic. The lighting also forms a nice line through the frame. Great use of negative space as well with the darkened sky. You could pull those blacks out into the rest of the image by upping the contrast. What do you think of this kind of curve adjustment for a more dramatic image? &nbsp
Posted: 11/04/2019 21:53:57
---
Sunil Mehta
very well composed, good BW treatment, like it. &nbsp Posted: 11/06/2019 22:22:36
---
Abdo Allam
awesome one , really like it &nbsp Posted: 11/07/2019 11:39:22
---
Jan Handman

(Group 34)
Beautiful image! The textures are great and your contrast is spot on. Well done. &nbsp Posted: 11/07/2019 14:28:32
---
I really love the different curves. I'm sure the architect designed it that way because of the beauty of the building and you have captured it prefectly. &nbsp Posted: 11/25/2019 22:36:41
---