Terry Walters
---
October 2019 - Untitled
Original
About the Image(s)
Canon EOS R, RF24-105 L @ 70mm, ISO 100, F10 but very close, 0.4 seconds

Process: A bit of denoise and sharpening, then brightness heavily reduced on top left sky using a gradient on the mask. Sky and water then darkened again before turning to b&w.

I was on a sunrise/sunset shoot and this was late morning so tired and a bit bored. I was sitting on the breakwater while the others did slow shutter speeds on the water but I wanted something different, so added the stone to use as a focal point, then threw the rest out of focus intentionally, careful to make sure the horizon was below the marker on the end of the groyne. I particularly like the way the lighter side of the groyne points to the light, and the darker side to the moody sky.
---
3 comments posted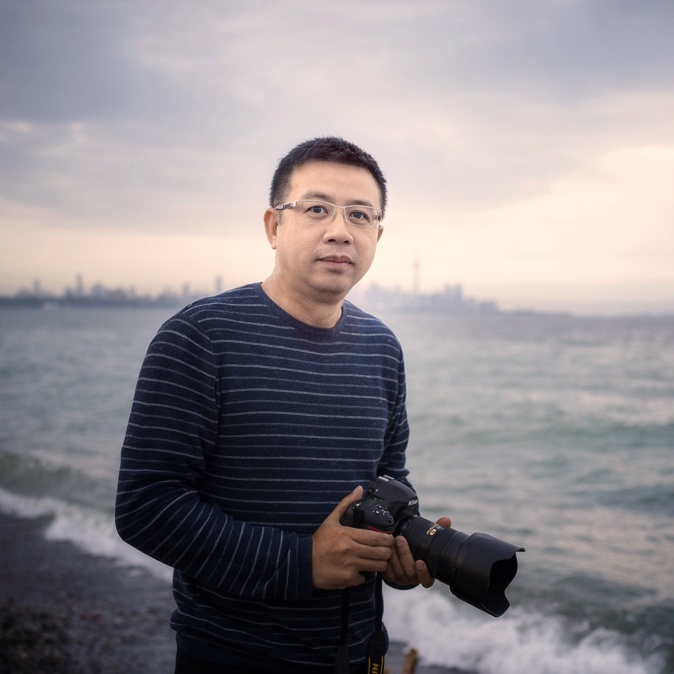 Richard Huang
Hi Terry, a nice scene and a nice capture. I like the composition, and the effort to try something different.
However, for this type of picture, I think I still like to have the slow shutter speed. And I have some issue with the DOF. The problem is more on the leading line. I am fine with burry background with the clear stone, but if it is a leading line, then my eyes were led to a burry object. So in this case, I would like to increase the DOF...
BTW, I think that the color version should also look good as the color differentiates the sky, see and the structure...
I try to fake the DOF to show my thought by software, not so successful. &nbsp
Posted: 10/01/2019 18:41:18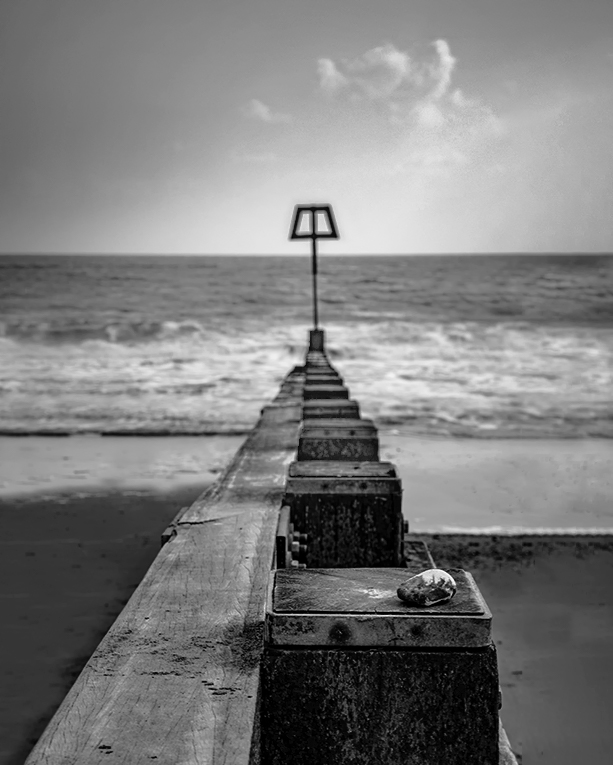 ---
Brenda Fishbaugh
Glad to hear you were trying something different than the group, Terry! The only thing that bothers me is the groyne out of focus. I understand it was your intention. The wall out of focus and the waves not smooth all work for me, but I agree with Richard that we are powerfully led to the subject that is blurry. I like both versions! &nbsp Posted: 10/06/2019 20:16:53
---
Jason Kravitz
I don't mind the out of focus groyne so much (if the groyne is that metal rod on the end, I was not sure !) I like the contrasts of light and dark up against the moody sky.

Since you were somewhat setting this one up, I wonder how the image might change if you had put the shell (and focal point) a few columns further. That would lead the viewer more through the frame I think with a bit of blur in front and behind the shell column. &nbsp Posted: 10/08/2019 12:48:12
---
Please log in to post a comment