Mary Hinsen, BPSA
---
November 2020 - Lady in the Lake
About the Image(s)
I broke my foot so have not been able to get out and about much. It has been a good thing, in that I've been re-visiting more of my old images.

This is one I took of a young woman who walked out into the lake where I was, as it was hot and she wanted to cool down.

I had initially taken the image to the stage shown in edit 1, by elongating the reflection slightly, tidying and colour toning. I especially needed to remove a yellow reflection on her skin from the autumn colours. I had left it there.

When I took another look, I decided to try a black and white version. I took it into Silver Efex and applied a Kodak 400 film style with curves adjustments. I adjusted the colour sensitivities to bring particular areas out, until I was happy with the effect. I then applied a cyanotype toning.

I also tidied up a couple of leaves that were annoying me :)

Both versions have a very different look and feel, but I do quite like the cyanotype version.
---
This round's discussion is now closed!
8 comments posted
---
---
---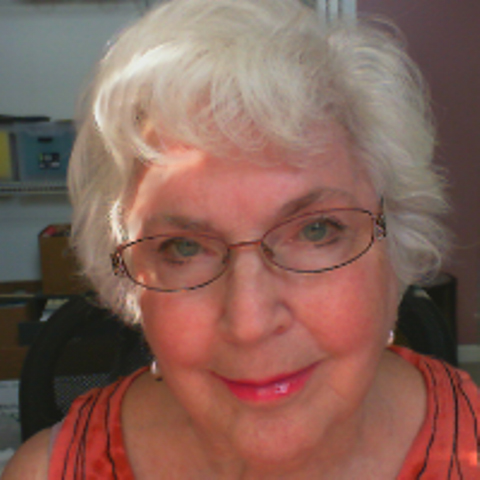 Georgianne Giese
Amazing image! Tell me you didn't bribe her to walk into that water!
You did a masterful job on this. I do like the monotone, though I also like Original 2 a lot. I'm not sure of the cyanotype toning, however. Guess that is a personal preference for each of us. Despite that, the image is very impacting.
I found myself wanting to see a bit more above the lady, and a bit less below, even though that interfered with her lovely reflection in the water. To me, she seemed too centered vertically. So I downloaded the image, and in PS, I applied a crop, extended the crop above her head, and cut off a bit of the bottom. After cropping (and adding about an inch above the image, I selected the blank addition and about 3/4" of the image below the addition. Then I applied an Edit > Fill > Content Aware fill. I also applied Content Aware Fill to remove the bridge that sat like a hat on top of her head. &nbsp
Posted: 11/02/2020 12:02:06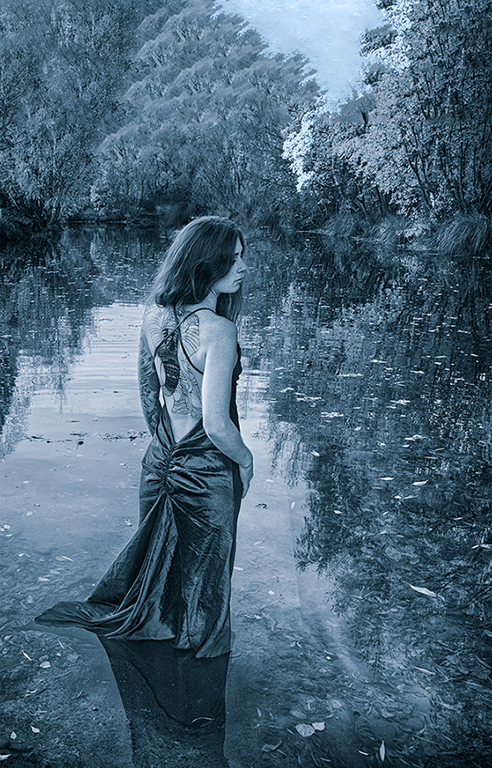 Mary Hinsen
Hi Georgianne. I like your edit and the way there is now more depth to the image. Thank you :) &nbsp Posted: 11/02/2020 13:25:35
---
---
---
Denise McKay
How lucky were you to be here when this lady in a fancy dress decided to go wading! This is a great image, and I like your editing choices.

I agree with Georgianne that the bridge, like a hat on her head, would be one thing I would take out. However, I also like Georgianne's edits. They do add more depth to the scene. &nbsp Posted: 11/02/2020 15:21:29
---
---
---
Witta Priester
Mary , if only models would jump in front of my camera! Your original capture is lovely, and I prefer it to the more saturated version where the greens and yellow are so dominant. I think removing the bridge is an excellent idea, and those bits you've cleaned up definitely make for a stronger photo. I like your monochrome /cyanotone version, but, in my opinion, a blue face is not inviting, and the processing does not emphasis her tattoos, which are quite interesting. Therefore, starting with Georgianne's edit, I added some warmth by using both a red photo filter on her face and body at 20% opacity, and also adding the Late Sunset LUT adjustment layer selectively to the portions of the photo at 20%. &nbsp
Posted: 11/05/2020 18:49:22
Denise McKay
Wow, changing the skin tones really made this image pop in my opinion. Although I liked it originally, these edits made a striking difference. &nbsp Posted: 11/09/2020 06:56:06
---
---
---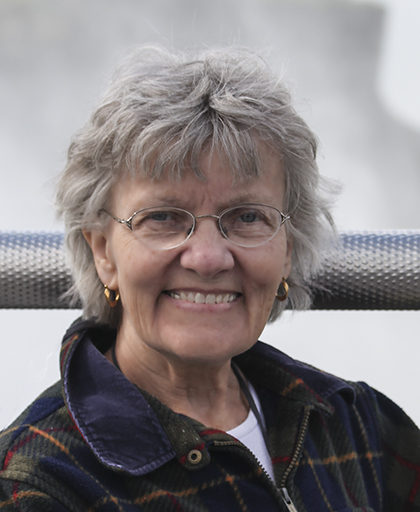 Connie Reinhart
I am not sure about the cyanotype filter either. It seems a little too cold for the mood of the image. But Witta's version with the warmer skin is more appealing to me. She needs a bit of mystery - perhaps fog with her showing clearly, looking like the Lady of the Lake. &nbsp
Posted: 11/10/2020 16:19:13
---
---
---
Linda M Medine
Great suggestions. The bright bridge was the first thing that I saw. There is some emotions in this image. The girls looks so sad. This image tells a story. I feel what is she doing in the water in here evening dress. This image is doing its job because so many thoughts are going through my mind. Not seeing her eyes makes it more mysterious. Good job. &nbsp Posted: 11/10/2020 20:07:59
---
---
---
Cecilia Clark
Mary, I agree with the others with how lucky you were to have such a becoming young woman wade into the lake while you had your camera. It is a beautiful image. I like the color image, but I also like the variations by Georgianne, Witta, and Connie. Because your composition has such great bones, it lends itself to many different interpretations. Removing the bridge and it's reflection needed to be done as it was distracting and did appear to be a hat. In Georgianne's rendition I like the way the landscape on the right mimics the woman's body shape kind of like a dancing partner. Georgianne has lightened the surrounding landscape and the woman becomes much more the focus of the composition. In Witta's version I like the way the slight pink of the skin has warmed the image but prefer that the surrounding landscape be lighter and secondary to the woman. Connie's version is also lovely and sets a different mood to the composition. Once again the landscape is lighter and a better dance partner for this woman. Well done and so many possible versions. &nbsp Posted: 11/25/2020 15:42:22
---
---
---