Cecilia Clark
---
October 2020 - Quaking Aspens at Great Basin NP
About the Image(s)
The title is Quaking Aspens at Great Basin NP. My camera was a Nikon D750 and the lens was Nikon 14-24mm. Focal length 14mm, ISO 100, f/10, 1/200 for the lighter image and 1/400 for the darker image. I used a tripod. These photos from Sept 24, 2015, were taken as an HDR series.

In LR for both photos (original 1 and 2) I used the Adobe Landscape profile, adjusted exposure, increased the luminance of red/orange/yellow, and the keystone effect was off so I leveled the image. I also spot reduced white where the highlights were too light.

When I put the HDR images together in Photomatix Pro, there was too much ghosting in some of the leafy areas. Instead I exported two of the images to PS as layers with the darker image as the bottom layer and the lighter one on top. On the lighter layer I masked out the upper left corner where the sun is let the darker exposure take over. Because there was a roadside post in the way, I cloned it out in PS. I stamped down and used a modified Luminar 4 AI Enhance filter to separate some of the foliage colors and lower the highlights. I added no additional color vibrancy or saturation in Luminar.

Back in LR I adjusted the exposure, increased the luminance of the sky, slightly sharpened, a small crop to add balance to the dead tree, and added a medium vignette.
---
4 comments posted
---
---
---
Witta Priester
Cecilia -This is a fabulous image. I love the overlapping trees in the foreground and your choice of a wide angle lens. Your processing has brought the scene to life. What a wonderful fine art photo!

Autumn colors are my favorites. Although I would not change it, I do believe the reds / oranges here are a bit "hot". You can see this in the overly-red color of the tree trunk in the upper foreground. I think if you look at the "reds" histogram, you'll find that a significant portion are "blown out", which to my mind means you've lost detail and tones in the brightest reds. This might only matter if you plan to make a large print of this photo. One thing to remember when applying a levels or curves adjustment layer in PS, using the luminosity blend mode changes colors less.

As a digital image-all I can say is WOW! &nbsp Posted: 10/03/2020 11:34:22
Cecilia Clark
Witta, thank you for the tip about looking at the histogram to see which colors are blown out. I'll do that and hope I remember that great tip in the future. &nbsp Posted: 10/20/2020 14:49:55
---
---
---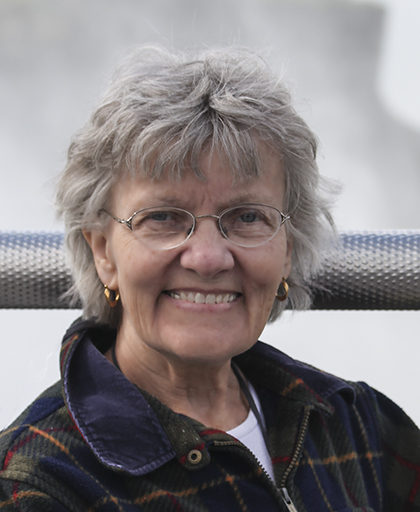 Connie Reinhart
Fall pictures are so beautiful because of all the colors. But they are also common. Your use of the wide angle and low viewpoint raises this to a very high level. Positioning the white birch in front of the dark tree trunk shows how observant you are. Though the sky is interesting, the dead branches filling in the empty space is perfect. &nbsp Posted: 10/05/2020 12:43:11
---
---
---
Denise McKay
I really like this bright, vibrant fall color image. The angle of view makes the trees very dramatic and interesting. The texture and colors in the darker tree really add to this view of mostly white aspens.

I think your choices for composition and post processing really brought out a unique beauty in this scene. &nbsp Posted: 10/11/2020 08:54:38
---
---
---
Please log in to post a comment