Witta Priester
---
October 2020 - Running in the Lavender
Original
About the Image(s)
Sequim is the "Lavender Capital of the US", with a dozen farms and an annual big lavender festival (sadly cancelled this year). People come from afar to enjoy the fields. This photo was taken in July at a local farm that also has berry fields. After picking a few pounds of raspberries, I looked over at the lavender rows and saw this little girl and her family. I took 60+ photos, using a 100-400mm lens.

The original photo was "developed" in PS. I was trying out Topaz Studio 2 to see what it does, since a number of you have used this program, and with COVID I had some time on my hands. (I have since purchased the program.) TS2 has LOTS of options. Many are painterly or unusual, and they can be combined in all sorts of ways. Sadly there is no easy way to determine or record which filters are applied to a particular photo, thus no easy way to go back to recreate a result. (However, you can save "Looks" that you create, and filter details are there).

I started in PS with some cloning to fill in a few plant-free spots. In TS2 I applied several painterly filters and a canvas texture. Then on a new layer, another go at TS2 with some different settings; this result was blended in PS at 50% opacity. I lightened all the dark areas using PS's Shadow and Highlight filter, and sl. darkened a few edge areas, so the eye would not drift to them. I brightened the girl a little, and then toned down some of the yellows in the field which Topaz had created. I did this using a green-to-blue gradient filter layer at 25% opacity in the overlay blend mode. A few final tonal adjustments in LR produced this image.

Ideas for improvement most welcome.
---
6 comments posted
---
---
---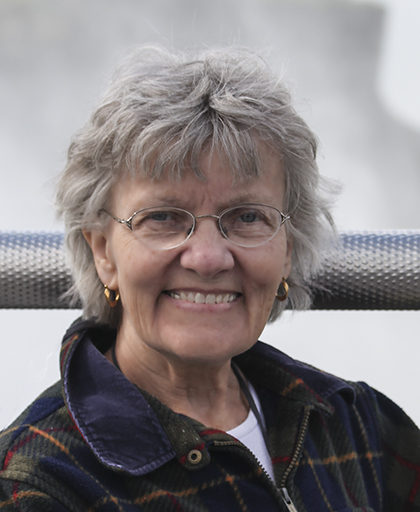 Connie Reinhart
This is beautiful. You should print it on canvas and call it a Monet (or Manet? I mix them up.) Another way to work on just one color in Topaz Studio is to use HSL Color Tuning. You can change saturation, dark/lightness, or tone of any of 8 different colors. Lest anyone thinks that 60+ shots of one subject is overkill, it is not. Especially with a moving object there will be subtle differences in each of them. As to recording what tool you use in Topaz, I keep a note pad handy and write each step down. Then in PS rename the layer with that information. That's tedious, but helpful for a group that learns from each other. &nbsp Posted: 10/05/2020 12:28:26
---
---
---
Guy Davies

(Group 4)
Witta, I love it apart from one small thing. Thr back of the girl's dress is very bright with no detail. Can bring back some of the original locally at low opacity? It wouldn't need much.
I've got Topaz Studio 2 - maybe I should take a nother look at it. &nbsp Posted: 10/11/2020 05:24:24
Witta Priester
Thanks Guy. GREAT comment! I had not noticed that. For me, this is one key reason for being in a Study group -- others see what you don't. &nbsp Posted: 10/11/2020 09:28:45
---
---
---
Denise McKay
This image is really beautiful. I like both the original and edited version. Both of them capture the carefree feeling this girl had when running through the lavender. The composition- leaving space in front of her to run into, her flowing dress and arm trailing behind her, and the beautiful colors, all make this a very pretty, peaceful image.

I agree that maybe toning down that bright area on the back of her dress could make a small improvement, but otherwise, I just love this. &nbsp Posted: 10/11/2020 07:29:35
Witta Priester
Thanks for your comments Denise. About the brightness of the dress back -- here's a copy of my comment to Guy: For me, this is one key reason for being in a Study group -- others see what you don't. &nbsp Posted: 10/11/2020 09:31:53
---
---
---
Cecilia Clark
Witta, This is truly a beautiful image. The composition is wonderful. The edited version is soft and captures the exuberance of a young girl running through a beautiful field of lavender. To my eye, the brightness of the back of her dress gives her some separation from the landscape and highlights her very nicely. The original is lovely as well, and I couldn't resist seeing how close I could come in LR to what you created with Topaz filters. I reduced the contrast and lightened the shadows in the surrounding lavender. I used a bit of negative clarity and a little dehaze to give the photo additional lightness. It doesn't look like a painting, but because it has such a wonderful subject, it is another alternative. Congratulations on a beautiful image. &nbsp
Posted: 10/19/2020 19:01:28
---
---
---
Please log in to post a comment