Connie Reinhart
---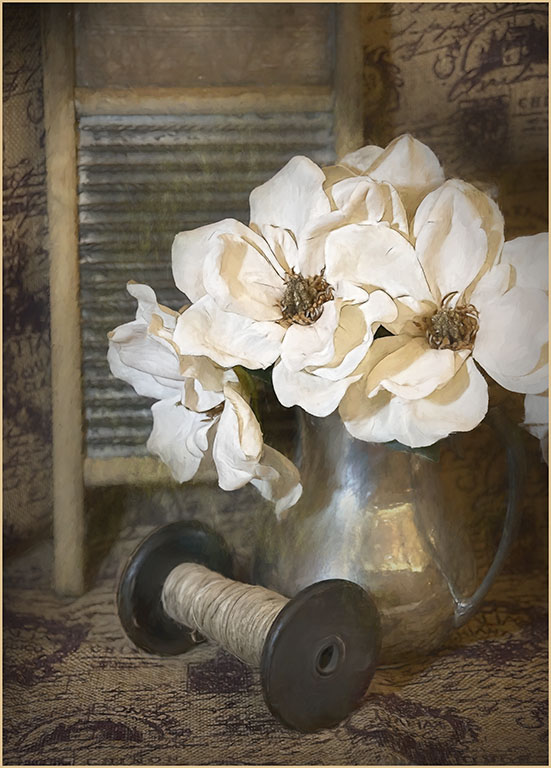 September 2020 - Still Life
Original
About the Image(s)
This image was taken at a photo conference a couple of years ago. I was attracted by the arrangement of ordinary household items. I've worked on it on and off for 2 years, never quite satisfied. I could see it as an oil painting, and tried to get that effect.

Processed in PS and Topaz. First AI clear, then precision contrast and precision detail, burned in the hot spot on the pitcher. So far, so good. Then a stamp up layer in case the next steps looked awful. Added a brightness/contrast adjustment layer, and underpainting filter in PS, dark glow in Topaz, a textured vignette. Another stamp up, just in case. The final touch was Impression in Topaz using stroke 1 with the original as background. The stroke border is just to make it stand out against our black background. Perhaps if the image requires this much work, I should choose another image. Comments, please.
---
8 comments posted
---
---
---
Bunny Laden
Connie, Your work paid off! I especially enjoy how the edge of the flowers stand out. The softened background gives the still life an artistic look. I love the result. It also shows that one should never give up on an image that seems to have potential. &nbsp Posted: 09/01/2020 17:22:18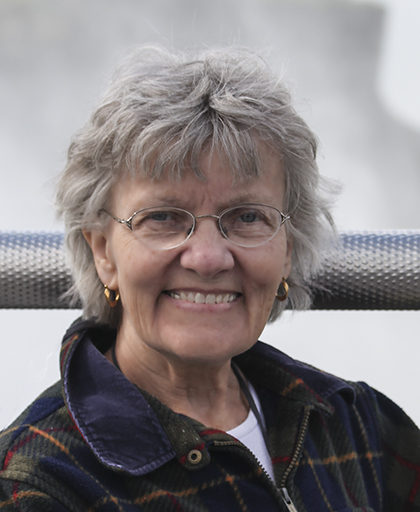 Connie Reinhart
I always start work in PS. That way I can have many versions of an image, each on its own layer. There are about 5 more versions of this, and I rather like them all. The decision-making skills of a squirrel crossing the road! &nbsp Posted: 09/02/2020 14:01:32
---
---
---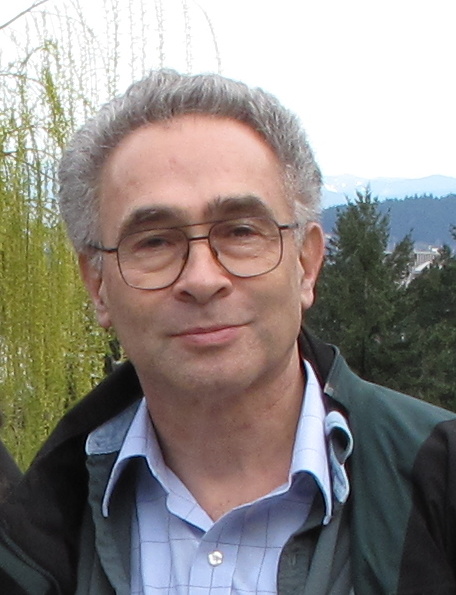 Stephen Levitas

(Group 32)
Hi Connie,
I really like a lot about this image. The finished image is very pleasing and successful. I think you got what you were after. I like the arrangement of shapes and textures very much.
My only suggestion is to consider that the objects do not relate to each other or tell a story together--consider arranging the ewer with a batch of freshly cut flowers lying on the drape and a pair of scissors. Just an alternative for another composition. &nbsp Posted: 09/02/2020 01:40:33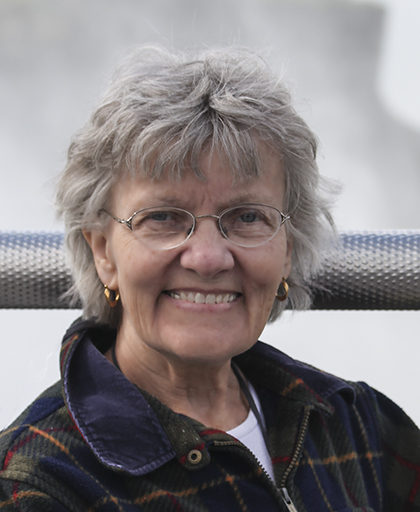 Connie Reinhart
Thank you Steve. I did rearrange the objects so that they did not look like 3 separate items practicing social distancing. I could try something else with items that belong together. &nbsp Posted: 09/02/2020 14:04:18
---
---
---
Denise McKay
The arrangement composition and the post processing really did this image justice. I understand Stephen's comments about the individual items seeming a bit unrelated therefore not telling a specific story. But I do like the shapes and textures within this picture. Many times when shooting at a conference, you don't have much control over your props!

However, I am wishing the edge of the flower petals on the far right were in the picture as well. If you did that, you'd probably have to add some space on the left to balance everything out again; or maybe not. But just a thought. &nbsp Posted: 09/02/2020 16:29:55
---
---
---
Witta Priester
Connie, you wrote: "Perhaps if the image requires this much work, I should choose another image." An interesting thought… In my mind, it asks: can the camera or mother nature produce fine art images? Or are they made by the "artist"using their skills and their vision? As you can probably guess, I believe artists make fine art.
I really like the image you chose this month. Great DOF, lots of interesting objects and textures, a lovely muted color range, and excellent lighting. On the other hand, it seems to me that the flowers (the main subject) look synthetic, rather than real. I also find the angle of the washboard problematic - neither vertical nor enough off-vertical to make it seem purposeful.
So, here's a creative straightening job - a double frame, since I didn't want to cut off any of the flowers. Also, I added a "plastic wrap filter" (masked) only on the flowers (at 30% opacity) to add some "texture" so they looked more real to me. BTW, I found this filter while checking out the "underpainting filter" that you had written about. Thanks for sharing. &nbsp
Posted: 09/02/2020 19:56:29
---
---
---
Mary Hinsen
Hi Connie - your comments about stamping up in Photoshop made me smile - I do exactly the same thing.
I sometimes create two entirely different looks for an image, so I can take the time to consider which one best tells the story.
I don't find the objects in your image disparate - I feel your processing has pulled them together. The objects are old, the flowers fresh. A great story :) &nbsp Posted: 09/09/2020 23:32:14
---
---
---
Cecilia Clark
Connie, I like your image and your post processing. Your final image has such a lovely glow to it. It is a beautiful still life. BTW, I do not find the images disparate. The washboard, the spool, the ewer all compliment and serve as support pieces for the magnolia flowers. The washboard is naturally leaning back on the background and together with the spool they balance the flowers. Lovely. &nbsp Posted: 09/10/2020 18:52:23
---
---
---
Please log in to post a comment