Denise McKay
---
September 2020 - Here Comes the Sun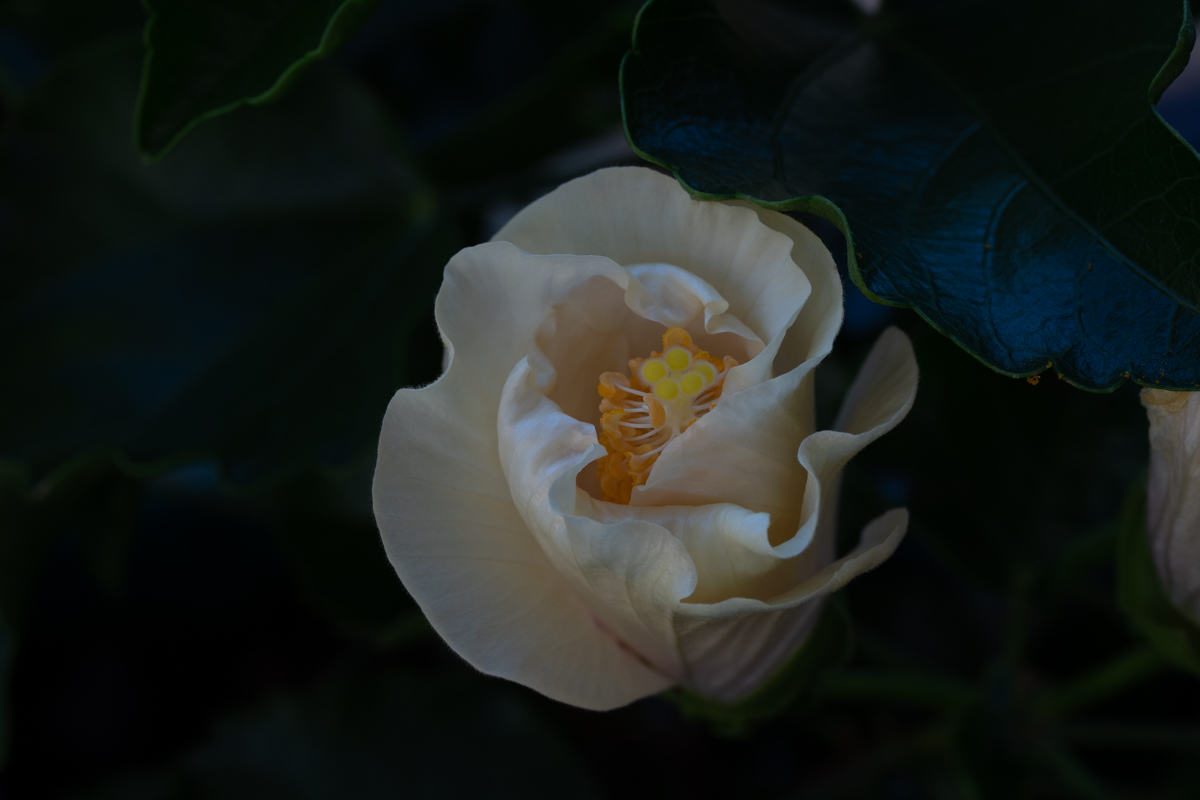 Original
About the Image(s)
In 2016 I had to move from a house to an apartment when my late husband's health was declining. A place with outdoor space wasn't available at that time, and after he passed away, I began sorely missing my previous small garden. In May, I moved to a new apartment that provided me a covered balcony. I have been in heaven, planting containers and flower boxes. I have actually attracted three hummingbirds to my little garden, so I attached a hummingbird feeder to my railing. I get multiple visits, daily, from these sweet little birds.

Recently, I added some hibiscus flowers to my balcony garden. This photo was taken early in the morning as the sun was rising and the light was beginning to fall on those flowers. This particular one was unfurling in a beautiful way that just called out to me to take her photo. The feeling I had with this flower was that she was awaking from a peaceful sleep and welcoming the warm sunshine.

Taken with my Sony A7R III, and 90 mm macro lens with these settings:
Aperture f 10
Shutter speed 1/125
ISO 400

Most processing was done in Lightroom, with just some spot removal that was done in Photoshop. Here's what I did:

I cropped to exclude distracting elements that surrounded the flower and re-framed the view to focus more on the flower. I did some slight noise reduction and a slight overall exposure increase. I made selective adjustments using the radial filter to encircle just the flower and increased the exposure a little more as well as the texture and clarity.

I jumped over to Photoshop and used the content-aware fill and clone stamp tools to remove some areas I thought were distracting.

I experimented with adding some textures, colored vignettes, and a couple of filters using NIK Color Efex Pro 4, but I kept going back to the simplicity of the Lightroom and Photoshop edits. I felt the flower just stood out without much help from me! But I am very interested in feedback about any other ideas to bring out her beauty and that feeling I described at the beginning.

---
8 comments posted
---
---
---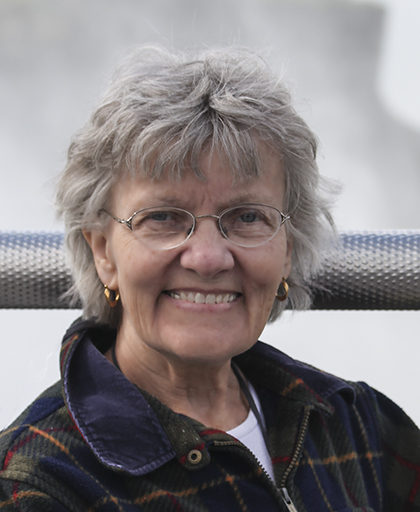 Connie Reinhart
This image proves the old adage that sometimes less is more. The flower is lovely, framing good, exposure and DOF good. I wonder about the leaf. It is almost blue, but maybe that is an appropriate color. Greening it up might make it too intrusive. Besides, it looks as if the blossom is peeking out from her protective covering and , as you said, greeting the sunshine. &nbsp Posted: 09/02/2020 13:59:35
Denise McKay
Thanks for the comments Connie. I do see the somewhat blue cast to the flower. I think it may have been a reflection of the blue sky in the highlights. I didn't find it distracting, so left it as is. &nbsp Posted: 09/08/2020 16:37:20
---
---
---
Witta Priester
Denise -- Such an attractive flower and especially the way you captured the whites-this is clearly one of your skills. I find the leaf in the upper right distracting, so I tried moving it in your final image. (I had to clone-in a bit of new flower) Also your processing made it as prominent as the flower, so I decided to darken and desaturate it. As a final touch I added a hint more color/brightness to the yellow stamens - it's where my eye ends up, and I wanted them brighter and sharper. With a macro lens, focus stacking to increase DOF can often be a plus. &nbsp
Posted: 09/02/2020 19:18:42
Denise McKay
Thank you for your feedback Witta. I feel like the upper leaf resting lightly on the flower petals gives a sense of intimacy to the photo. The flower is gently pushing through to the sun. It makes me feel like there's more of a story VS just a clear image of a beautiful flower. However I do like the suggestion of maybe desaturating/darkening the leaf a bit.

As for the yellow stamens, I was actually thinking they might be too bright, because this is not supposed to be a "macro" shot. My intention was more of a close-up portrait. So I didn't really want the stamens to be the focus of interest. However, being yellow, they are going to draw the eye for sure! I actually played with toning them down some, but didn't like the result.

I appreciate hearing your perspective and suggestions!

&nbsp Posted: 09/08/2020 16:56:07
Witta Priester
Denise, thanks so much for your thoughtful reply.
The wonderful thing about photography AND the critiques in this study group is that we all see things differently. Feelings and emotional connections are so important in creating fine art photography, and these definitely influence how the maker "works-up" their photographs. At the same time, viewers come with their own perspectives, which may change as we change. These other viewpoints provide opportunities to re-affirm or re-evaluate the decisions we have made, as you have done here. &nbsp Posted: 09/08/2020 18:44:11
---
---
---
Mary Hinsen
Hi Denise. I like your light touch on this image. It feels as nature intended.
I like the yellow in the centre. It draws my eye and I find the detail quite absorbing.
I also like the leaf resting naturally on the petals, however, I do like Witta's suggestion of darkening it slightly. &nbsp Posted: 09/09/2020 23:50:15
---
---
---
Cecilia Clark
Denise, I appreciate your inspiration and interpretation of your image of your hibiscus flower. I also like the post processing restraint as you began with a beautiful image. I like the crop and the final image. The leaf above the flower doesn't distract and I like the thin green line of the leaf as it s up and separates itself from the flower. You could try darkening or desaturating that leaf, but that might distract from the naturalness you managed to preserve. Well done. &nbsp Posted: 09/10/2020 19:31:06
---
---
---
Cecilia Clark
Denise, I appreciate your inspiration and interpretation of your image of your hibiscus flower. I also like the post processing restraint as you began with a beautiful image. I like the crop and the final image. The leaf above the flower doesn't distract and I like the thin green line of the leaf as it s up and separates itself from the flower. You could try darkening or desaturating that leaf, but that might distract from the naturalness you managed to preserve. Well done. &nbsp Posted: 09/10/2020 19:31:06
---
---
---
Please log in to post a comment