Witta Priester
---
September 2020 - Fresh Water Bay Morning
About the Image(s)
How I did it - Fresh Water Bay Morning

I was heading out to my favorite photo-beach when I decided to detour to this locale. It was an overcast, foggy morning, so I had a bit of time to go down a road that I hoped would lead some public-access water. After a couple of wrong turns, it did lead to a public boat ramp, with a view of this mini-island out in the bay. I was lucky that there was a bit of action in the bay, including this boat coming in.

The light was quite flat, so when I worked up the photo in LR, I opened the shadows on the island and emphasized the boat (Start image). I then wandered through some of my LR presets. I have presets that I have created, as well as 3 groups of free ones that I've downloaded. I regularly use them as starting points. I settled on a recently downloaded one from Doug Landreth named "hidden potential". Starting with that (see 1) the image was again modified to open the shadows on the island and emphasized the boat. I then changed the colors using the temp and tint sliders, and split toning, to get to (2). I still felt the photo needed a bit more interest, so I took it into PS and added some textures (3). Back in LR, the image still seemed too flat, so I again took a look through my presets. This time I chose a free one from from Trey Ratcliff "T-shirt with cat", modifying it a bit and then changing the crop to get to the final image. Since I'm partial to pinks and oranges, the "morning" mood definitely suits my eye.

---
4 comments posted
---
---
---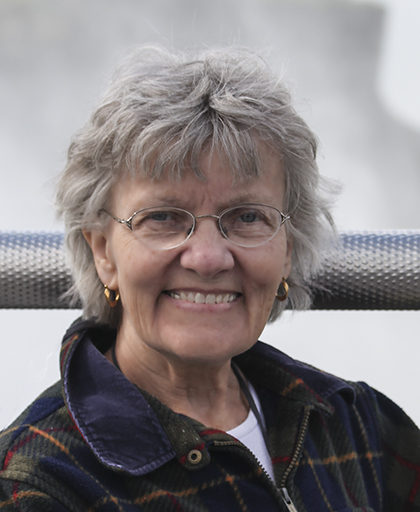 Connie Reinhart
There is good balance between the island and the boat. The texture gives the impression of a patchy fog, as one would expect to find early in the morning. I, too, like the warm colors of the final image. I wouldn't change a thing. &nbsp Posted: 09/02/2020 13:22:25
---
---
---
Denise McKay
I find this image very appealing. The color tone and texture add an interesting mood to the photo. I like the composition and the water reflections of the little island and boat. &nbsp Posted: 09/02/2020 16:17:44
---
---
---
Mary Hinsen
Hi Witta. I love the early morning feel you have created with the colour tones you have used. I also like that the presets you used have brought out a feeling of fog. As Connie says, it goes with the feeling of early morning sunrise.
Your depth of field brings the boat forward to me, and makes me look at its occupants. I really like your finished result. &nbsp Posted: 09/09/2020 23:26:51
---
---
---
Cecilia Clark
Witta, there is a nice juxtaposition between the spit of the island running to the left of the image and the boat's wake spreading to the right of the image providing balance to the composition. Your post processing work does indeed give the image an early morning feel, but the top of the image seems different than the bottom. Did you apply the presets differently on top and bottom? The top portion has the foggy feel to it, but to my eye, that is absent on the water below the island. &nbsp Posted: 09/10/2020 18:33:50
---
---
---
Please log in to post a comment