Georgianne Giese
---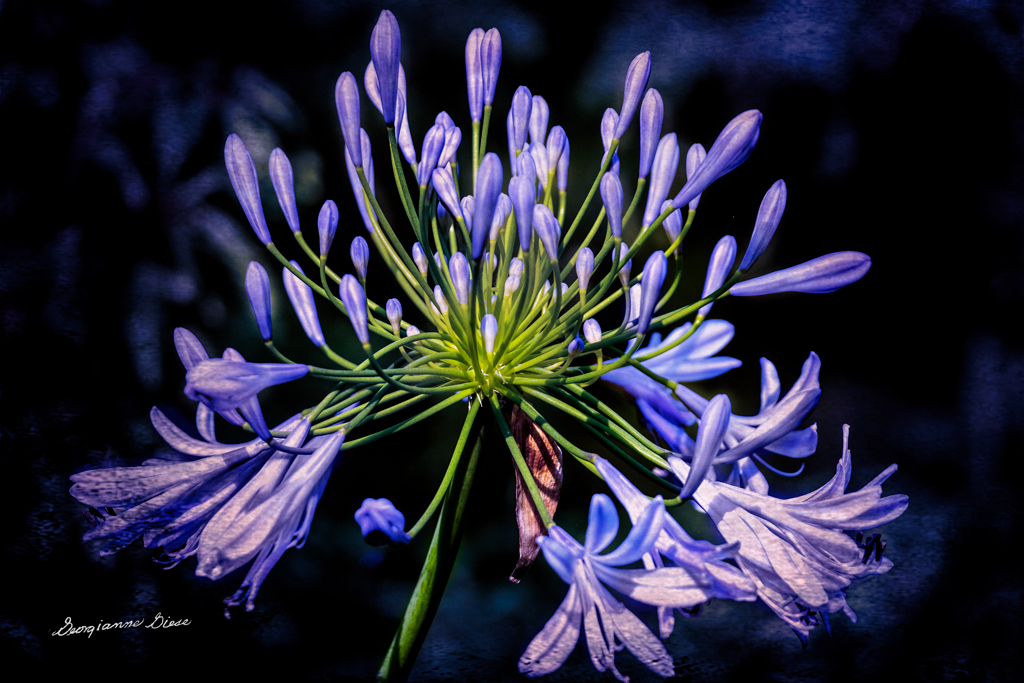 August 2020 - Purple Spring Beauty
About the Image(s)
Flowers are the gems Mother Nature provides, to summon appreciation of living. Original 1 was taken on an afternoon stroll through Brookgreen Gardens, Murrells Inlet, South Carolina.

The first step was to take down the exposure a bit, with an Exposure Adjustment Layer, and then I added the following adjustment layers:

1. A Levels adjustment layer, to bring out the blues in the flower
2. A Levels adjustment layer, to darken the background.
3. A Selective Color adjustment layer to enhance the strength of color in the flower pedals.
4. A Solid Color adjustment layer, in pale lavender, to slightly color the white areas on the pedals, which were blown out by the bright sun, when I took the original shot.

I stamped (merged) up (Ctrl Shift Alt E). The center stems needed to be accentuated, so I ;used NIK Color Efex Pro with Darken/Lighten Center preset, with the center point placed on the inner green stems. The result is Original 2.

As a final treatment, I applied a Van Gogh preset from Topaz Impressions 2, to the I mage. This changed the background, making it darker and more blue.

---
10 comments posted
Witta Priester
Georgianne, I'm partial to agapanthus, so am definitely drawn to this photo. You've got good depth of field here and have done an excellent job of minimizing the background and balancing the brightness at the bottom with the rest of the flower. To my eye, the one brown area and the Van Gogh treatment on the lowest flower petals are distracting. To improve, I would try a bit of cloning or content-aware fill on the brown area and then partially masking the effect on those lower petals from the topaz image. &nbsp Posted: 08/07/2020 09:08:22
---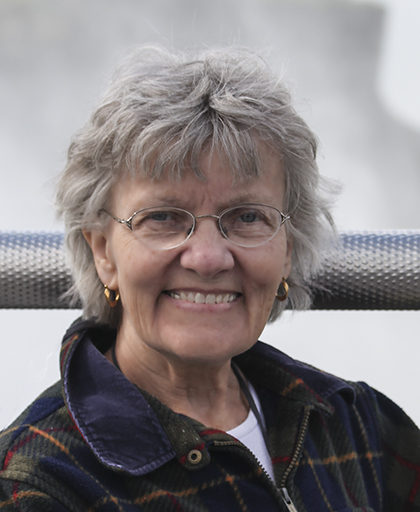 Connie Reinhart
Very nice. Thank you for the tip of using the solid color adjustment layer for taming down the blown out whites. Just burning or levels adjustments makes them an ugly gray. Much easier than cloning out the brown petal is to simply remove it before taking the image. If this was intended for a nature salon, you probably can't do that; but for a pictorial image you can. I tried the healing brush in Topaz and the healing brush in PS with poor results. Then I selected the dark area to the right of the stem, copied and pasted it, moved it to the bottom section of the brown petal and distorted it to fit. Masked it and erased the area over the stems and blue petals. Used the same selection for the upper half of the petal with mask, etc. While some of these backgrounds appear to be a solid color, that is not often the case. This method allows for the subtle change of tones to be carried to the area I want to edit. &nbsp
Posted: 08/07/2020 09:38:03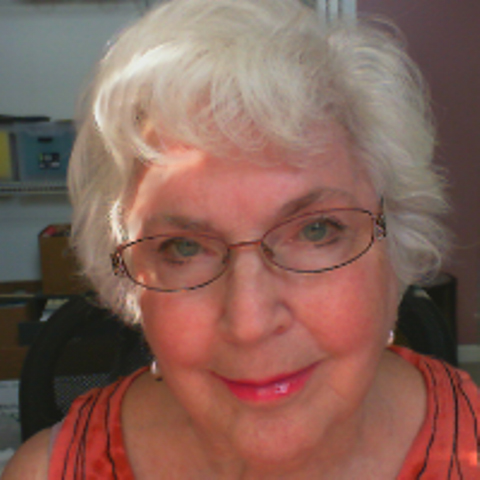 Georgianne Giese
Nice, Connie. You really made that dead pedal disappear! &nbsp Posted: 08/07/2020 11:23:51
---
Bunny Laden
Gerogianne, Beautiful image. I am enjoying the background treatment. My only comment it so remove the dead petal,as others suggested.

I often end up with a dead petal or stray grass, so now I carry around a scissors and do a little trimming prior to taking the photo to avoid removing something later! &nbsp Posted: 08/07/2020 13:22:59
---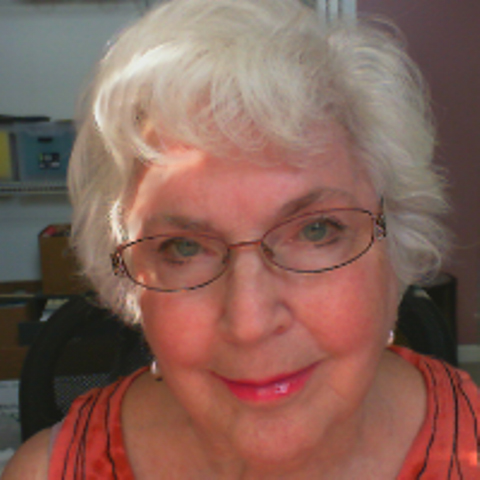 Georgianne Giese
I actually left that dead pedal there for a reason. I hope to do that in all future images. Imperfection is life, and life is beauty. Wabi Sabi... &nbsp Posted: 08/07/2020 16:19:58
Witta Priester
I'm not at all surprised you left the brown petal there purposely. It's not something you would likely have overlooked. Yet I failed to consider wabi sabi. Wabi sabi is an interesting concept, though oftentimes difficult to pull off in a photo. When I think about this concept, I tend to think of a larger portion of the scene than just one petal. I generally consider muted or faded colors, or an inter-twining of the vibrant perfection of youth and the imperfections of aging... &nbsp Posted: 08/08/2020 16:03:29
---
Denise McKay
Beautiful colors in this flower, and nice composition. I really like the edits to the background and feel it enhances this photo well.

Like others, I find the one brown petal distracting, but to your point, are we attempting to capture only beauty and perfection, or allowing the reality of imperfection to have it's place as well. It's all in our point of view at the time of the capture. &nbsp Posted: 08/08/2020 09:10:05
---
Cecilia Clark
Georgianne, The focus and composition are spot on. Your subject flower though lovely was made even more attractive by your edits. In particular, darkening the background and later applying the Van Gogh Topaz filter makes it appear that there are many more agapanthus in the background. I, too, appreciate your tip about using a color adjustment layer to color the blown out petals.

The texture should be removed from the foreground petals as it makes them look past their prime even though many of the blooms have yet to open.

I believe the brown bit of vegetation is not a brown petal but the enclosing "womb" that encased the flower before it opened. I feel that it could stay or go depending upon your vision. Either way, well done. &nbsp Posted: 08/09/2020 11:56:30
---
Mary Hinsen
Hi Georgianne, I too have a soft spot for agapanthus and I love what you have done.
For me I like the brown casing. It stops the flower being too perfect, and gives me a feeling for the age and stage of its lifecycle.
In your original image, the brown casing colour is mirrored gently in the colour of the pollen on the stamens at the base of the flower, particularly on the right. Your treatments have taken out that colour, and the casing now stands on its own. This could be your interpretation, or maybe bringing back in that colour would balance the casing just a little.
Either way, I really do like it :)
&nbsp Posted: 08/09/2020 20:12:46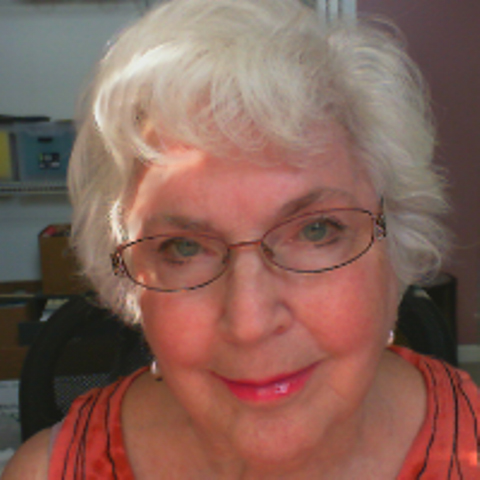 Georgianne Giese
Mary, I hadn't even noticed that pollen on the stamens! I do love your suggestion, and will bring back that pollen! Thank you. &nbsp Posted: 08/10/2020 07:02:27
---
Please log in to post a comment