Georgianne Giese
---
December 2019 - Tumacacori National Historic Site Grainery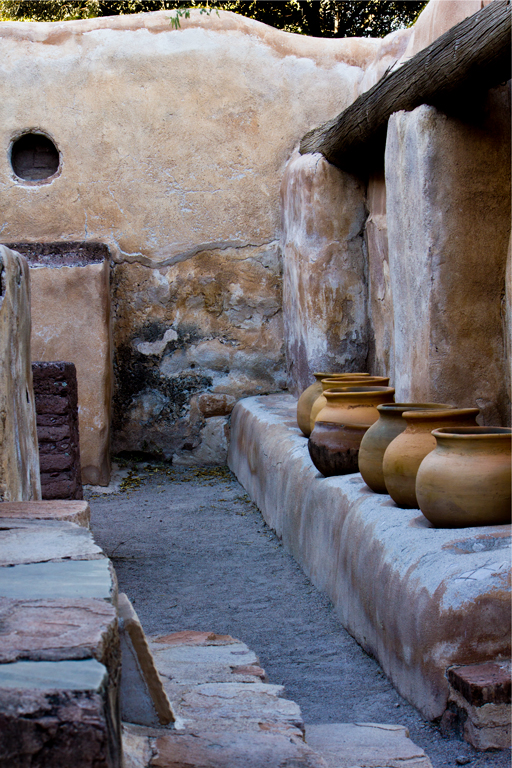 Original
About the Image(s)
Tumacacori is a National Historical Site, south of Tucson, AZ. It was the site of the first mission established by the Jesuits, by Padre Kino, in 1691. It remained a cultural and living/meeting center for three major Native American tribes, until a series of three Indian revolts caused it to be abandoned in 1757. Today, the ruins still stand, and as a National Historical Site, the decision was wisely made to NOT reconstruct it, but rather to maintain it in its final decayed form. The photography is fantastic. This is an image of pots in the grainery there.

After processing the image in Camera Raw, I applied NIK Color Efex Pro, with a Darken/Lighten Center preset and its center set at the far end of the row of pots. The center was enlarged to add more focused light on the interior of the grainery (though there was no longer any roof.) I also used Detail Extraction to bring back some of the texture of the rough old plaster.

To lighten up the image and soften its appearance (as befitting old age!), I applied Topaz BW, with Opalotype Chiffon preset. That added a light vignette and I also I set that preset at high transparency, to retain pale color. The resultant layer was blended with Luminosity blending mode.

I merged the layers up (Cntl Shift Alt E) to a new layer, and applied NIK Silver Efex Pro with a red filter. That generated a new layer, which I put to 60% opacity in Saturation blending mode.

---
This round's discussion is now closed!
2 comments posted
Witta Priester
Georgianne,

I really like what you've done with this photo. Although the blue and brown of the original makes for an initial WOW - the colors actually seem quite weird. In my opinion, your choices to keep some color, but go more toward a B&W photo work really well.

The final image has some areas that I would work on, if it were my photo. The very top has lost some interesting detail in the processing, and the shadow on the upper right has gone all hazy. The very bottom seems a bit overly "sunny" to my eye, so I would darken it a little, and because the light bit at the right edge draws the eye, I'd darken it as well.
&nbsp Posted: 12/11/2019 21:11:31
---
Bunny Laden
Georgianne,
When I look at this image, it's as if I am stepping back in time. I like your approach of making the image look aged. I have two suggestions. To my eye, the image looks as if it could be straightened just a tad to remove the slightly lighter area on right, center.
At first, I wasn't sold on the white vignette because it seemed like a light leak. However, it is growing on me because it does convey the impression of an old image. I took the image into Luminar Flex and applied a small amount of an effect that is supposed to emulate Ilford film. You might consider additional ways to achieve the aged effect other than the white vignette.
The leading lines are terrific.
&nbsp
Posted: 12/17/2019 13:52:08
---