J. Lanning Smith
---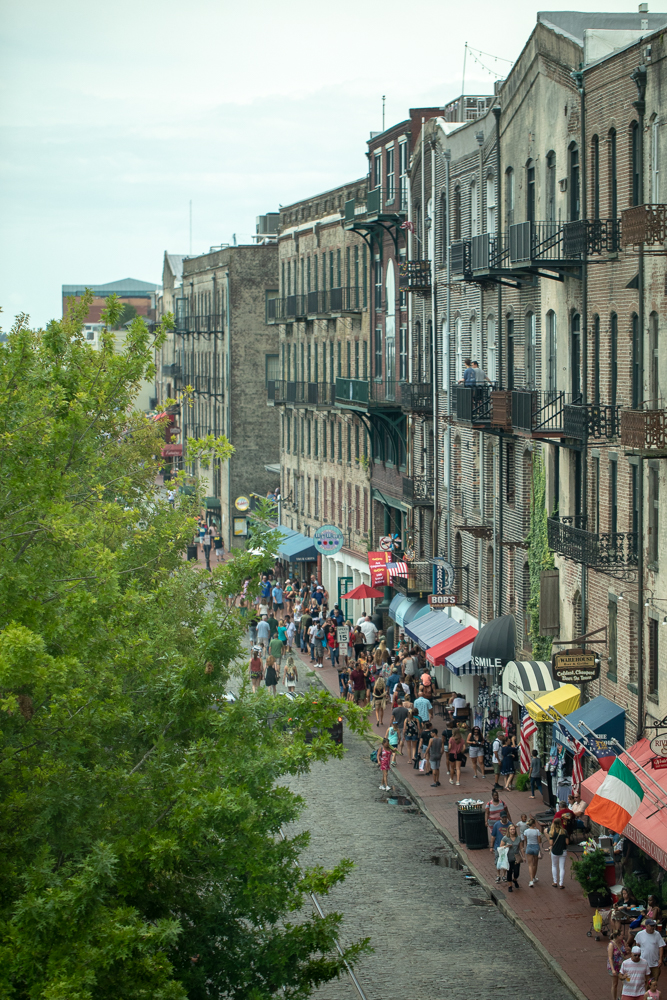 November 2019 - River Street
About the Image(s)
I do mostly street photography, and I thought this shot might be a good one to include in this group. It's of River Street in Savannah, GA, and I like it for the hustle and bustle on the street below, the colors in and around the people and the architecture of the building. I did only minor touchups in Lightroom. This was taken with a Canon 5D Mark IV.

---
4 comments posted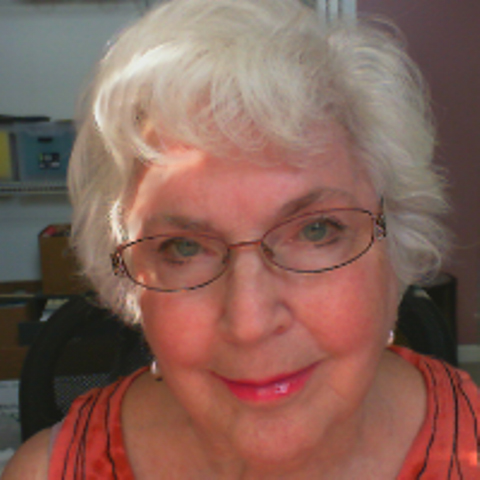 Georgianne Giese
Jim, this is a very beautiful classic shot of Savannah. It reminded me so much of a classical French impressionist painting. Because of that, I could not resist making it into one, with Topaz Impression 2.
Here is what I did:
1. Copied the original background layer
a. Click on layer
b. Cntl J
2. The sky was a bit blown out, so I selected it on Layer 2, with the Quick Selection Tool (paint brush with dotted circle about its tip).
a. After selecting that tool, you just follow the edges of the sky with your cursor to make the selection.
b. Cntl J to copy that selection to a new top layer.
c. Paint the new top layer with a soft brush and Cyan on the top (foreground) layer of the paint palate.
d. Select a Multiply blending mode for the Cyan layer.
3. With the Cyan layer (top layer) selected, I stamped up (Ctrl Alt Shift E). A new top merged layer was created.
4. With the merged layer selected, Clicked on Filter > Topaz Labs > Topaz Impression 2. A new window opened up. On the right side, there is a list of presets. Scroll down to see the preview of each preset. I believe that I selected a Renoir preset.
5. Click OK.
&nbsp
Posted: 11/06/2019 13:43:48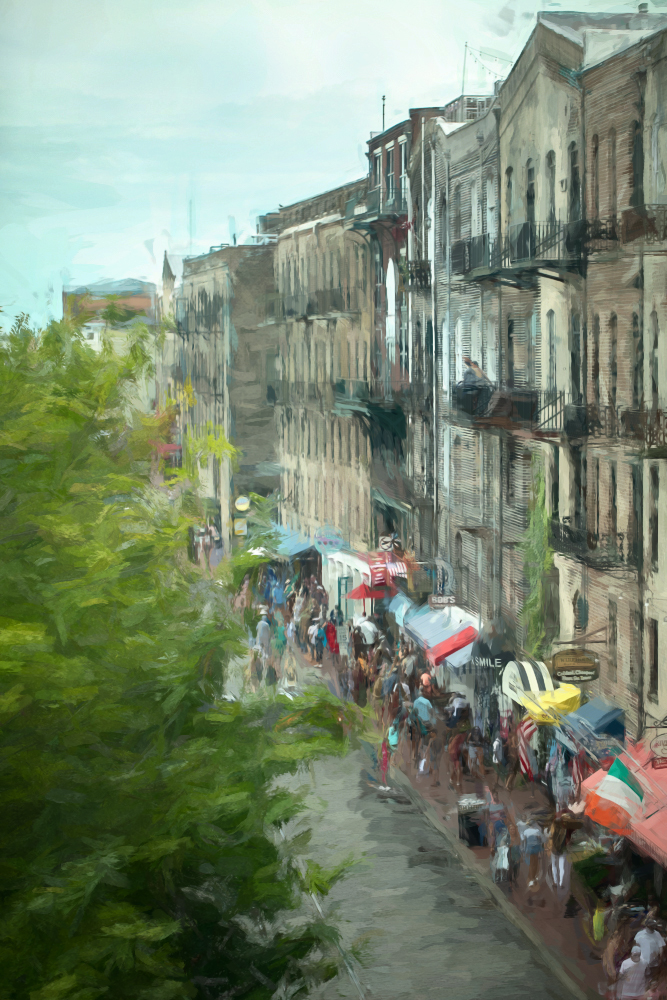 J. Lanning Smith
Thanks Georgianne. I actually won a club competition a couple of months ago when I used Topaz Studio 2 to turn a landscape photograph I did into an Impressionist painting. It caused some discontent among some in the club because they didn't feel like it was a real photograph. We've had several conversations about that.

My feeling is, what does it matter as long as I as the artist photographer and you as the viewer like the image? I find that many people want to silo images into art or into photographs and the two shall never meet. But I disagree with that. With the software we have today, the distinction is being blurred. Art is art to me. Whether it starts out as a photograph or as a painting doesn't matter. As photographers, I believe we are artists and we use the tools we have available to create art.

Thanks for doing this and for showing me how you did it. &nbsp Posted: 11/06/2019 15:54:35
---
Witta Priester
Jim, the street's hustle and bustle are indeed full-on here. And the brick buildings with their metal balconies are quite interesting, with even some people on one. Good DOF as well. I do wish there were a few people bustling in the street in the foreground to create a focal point. If it were my photo, I would perhaps crop some off the tree on the left, and a bit from the bottom - that way the focus stays on the best parts of the photo. &nbsp Posted: 11/06/2019 16:48:49
---
Bunny Laden
The angle of the buildings and the street immediately draw my eye into this photo. I like the way this scene captures the leisurely strolling of the people. (The 15 MPH speed limit sign fits with the mood.) This is definitely NOT New York City! To my eye, the sky is a bit too light. I see some blue there that could be brought out. You might consider a bit of burning. &nbsp Posted: 11/17/2019 12:44:53
---
Please log in to post a comment