Georgianne Giese
---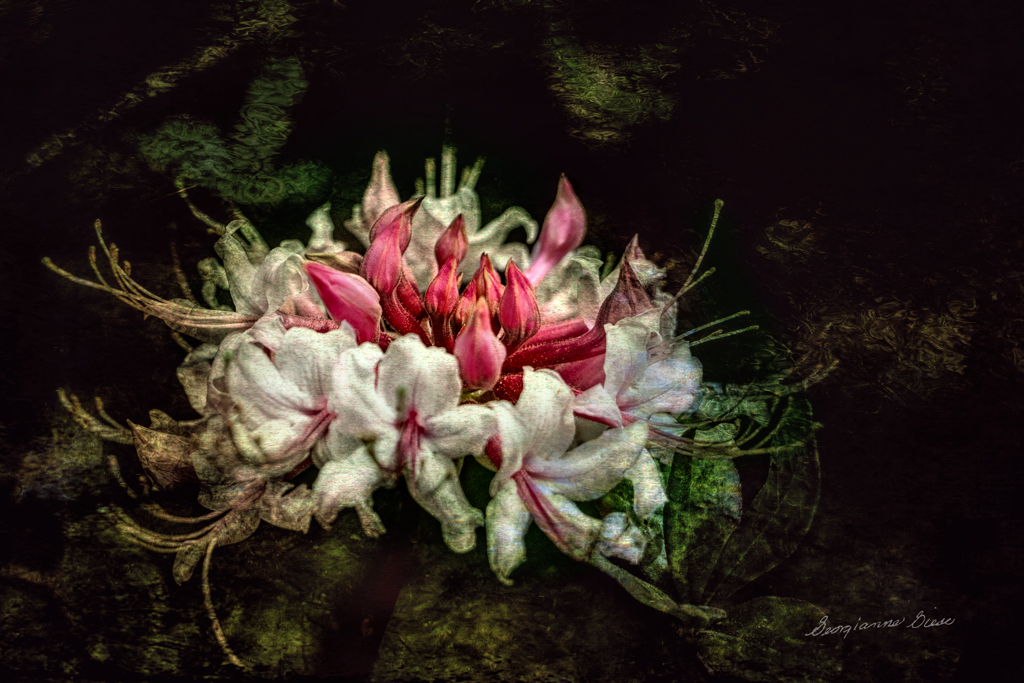 October 2019 - Untitled
About the Image(s)
The flower image was taken at Moore's Farm in SC. The texture is an image of reflections in the Intercoastal Waterway, near Socastee SC.
The inner buds on this lovely flower reminded me of nestling birds, so I sought to emphasize them.

1. I placed Original 2 on a layer above Original 1 and applied a layer mask to bring back the flower in Original 1 (inverted mask from white to black [Ctrl i]; painted over flower with soft brush and white paint/palate, varying brush opacity from strong in the center to weak on the perimeter)
2. Stamped up* and applied Topaz Texture 2 Black Hole texture, with some tweaking of the parameters (can't remember which).
3. Applied a layer mask to Topaz Texture layer and brought back the nestlings.
4. Stamped up and used NIK Viveza to increase the structure and brightness of the flower, with a spot adjustment.
5. Applied a Color Balance adjustment layer to enhance the red color of the nestlings.
6. Stamped up and applied a spot Detail Extractor in NIK Color Efex Pro, to the flower.
7. There were a couple nestlings that appeared a bit too soft, so I used NIK Viveza spot adjustments to strengthen their structure, contrast, and brightness.
8. Finally, I used the Burn tool to decrease the intensity of some of the brighter green spots in the background texture.

* Stamp Up: Create a new flattened layer above the selected layer. The flattened layer contains all visible layers. The visible layers remain visible, preserving the option to return to them and make changes. In PC PS: Ctrl + Alt + Shift + E OR hold down the Alt key and click on the layer palate menu drop down in upper right corner, and then select "Merge Visible". Be careful, as that menu keeps disappearing when you scroll down, if you are not careful.

---
4 comments posted
Witta Priester
Georgianne, I see a theme in your images… This one works quite well. I like how you focused on the nest's sharp center with its vibrant color, and minimized the rest with the texture. And I like how the hints of light around the flower add interest to the overall image. As for improvement, I think the light green area at the front right side of the flower could be toned down.

By the way; years ago I created an action for stamp up / stamp visible. It sits at the top of my action palette, which is always open. I use it a lot. &nbsp Posted: 10/02/2019 20:56:41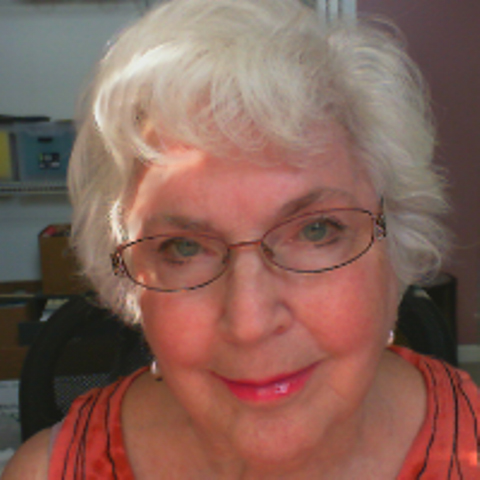 Georgianne Giese
That action for stamping up is a GREAT idea Witta. Don't know why I haven't thought about doing that. I will now! I stamp up a lot!

Thanks for your critique. &nbsp Posted: 10/03/2019 13:21:27
---
Mary Hinsen
Hi Georgianne - you've achieved a lovely artistic effect! I too use stamp visible. I tend to use it when I want to experiment with two different treatments and see which I prefer. I can quickly switch between for comparison, and then delete the one I don't want.
I agree with Witta. Toning down the lighter green area at the front right of the flower just a little would concentrate focus on the flower. &nbsp Posted: 10/10/2019 19:28:59
---
Peggy Reeder

(Group 22)
Hi Georgianne - visiting from Group 22. I love what you have done to this flower! It is just gorgeous! But I really appreciate your step by step explanation of how you got there. I have long wondered what people meant by "stamp up" - and now I know! &nbsp Posted: 10/15/2019 06:51:24
---
Please log in to post a comment