Jorn Holm-Pedersen
---
August 2019 - J E Nielsen
Original
About the Image(s)
I follow up on my project and this time it is a sculptor working in both clay and bronze. I send you two images one where he working on a clay sculpture and an example of one of his final works.
---
This round's discussion is now closed!
7 comments posted
Ian Cambourne
It's great to see your project continuing Jorn. However, when I look at the bronze statue, I see a "clean" image, with no distracting clutter. With your portrait, I see a large piece of white plastic in the foreground. As this is the closest thing to the camera, to me it is an un-necessary distraction. Perhaps you have another image taken from slightly to your right as we look at this one. Or alternatively, a amount of cropping could make a difference. &nbsp Posted: 08/06/2019 06:34:38
---
Jorn Holm-Pedersen
Once again I agree with you. As you can see Jørn Erik Nielsen was working on the street in order to show how he creates his sculptures and there was lot of people watching him. I could not move to the right because of all the people. I have now cropped the image further and it is on its way to you. For your info, the sculpture is made of ceramics. &nbsp Posted: 08/07/2019 03:40:12
Ian Cambourne
Attached you will see the image cropped. Jørn Erik is now "missing" part of his left arm but I don't think it is of any importance. This from Jorn.
As can be seen in the original main image, there was not a lot of Jorn's arm visible in the first place. So cropping in like this has removed all of the distracting white plastic, but not made all that much difference to his arm. Overall, I think this edited version makes for a stranger image. What do others think?
&nbsp
Posted: 08/09/2019 05:32:53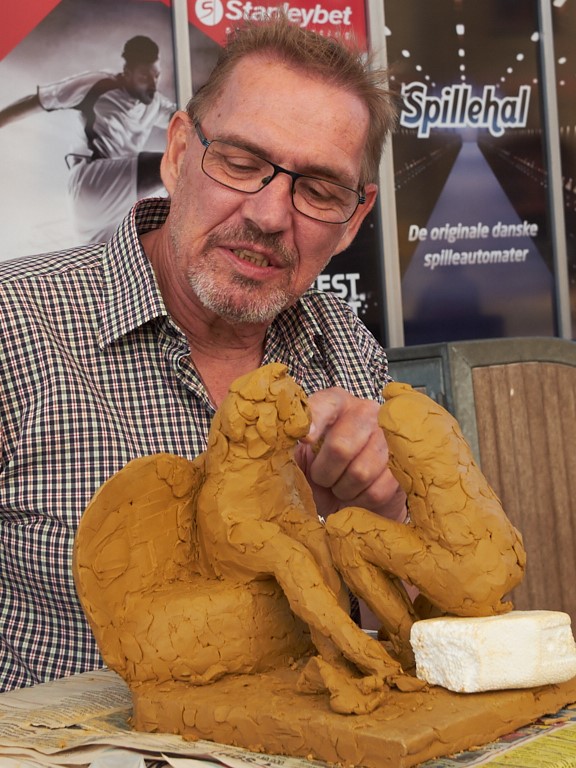 ---
Cyndy Doty
Jorn - I agree with Ian, the bronze statue is well done! For the portrait, I think a shallower depth of field would help to blur the background, and force my eye to stay on the sculptor and sculpture, and not roam the signage. All in all, good images. &nbsp Posted: 08/07/2019 14:19:49
---
Jay Joseph
Overall an interesting and well-done photo. I do like seeing the sculpture in action. I do agree that the background is slightly distracting. &nbsp Posted: 08/09/2019 09:26:56
---
Sanford Morse
Nice shot. I'd straighten the verticals, crop tighter on the left, and make up for the distracting background by blurring in NIK analog. But a very good second image in your series. &nbsp Posted: 08/09/2019 20:25:10
---
Jorn Holm-Pedersen
Thanks for all your comments. I read and try to learn, hopefully you will see in the coming images. &nbsp Posted: 08/12/2019 09:20:51
---