David Blass
---
November 2020 - Golden Eyes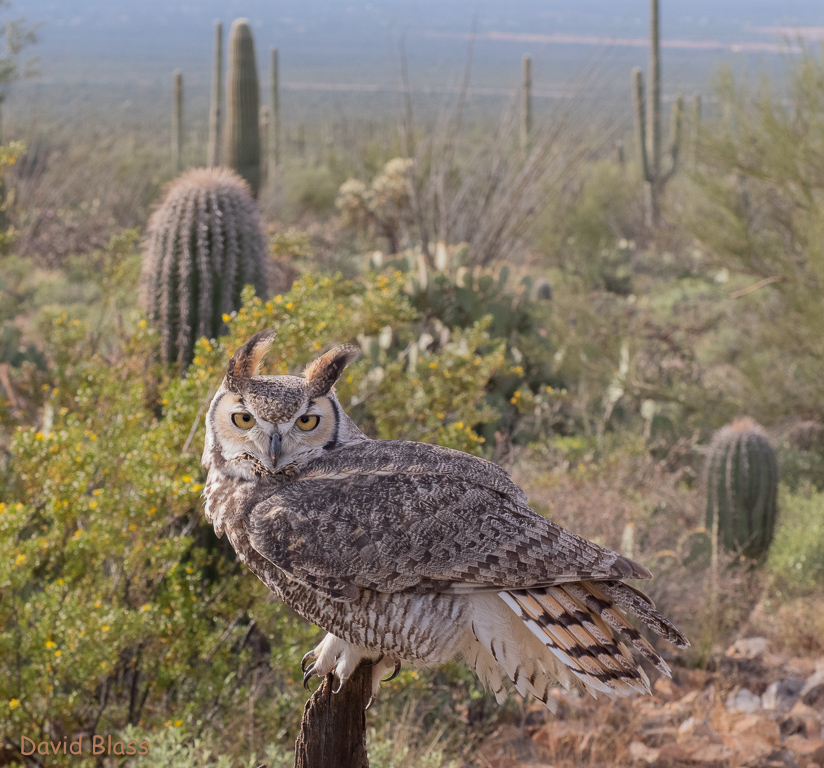 Original
About the Image(s)
This was taken at the Arizona Sonoran Desert Museum, a wonderful, mostly outdoors area dedicated to preserving and demonstrating the wildlife of the Sonoran Desert. This Great Horned Owl was the subject of the demo that morning.

Olympus em1, mk ii. Panasonic 35-100mm. f/2.8 lens @ 49mm, ISO 800, f/7.1, 1/800 sec.

In post-processing, I removed the road in the background and also did several steps to emphasize the bird and de-emphasize the background.
---
4 comments posted
---
---
---
Janice Rosner
What a gorgeous bird! I think this is a nice portrait and the feather detail is just exquisite. You also did a great job with processing his eyes which are just arresting. The tones on the back of the owl are close to the tones and texture in the background, and I'm wondering if you lightened up his back if he would stand out more? I see that you have tried to de-emphazise the background but I still think it's a bit of a distraction and competes with the bird. &nbsp Posted: 11/12/2020 21:29:32
---
---
---
Pauline Jaffe
The owl is a lovely subject and he looks like he is there to welcome guests to the area perched out in front there.

Your image is sharp with a close DoF. I love owl's colorful feathers and the way he is perched on the tree. You did a nice job of removing the road from the background and de-emphasizing it.
&nbsp Posted: 11/12/2020 21:42:54
---
---
---
Walter Swett
I find this to be a very nice image with the main subject in sharp focus and the lighting certainly highlights the textures of the owl.

Personally, I prefer the colors of the owl in the original image because I think the feathers around the eyes looks better.

Did you give any consideration to cropping the image a little closer? That may add additional impact to the owl.

Overall, I think this is a great image. &nbsp Posted: 11/13/2020 15:48:50
---
---
---
David Blass
Thanks all for your comments! Your thoughts on the background echo my own thinking about the brightness/prominence of the background vs. the bird. I've considered making the background both more and less saturated, but I think with a stronger difference between the owl and the background the image looks unreal. Walter, I did try a closer crop, but didn't present that version because I wanted to keep the cacti intact to give a good sense of place. &nbsp Posted: 11/14/2020 16:08:36
---
---
---
Please log in to post a comment