Walter Swett
---
September 2020 - Eastern Box Turtle
Original
About the Image(s)
I captured this image recently while hiking at Lake Horton near my home in Fayetteville, GA. Although not endangered, this turtle is considered vulnerable due to habitat loss.

Shot with handheld Nikon D750 and Nikkor lens 24-120 at 120mm, ISO 400, f5.6, 1/50.

Post processing completed in Lightroom which included cropping, minor color and exposure adjustments, blurring of the background and addition of a vignette.
---
8 comments posted
---
---
---
David Blass
Walter, your image shows a common animal to be a beautiful and complex creature. The colors are remarkable and the turtle is in sharp detail. I do find the green needles a bit distracting, as together they give the appearance of a single line that interrupts the otherwise brown background. &nbsp Posted: 09/11/2020 07:59:17
Walter Swett
Thanks for your feedback David. I didn't notice it before, but I must agree, the bright green pine needle through the middle of the turtle is distracting. It seems to be one of those things where you don't see it until you see it and then you can't unsee it! Based on your feedback I've done some additional editing. What do you think? &nbsp
Posted: 09/11/2020 09:30:33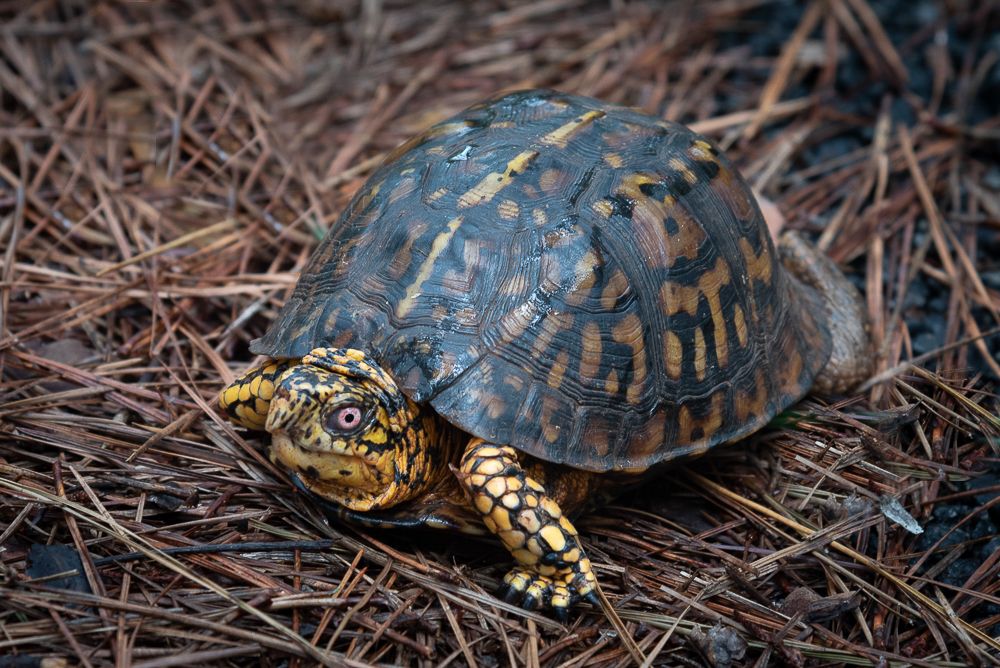 David Blass
I think it looks much better! Really striking image! &nbsp Posted: 09/11/2020 09:59:29
Walter Swett
Thanks again. Your feedback certainly helped make sure it better. &nbsp Posted: 09/11/2020 11:32:28
---
---
---
Janice Rosner
I love this view of the turtle. I think you positioned him well in the frame and you have really highlighted some detail that we don't always see. I really like this image but do agree with David about removing the green needles. &nbsp Posted: 09/12/2020 12:53:28
Walter Swett
Thanks for your feedback. &nbsp Posted: 09/13/2020 08:05:30
---
---
---
Muhammed Rafeek
Great Image and good effort, increase of F Value by 2 points could have increased the depth of field which could sharpen the Turtle shell bit more and details too. I would prefer to have the focal point on head or eye with little more lower angle could have made it more appealing. Little more processing or simple dodge tool with mid tones can bring more attractive colour tones on the shell. Its an awesome image, we don't get a chance to click such shots in this part of the world. &nbsp Posted: 09/20/2020 12:10:44
Walter Swett
Thanks for the feedback. I'll try your suggestions next time. &nbsp Posted: 09/20/2020 15:35:57
---
---
---
Please log in to post a comment