Pauline Jaffe
---
June 2020 - Squirrel
About the Image(s)
The image of this squirrel was taken in my back yard. This summer I have seen so many squirrels, rabbits, chipmunks, and even raccoons in our back yard in addition to birds.

This picture was taken with my Canon Rebel T2i and Tamron 70-300 lens. ISO 200, f 5.6 , 1/25 sec.

---
This round's discussion is now closed!
4 comments posted
Janice Rosner
I think this is a cute picture of a squirrel with their paws in the typical position. I like that the squirrel fills the frame and how the tail sweeps across the image. On my monitor all of the image seems a little soft and I wonder it's due to your shutter speed. That is a little slow to get the detail of fir. In my experience, you need to be up at least to 1/500 to get good detail on the fir. Also, on my monitor, the squirrel is magenta. The green leaves are quite saturated and green but the squirrel is definitely magenta. &nbsp Posted: 06/11/2020 20:22:01
---
Walter Swett
I have a love-hate-relationship with these guys. I enjoy watching them and find them somewhat fascinating, at the same time they drive me nuts as I try to keep them out of my bird feeders!

I like how you have positioned the subject in the frame. The image appears soft overall to me as well and I agree with Janice that it is probably from too slow of a shutter speed. I also see magenta in the squirrel's fur. &nbsp Posted: 06/18/2020 09:51:46
---
Kerry McFarlane
We don't have squirrels in Australia but they look so cute. I wish you could have captured a sharper image and the colour cast appears a little of on my screen. I like the positioning of the squirrel with the grasses around it and that it fills the frame &nbsp Posted: 06/19/2020 18:55:55
---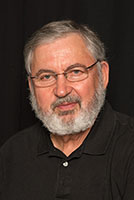 Isaac Vaisman M.D.

(Groups 4 & 58 & 72)
Agree with the stated comments. Visit group 72 and you will see a very nice image of a squirrel &nbsp Posted: 06/20/2020 13:58:10
---