Pauline Jaffe
---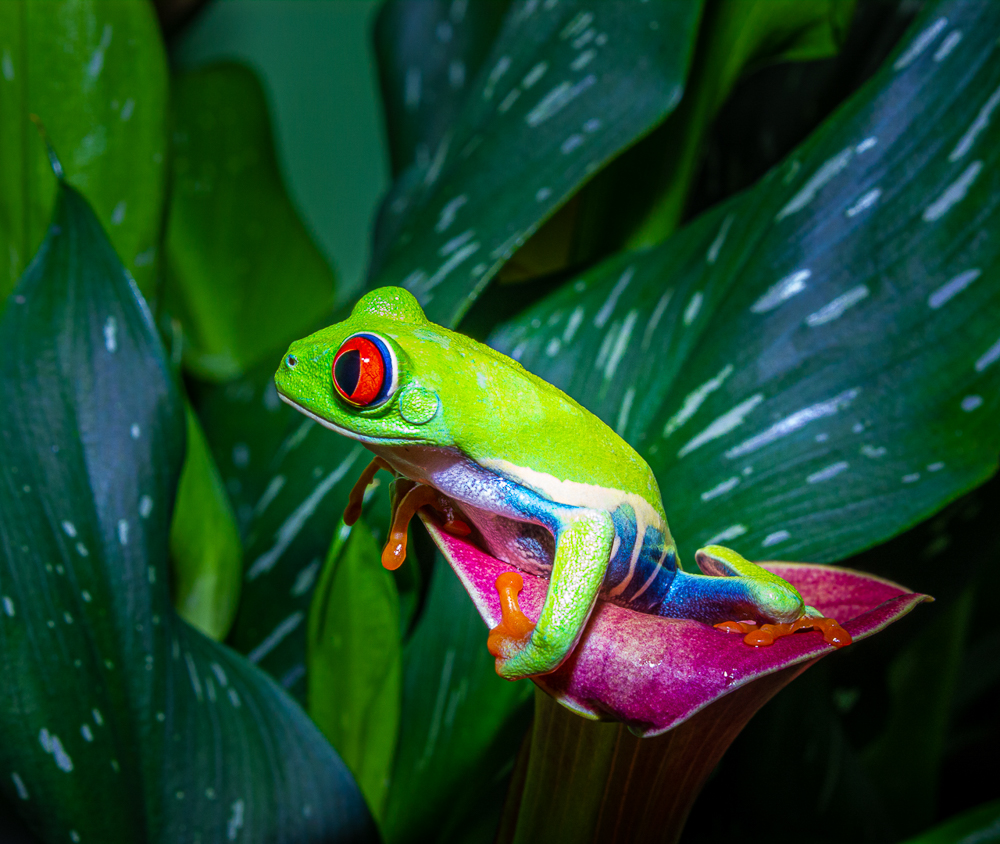 January 2020 - Red Eye Tree Frog
About the Image(s)
I am submitting an image that I took of a Red Eye Tree Frog in November at Nature Visions at a 1 hour course I took there, in Manassas, Virginia.

I used a Canon T2i , with a kit lens and an external Godex Flash.
The ISO 400, f 18, 1/200 sec.
---
This round's discussion is now closed!
6 comments posted
Janice Rosner
Wow, that sure is a red eye! Great capture. Frog is sharp, good DoF, overall a great, interesting image. I would maybe take some of the highlights down on his back but that's just a minor suggestion. This is a beautiful image with the focus where it counts. Nice composition as well. How did you get him to pose on the pink leaf in that light? :) &nbsp Posted: 01/16/2020 16:01:19
---
Janice Rosner
BTW, I wanted to congratulate you on your image in the showcase. Great job. &nbsp Posted: 01/17/2020 11:33:30
---
Walter Swett
Great capture! He looks like he is ready to pounce on his next meal. I love the colors and details you captured. The image is sharp with a good depth of field.I agree that the highlights could be toned down slightly. Overall, I think this is a very nice image.

&nbsp Posted: 01/19/2020 07:15:57
---
Thomas Bell
Excellent image! Your subject is an eye catcher and the color are really vivid. Great Job! &nbsp Posted: 01/26/2020 21:04:10
---
Kerry McFarlane
Simply awesome Pauline. Congratulations on being selected in the showcase, well deserved &nbsp Posted: 01/26/2020 23:30:06
---
Charlie Yang

(Group 45)
wonderful tree frog, vivid colorful.
Not sure about the flash, on what setting to refine to add and enhance the image. but I'm glad that you're trying it. However, there are part of the image, shown lack of details, would suggest adjust exposure, highlight to bring back some details. &nbsp Posted: 01/27/2020 08:55:47
---