Arne Skinlo
---
October 2020 - Fishermen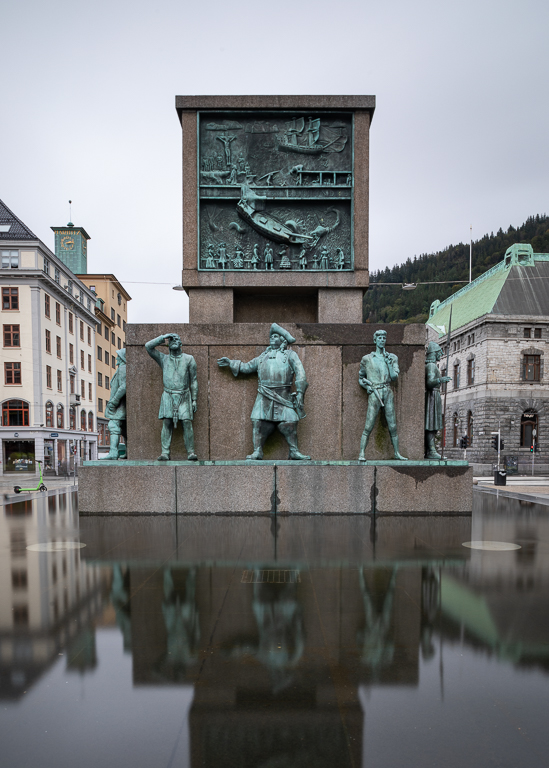 Original
About the Image(s)
This picture is from a series of pictures about water art in Bergen. Symmetry is an important composition element. The vision is to give a sense of old days with scarcely illuminated streets.

All post-processing is done in Photoshop. Each area is masked and processed individually. Resently, I have started using a new plugin called Infinite Balck and White which I also have used here.

Camera: Canon 5D mark 4 with Canon TS-24mm lens
Settings: ISO 100, Shutter 61 sec. Aperture f/14
Tripod and ND10 filter.
---
8 comments posted
---
---
---
Ata Kemal Sahin
Great statue and you worked hard Arne. I have no any info about Infinite Black and White app yet; but I'm going to check. Center-weighted brightness attracts attention on sailor standing in the middle. Apart of colors, bnw version is totally different than color version so I do not want to comment on your ps adjustments as you're the artist of your photo; but you can tell us the story of bulb speed exposure and 10-Stop filter usage here. Thanks for your sharing. &nbsp Posted: 10/03/2020 05:51:28
Arne Skinlo
The reason for using a long exposure on this scene is to make a better reflection in the water. I use Lee square filter system, but if I should bought filters now, I would gone for round ones and bought one that fits my biggest lens and used adapter rings to fit the smaller lens diameters. The trick by using ND filters above ND6 (witch you can see through) is to do all your settings in manual mode and then use a table or app to calculate the new exposure time. Then you switch to Bulb mode and set the aperture to the same value as in Manual mode. You need a cable release to keep the shutter open. I would recommend you to go to Youtube to learn about long exposures. &nbsp Posted: 10/03/2020 23:48:14
---
---
---
David Henderson
Hi Arne
Nice picture, good and sharp with great depth in field. The mono conversion has been done well. I have just a couple comments, firstly the statue above the fisherman I would lighten it up so you can see more of the story. Secondly I would remove the lights in the water from the image as they catch your eyes when you first look at it. &nbsp Posted: 10/06/2020 19:55:31
---
---
---
Haru Nagasaki
Hi Arne,
Nice shot. I like the tone values, the way you lighten up portion to highlight and darken down the portion to support. My eyes are very comfortably guided to the main subject.
2 points.
One - I understand that symmetry is an important composition element. If I take a look at the square box part at the top, I see dark tones at right top (darkest) and getting lighter as my eyes moves to left bottom side. Because of this impression, I feel contradiction on symmetry structure. Maybe that is only my impression...
Second - This is not a comment, rather a question. I always wondering how much I include the reflections on water. You captured the nice reflection with long exposure, which is great.
On the other hand, there are lot of spaces between the statue and reflection. Also as David mentioned, there are 2 spot lights, which is the lightest part of the image and might prevent the eyes to focus on the main subject.
Did you include the reflection because of "symmetry" theme?
I just wanted to understand your thought process of making decision on this.
Thank you for sharing this. &nbsp Posted: 10/06/2020 20:36:20
---
---
---
Arne Skinlo
As this is one of a series of pictures about water and symmetry, water had to play a significant role. Therefore, about one third is water and reflections. The two light spots can be discussed if they are too bright or not. The reason why I lighten them was to focus on symmetry. &nbsp Posted: 10/07/2020 02:35:33
Haru Nagasaki
Thank you, Arne. &nbsp Posted: 10/07/2020 16:51:01
---
---
---
Ying Shi
Very successful post-processing! The pictures are full of stories and have a strong sense of history. &nbsp Posted: 10/18/2020 20:03:04
---
---
---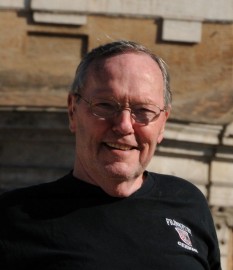 Bill Foy
I think you've accomplished your two primary objectives - symmetry and nostalgia in an excellent monochrome image. Regarding the twin lights, when I view the image I'm aware of their presence, but not distracted by them. I also like the long exposure's effect on the water. You've piqued my interest about subsequent water and symmetry images. &nbsp Posted: 10/19/2020 12:28:45
---
---
---
Please log in to post a comment