Ata Kemal Sahin
---
October 2020 - Shoe Repair
Original
About the Image(s)
The year was 1965 when I first visited these Shoe Repair Shops in Eskisehir with my uncle. Life was hard and footwears needed repair and maintenance sometimes e.g. heel replacement, half-full soles replacement, sewing ripped shoes etc.. It was not easy to dispose old ones and buy a new pair. Today, hi-tec opportunities allow us to have the highest quality, durable and fashionable shoes at reasonable prices. And not just one pair but a whole closet full of fashionable shoes.

I used PS to edit, crop and convert to bnw. Exif f2,8 1/80 ISO125, 50mm

---
15 comments posted
---
---
---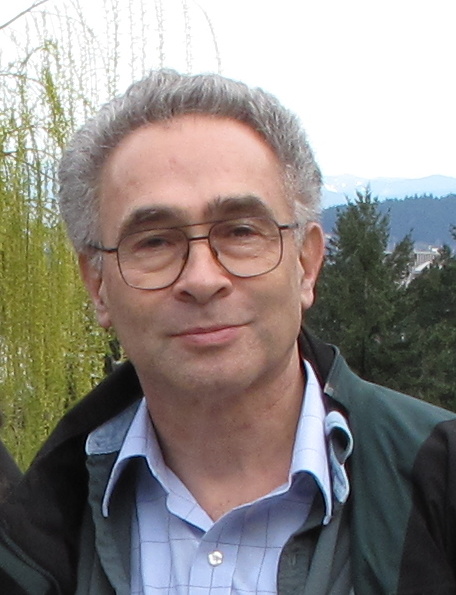 Stephen Levitas

(Group 32)
Ata Kemal Sahin
Thanks for your re-edit Stephen. As you can imagine, photo and its story must be in a harmony and your crop looks so dramatic! Besides, cropping below the elbow does not look good and usual. I wanted to show flat insoles to support the story and the image. But on the other hand, you're absolutely right on closer view and I had already posted some cropped samples on IG. &nbsp
Posted: 10/02/2020 06:40:40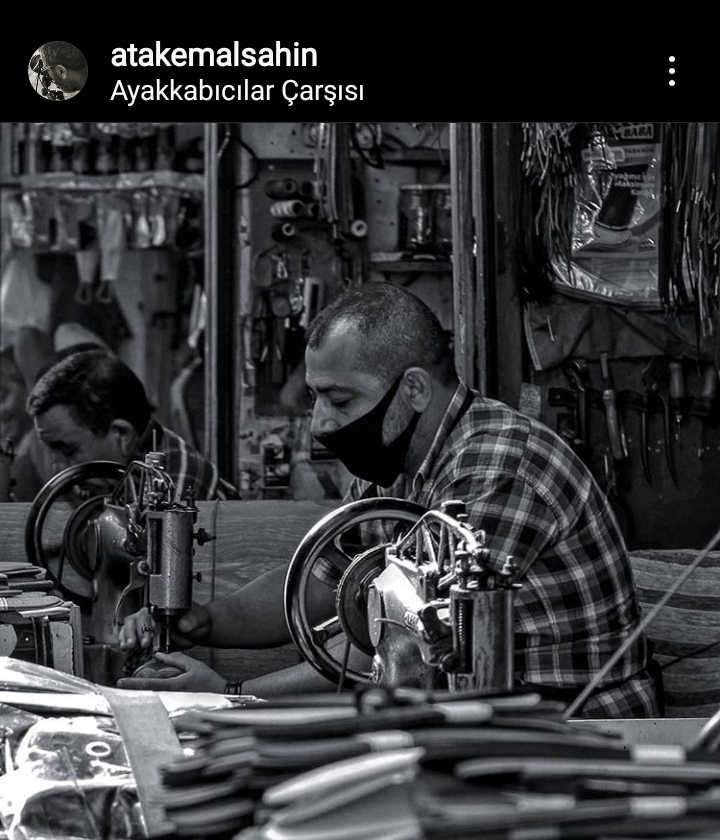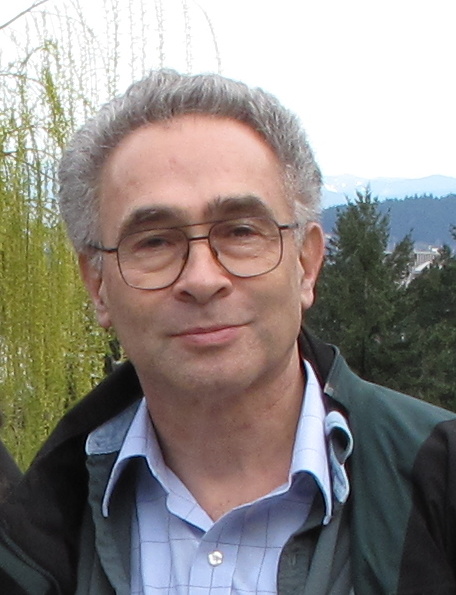 Stephen Levitas

(Group 32)
I like this one very much. I think it solves all the problems: closer to the subjects, and shows the pile of materials--which I now understand you want to show, and that is a good idea. &nbsp Posted: 10/02/2020 12:01:20
Ata Kemal Sahin
Thanks Stephen. &nbsp Posted: 10/03/2020 05:12:24
---
---
---
Arne Skinlo
In my opinion the last image is the best. It shows the environment and tell very clearly the story of the shoe repair business. I like the repetition of heads and the triangle formed by the persons. &nbsp Posted: 10/03/2020 01:18:00
Ata Kemal Sahin
Thanks for your comment Arne. &nbsp Posted: 10/03/2020 05:12:03
---
---
---
Haru Nagasaki
Hi Ata,
Thank you for sharing. You always give me opportunity to think. That's good learning process for me.
I like 2 versions after cropping.
first version - this is good attempt but I would include the man behind better to have more space on left side. Which would create DOF stronger in my view. (I tried myself - see the attached). Downside - you might loose the story behind the image.
Second version - As others mentioned, this might be the better version. Positive side is that by including 2 man in the image, that supports stories. Downside is foreground is still too big in my view.
Again, Thank you for sharing. &nbsp
Posted: 10/06/2020 19:39:17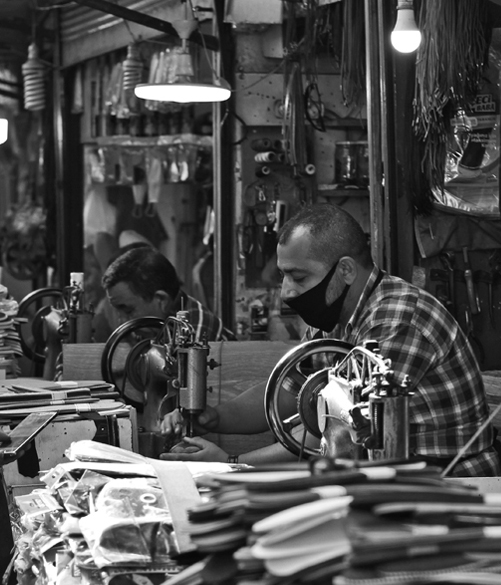 Ata Kemal Sahin
Different opinions are always important for development. Thank you Haru. &nbsp Posted: 10/07/2020 02:38:09
---
---
---
David Henderson
Hi Ata
You differently come out with great pictures telling use a story of the way of life in Turkey. The mono conversion in whatever version I look at in still better than the colour one. In my opinion the second image is the best but you are still left slightly blurred objects in the front of the image. &nbsp Posted: 10/06/2020 21:24:30
Ata Kemal Sahin
I prefer to share, especially local culture photos. Thanks David. &nbsp Posted: 10/07/2020 02:52:39
---
---
---
Ying Shi
A documentary or travel work with a story. Good composition and character form.
It should be much better if you make more adjustments to the light and shadow. &nbsp Posted: 10/18/2020 20:25:06
Ata Kemal Sahin
Thanks for your suggestions Ying. &nbsp Posted: 10/20/2020 09:24:03
---
---
---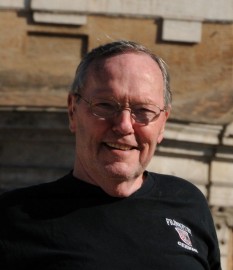 Bill Foy
I really like the stories you tell us. I think the second photo is the best for doing that with this image. One suggestion - I think the highlights need to be be brought down a bit. &nbsp Posted: 10/19/2020 12:58:46
Ata Kemal Sahin
Agree, I need to spend more time editing my photos. Thanks Bill. &nbsp Posted: 10/20/2020 09:28:08
---
---
---
Please log in to post a comment