Haru Nagasaki
---
May 2020 - Cherry blossom bouquet
Original
About the Image(s)
It's rare to see cherry blossoms blooming under crowded circumstances on the trunk. It looks like a fresh bouquet.
It was taken with a Nikon D850 with 24-70mm lens (70mm). The camera settings were: ISO 400, F7.1, and shutter speed was 1/200. Handheld.
Cropped to highlight the blossoms contrasting the texture of trunk to emphasize freshness/pureness of the natural flowers.
Recking light(backlight) on petals add the mood of pureness. Increased exposure and add contrast in postprocessing.

---
7 comments posted
Ata Kemal Sahin
Summer is in the air; sunny days, bloom-filled gardens, parks and we are under coronavirus lockdown / quarantine! Flower beauty gives us hope in these difficult times. Thank you for sharing Haru. Stay home stay safe. &nbsp Posted: 05/03/2020 01:58:08
Haru Nagasaki
Please stay safe! &nbsp Posted: 05/03/2020 04:27:01
---
Arne Skinlo
Nature has a lot of surprises. I have never seen anything like this before. To me, the unique is that the flower is on a tree trunk. This is not apparent on the BW photo. I therefore think it is too much cropped. I would also suggest to use a smaller aperture to get more depth of field, so the texture in the trunk is more visible. Apart from some areas on the right side of the flower, I feel it is slightly underexposed.

All in all an interesting picture. &nbsp Posted: 05/05/2020 03:14:38
---
Ying Shi
Nice to see the cherry blossoms in this quarantine time. Like the tone. I totally agree with Arne Skinlo's comments. &nbsp Posted: 05/16/2020 21:28:25
---
David Henderson
I feel that this is a great mono conversion but I feel that Arne comments hold true. &nbsp Posted: 05/17/2020 03:08:25
---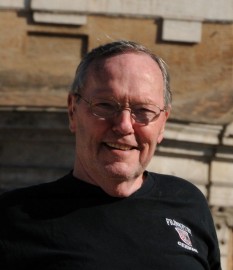 Bill Foy
From someone who sees cherry blossoms every year, I think this is a very good image and like both the conversion and the crop. There are a lot of occasions where the only way to isolate the blossoms is to find a new branch on the trunk of the tree. &nbsp Posted: 05/18/2020 12:57:11
---
Angela Chan
Beautiful image.
The light blooms on a dark background is very effective in showing the nice blooms.
Lots of good suggestions already.
I like how the bright part at the left that causes distraction had been removed.
Being a flower arranger I am very picky with the balance of the placement. If I were taking this image I would have move around the corner a bit so that I can see the extension of the slant at the left . It is just that I am drawn to lines and shapes , that's all. &nbsp Posted: 05/23/2020 13:31:40
---
Please log in to post a comment