Angela Chan
---
March 2020 - Studio image
Original
About the Image(s)
This is one of my studio shoot image .
My student co-worker has no modelling training but this pose look very natural.
I feel that his colored version does not require any editing at all .
( Small amount of blemishes but he is happy with it )
The colored version is good but I like to see how it will look in monochrome.
His shirt turn out very well and I left the left side of the face dark because I like my portraits dramatic. He is fit and trim so can take the board lighting well.

Very interested in your suggestions re shooting and editing .

---
This round's discussion is now closed!
9 comments posted
Ata Kemal Sahin
Definitely the bnw version is more characterful. I do not want to say something about highlights, contrast, brightness etc as they vary from screen to screen. Choreography and the story are important for me. Well-done Angela. &nbsp Posted: 03/04/2020 04:18:43
Angela Chan
Thank you very much, Ata . &nbsp Posted: 03/24/2020 15:11:03
---
Arne Skinlo
An excellent piece of work, Angela. Personally, I like the B&W version better. The subtle vignetting makes the model stand out more. You have also used the whole tonal range from black to white. &nbsp Posted: 03/08/2020 17:26:20
---
David Henderson
Depth of field and sharpness is impressive. B/W image is by far the best. The lighting is great as you can see by the highlights in his eyes. The pose you have him is very suitable for image. &nbsp Posted: 03/10/2020 19:41:00
Angela Chan
Thanks David.
We usually like to have the catch-lights at 2 or 11 o'clock position but the lighting used dictate what we get.
In posing, we usually learn what we should avoid, then let our talents ( models ) get into their most natural position. &nbsp Posted: 03/24/2020 15:16:27
---
Ying Shi
Character posture, expression is very good, the light is downy, black and white effect is better. Well done. &nbsp Posted: 03/12/2020 15:17:38
Angela Chan
Thank you very much.
Relaxed model produce good portraits. &nbsp Posted: 03/24/2020 15:18:13
---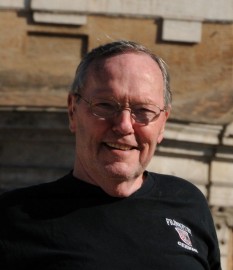 Bill Foy
The monochrome version is definitely the better option. Very good modeling job by the non-model. I wouldn't change a thing about this image. &nbsp Posted: 03/16/2020 21:02:29
Angela Chan
Thank you very much for the encouragement. &nbsp Posted: 03/24/2020 15:18:35
---